There are numerous administrative tasks involved in managing a fleet of vehicles and drivers, so many it often takes multiple personnel to tackle it all. For example, your finance manager may need to handle maintenance management while your operations director oversees fuel invoices and your purchasing supervisor takes on vehicle procurement. These employees most likely juggle a plate full of other job responsibilities and lack fleet expertise, making it difficult for them to complete their fleet tasks successfully.
To help lighten the load on your staff and ensure your fleet and driver management hits the mark, consider assistance from outside fleet experts who provide various fleet management services, such as maintenance management and fuel card programs.
Regardless of your fleet's size, industry, location or seasonality, this guide provides the information you need to help you decide which outside fleet management services, if any, will ease your burden and enhance your fleet operations.
What if your fleet doesn't fit into a specific category?
No problem. When it comes to fleet management services, there are no one-size-fits-all solutions. For example, some fleets travel across state lines, some experience low employee retention, and some suffer from driver safety issues. Likewise, the variety of solutions designed to help are as specialized as the companies they support. A superior fleet management company offers fleet consultations for free, so their experts can learn about your specific fleet administration challenges, the distances your vehicles travel, your drivers' needs and more. Then, they tailor their services to fit your unique fleet.
The top fleet challenges and their proven solutions
Your fleet unexpectedly incurs large expenses
Imagine this: A driver in your service fleet is on the way to a client when their work truck breaks down. As a result, your driver needs to cancel the appointment and wait for a tow on the roadside in a broken-down truck branded with your company name. This incident tarnishes your business image in the eyes of the client and the passersby on the road. On top of that, you're stuck paying for a major repair — one that could cost hundreds or thousands of dollars — plus downtime while your driver waits for the truck to be fixed. You later learn the truck's check engine light was on for weeks, but your driver didn't alert you. How can you avoid this scenario?

Fleet maintenance management
To prevent breakdowns and hefty, unbudgeted repair expenses, consider using a professional fleet maintenance management service that notifies drivers and fleet administrators about upcoming and past due preventive maintenance requirements, such as oil changes, filter changes, tire rotations, etc. Other features to look for are 24/7 roadside assistance and monthly consolidated maintenance billing for your entire fleet.
The best maintenance management services also provide you with a team of ASE-certified technicians who are on call daily to support your drivers with vehicle problems. Plus, these technicians work directly with auto service providers to make sure recommended repair work is necessary and quoted fairly. And if a repair falls slightly outside of the warranty period, they work with auto manufacturers to recover goodwill compensation.
Fleet vehicle health monitoring and telematics
GPS telematics provides complete visibility into your fleet, including everything from route optimization to GPS vehicle tracking and, in some cases, driver monitoring via cameras to prevent collisions. Expert fleet management companies take telematics a step further with a vehicle health monitoring program.
This upgrade combines maintenance management with GPS telematics, alerting drivers and fleet administrators when preventive maintenance, repairs and recall services are necessary. It also provides locations of the closest reputable auto service shops. All this information is available digitally 24/7, which is particularly ideal for fleets with vehicles shared by drivers. Plus, if one of your vehicles breaks down on the way to an appointment, a vehicle health monitoring program enables you to dispatch a nearby driver to assist the client, protecting your company's reputation.
Fleet vehicle life cycle strategy, acquisition and remarketing
It's essential to have an expertly planned vehicle life cycle strategy in place to make sure your aging vehicles are replaced before they cost you more than they're worth. Otherwise, your maintenance expenses can skyrocket as your older vehicles rack up miles. The costs of an aging fleet can snowball as vehicles lose their air conditioning, blow out their engines, require new transmissions and so on. A turn of bad luck can quickly end in financial hardship. When you partner with an experienced fleet leasing company, they'll help you sell your old vehicles and acquire new ones at the right time to avoid breakdowns and unexpected, high-priced maintenance costs.
Your fleet's interstate travel complicates your compliance and toll tasks
Let's say, for example, while you're organizing countless invoices and receipts for tolls across four different states, you receive a dreaded call: A Department of Transportation (DOT) officer just gave one of your drivers a violation for breach of compliance. This violation puts your business at risk for a DOT audit and could result in sizable fines. To make matters worse, now your driver is delayed from completing a client's delivery on time. What services are available to help you prevent this type of situation?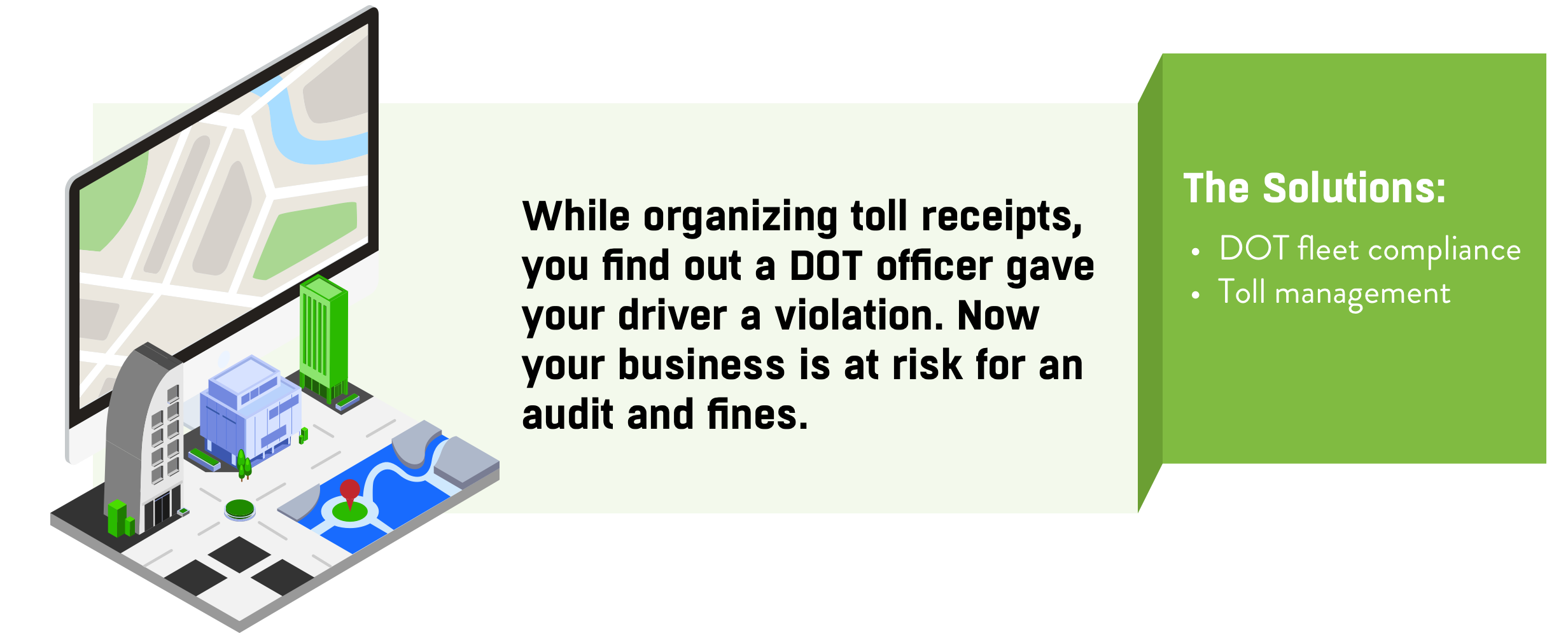 DOT fleet compliance
To ensure your fleet adheres to DOT regulations, you must track multiple things, including licensing, mileage permits, titling, fuel tax filings, vehicle inspections and accident reports. On top of that, regulations change from state to state and year to year, so you may not know if you're correctly checking all the boxes. With expert DOT compliance help, you'll know exactly what is expected at all times to stay compliant and avoid fines, penalties and liability risk. Additionally, a professional DOT fleet compliance service will help streamline your regulatory and safety processes for all your vehicles and drivers.
Fleet toll management
There are numerous toll companies across the United States, each one with its own set of rules and payment processes. That means if your fleet vehicles cross state lines, you need to pay separate invoices for tolls and other fees from each toll company. You can streamline this billing process with the help of professional toll management experts. They can add your fleet's license plates to a system that consolidates all tolling authorities. Then, they'll track all your toll charges and provide you with one convenient invoice for the total.
You're overwhelmed with managing fuel expenses
Here's a common situation among companies with fleets that may sound familiar. The finance manager is exasperated. On top of her other responsibilities, she's in charge of collecting fuel receipts from dozens of drivers. Plus, every time a fuel reimbursement or change is required, or there's a vehicle added to the fleet, or a vehicle is assigned to a different driver, tracking the new and altered fuel expenses falls on her. If that wasn't stressful enough, certain drivers spend far more on gas than others, leading her to think some of their charges are fraudulent. Fortunately, there are very effective ways of resolving these issues without burdening busy members of your staff.

Fleet fuel management service
If your fleet regularly fuels up at gas stations, fleet fuel cards are most likely your best bet. With a fleet fuel card program through a fleet management company, all your drivers' receipts are automatically consolidated into one monthly invoice. Plus, this service prevents drivers from charging fuel expenses fraudulently. Fleet fuel cards work especially well for fleets with vehicles shared by multiple drivers or vehicles only operated in certain seasons since fuel cards can be stored in the vehicles and used by any driver.
All-electric fleet vehicles
To eliminate gas costs entirely, consider switching from internal combustion engine (ICE) vehicles to battery electric vehicles (BEVs). For fleets with sedan-sized or smaller vehicles that mostly travel around a city or suburb, BEVs may be the most cost-efficient option since BEVs use no gas and require far less maintenance than ICE vehicles. And due to the falling costs of BEV batteries, it's predicted that the average purchase price of many new BEVs will be less than ICE vehicles by 2025.
However, electric fleet vehicles can be tricky for businesses unfamiliar with them. You may need to modify your fleet routes to align with BEV charging station locations. And your drivers will probably need training on the basics of BEVs. A fleet management company well-versed in fleet electrification can help you with charging infrastructure assistance, BEV route planning, BEV driver training, electric fleet vehicle acquisitions and the monetization of BEV tax benefits.
Remember, the most important thing to look for in a fleet management partner is the ability to customize services to meet your goals. A best-in-class fleet management company recognizes that fleets come in all shapes, sizes and varieties with different needs based on their staff, location, vehicles, industry and more.
Find a partner who tailors their services around your fleet — not one who forces you to conform to their packages. Also, it's a good idea to seek support for both day-to-day fleet tasks and your fleet's long-term future. And keep in mind, the ideal fleet management partner treats your money as if it is their own.