SERVICES
FLEET LEASING & COMMERCIAL FLEET FINANCING
Our seasoned commercial leasing and fleet financing pros are here to help you acquire your vehicles as affordably and hassle-free as possible by customizing a funding strategy that perfectly aligns with your specific business goals and financial parameters. As a privately owned company, we're able to work closely with you to develop a plan that's personalized for your business, no matter the size of your fleet.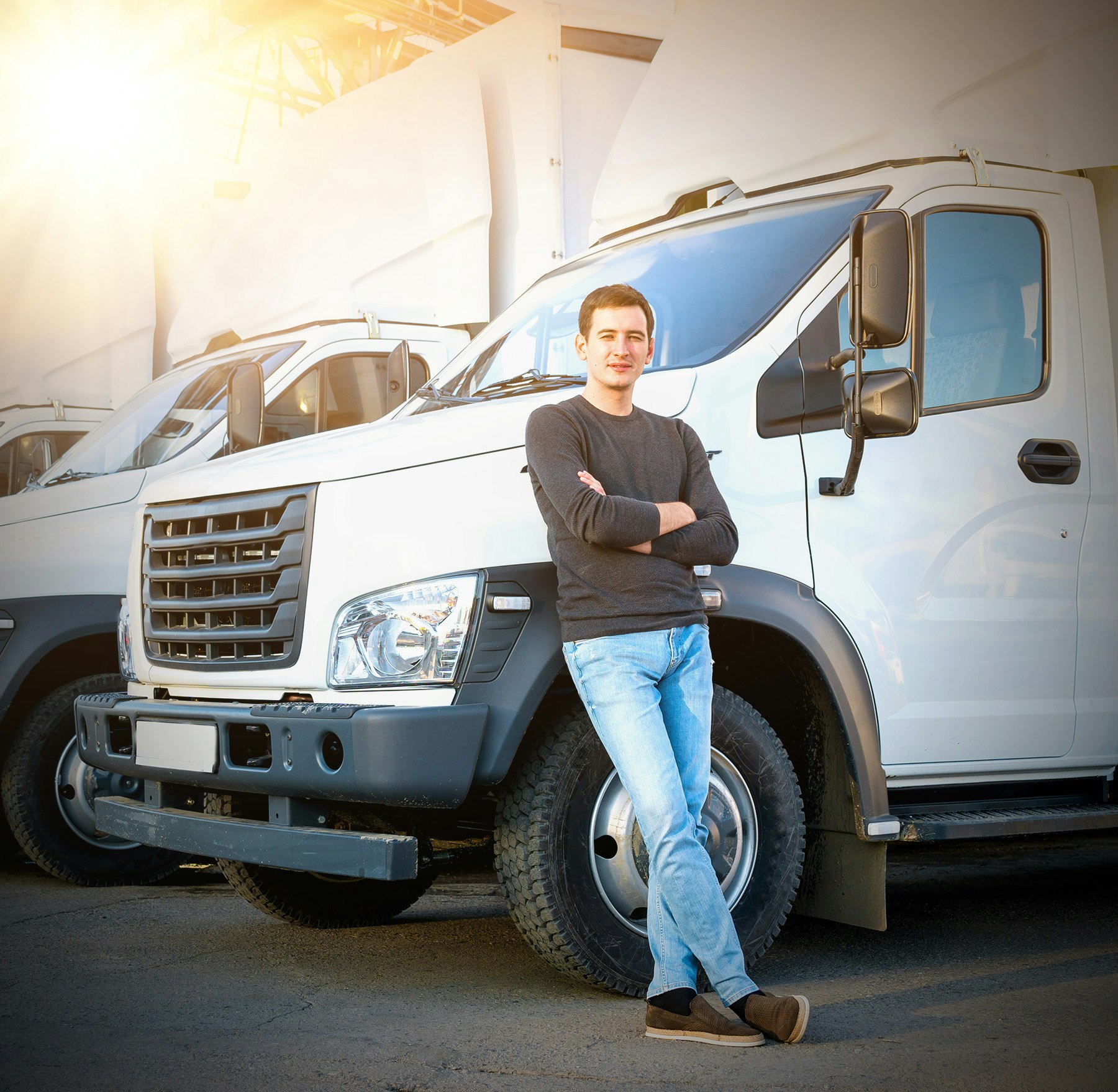 Take control of costs with a custom commercial fleet financing strategy.
We're driven to deliver exemplary personal service. We don't simply hand you a cookie-cutter solution you'll find at other fleet management companies.
We identify your unique financing needs by assessing your current fleet vehicles and their utilization as well as looking at your industry, operations, and budgeting factors. Then we collaborate with you to determine the lease type, terms, and rates best suited to your business goals while optimizing your cash flow and minimizing your total cost of ownership.
Partnering with a privately-owned fleet leasing company enables you to implement a fleet leasing strategy that is personalized for your organization's needs.
As a privately-owned fleet leasing and management company, we have the ability to provide very flexibile leasing terms. That means we can customize a lease agreement based on a financing strategy and vehicle life cycle plan that maximizes the efficiency of your fleet vehicles and minimizes your total cost of ownership (TCO).
We partner with you to tailor a financing strategy, enabling you to cost-effectively acquire your vehicles and ensures:
Match lease terms to actual driving habits in allowing you to only pay for the portion of the vehicle you use
Acquire assets that will achieve lower variable costs with a higher resale
Improve EBITDA (Earnings Before Interest, Taxes, Depreciation, and Amortization)
Your vehicles can be replaced at the optimal time to reduce maintenance costs and maximize safety, productivity, brand image, and resale value
Enjoy the expertise of a top fleet leasing company combined with personalized service aimed at growing your business.
Our 65+ years of experience as a top fleet leasing company, with an expertise in Fleet Science, has taught us that the best way to win a client's business for the long run is through exemplary personal service. And that means service that's delivered by a team of fleet leasing experts that are as nimble and knowledgeable as they are attentive and helpful.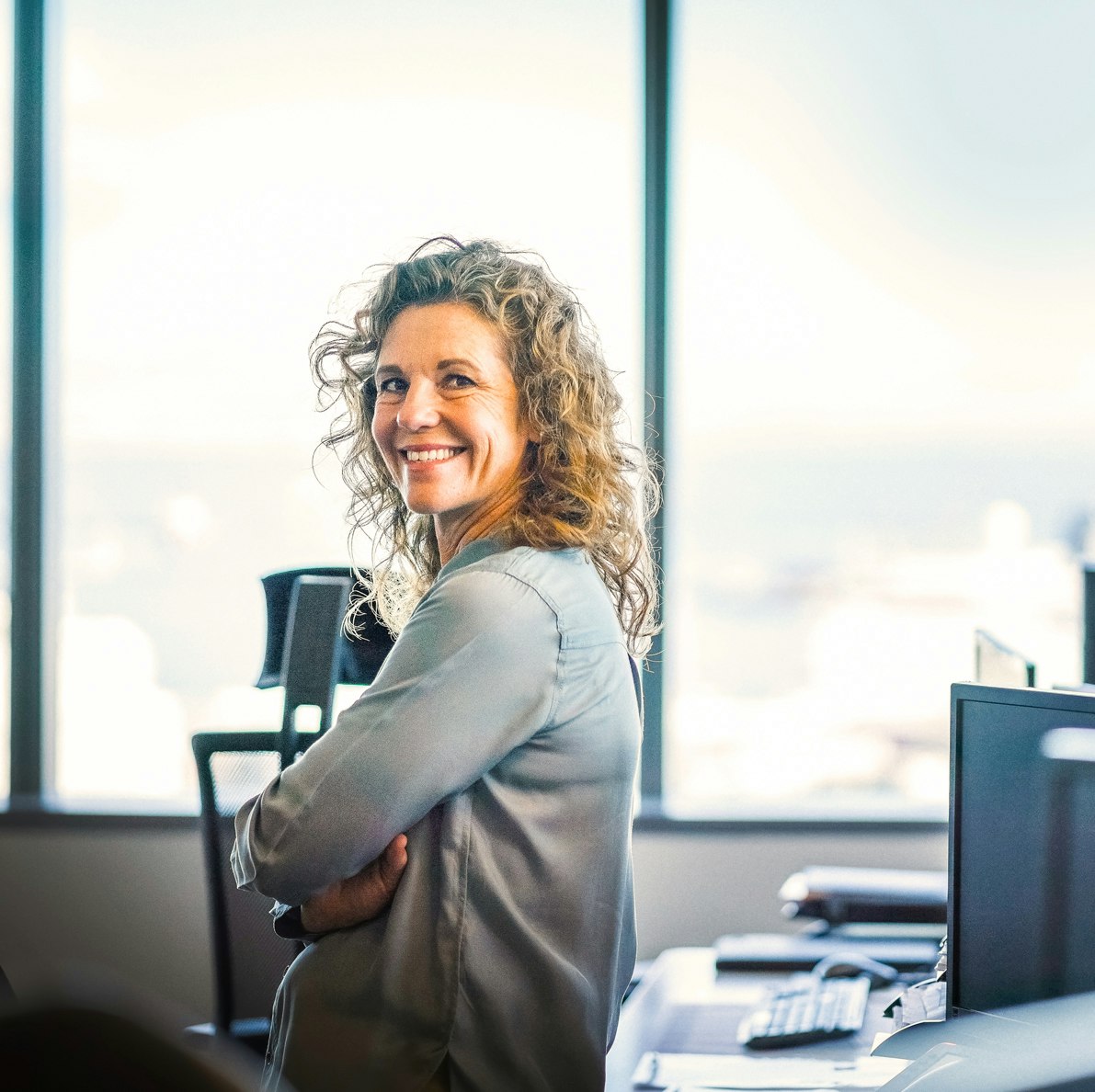 Why lease commercial vehicles instead of purchase?
Unlike vehicles for personal use, work vehicles are business assets. As such, most of our fleet clients choose to lease their fleet vehicles instead of buying them. Opting for fleet lease cars and trucks is a more flexible alternative that optimizes your business cash flow and helps minimize your TCO.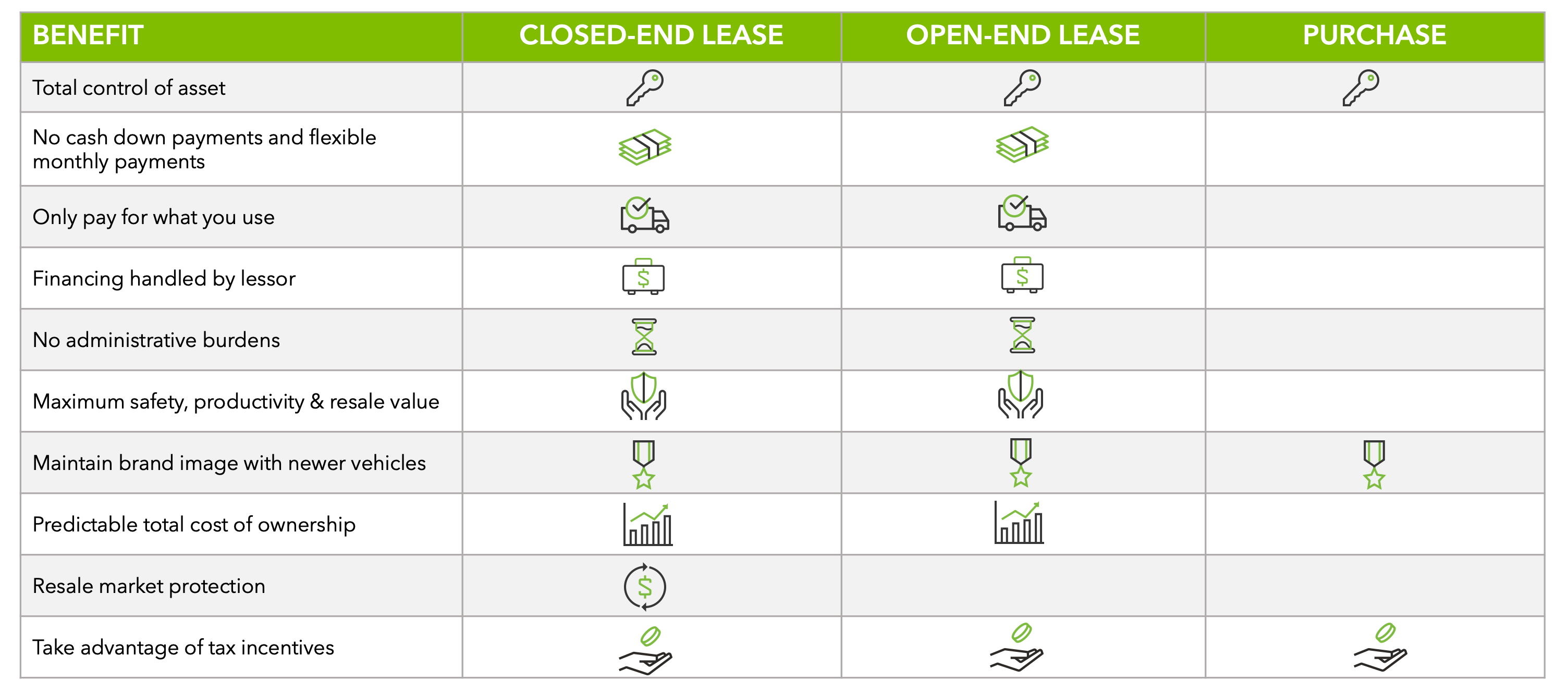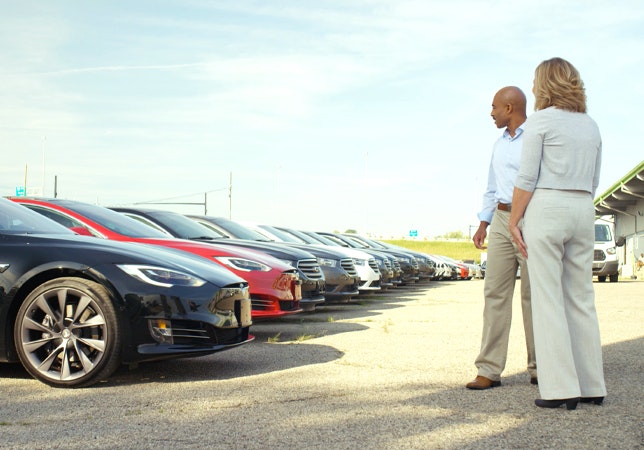 Closed-end fleet lease
On a strict budget for fleet leasing cars? Need to know your total cost of ownership up front? Can't afford to be exposed to market price volatility, rate fluctuations, or seasonal resale factors? A closed-end lease may be your best answer.
With a closed-end lease, you can protect your business from residual risk by returning the vehicles at lease-end with no resale obligation. Mike Albert assumes the risk that comes with the depreciation and remarketing of your vehicles.
As a leader in closed-end leasing, we provide more flexibility in terms of mileage by offering you two different options: our mileage credit program and our unlimited mileage program.
Open-end fleet lease
An open-end lease has a minimum term (typically 12 months) which you can terminate any time after the term ends. When you do, you can either purchase the vehicle for the residual value or turn it in for resale. In that case, if the market value exceeds the residual value, you receive the gain. If the market value is less, you pay the difference.
An open-end lease may be the best solution for your business if:
You have remarketing expertise and want to try to resell your vehicles for a profit.
Your vehicles have been specially upfitted for on-the-job tasks.
Your fleet has frequently changing needs.
Your fleet lease cars are subjected to rough usage.
You're a private equity owned company.
To better fit your financing preferences, we offer two types of rates on our open-end leases: floating and non-float.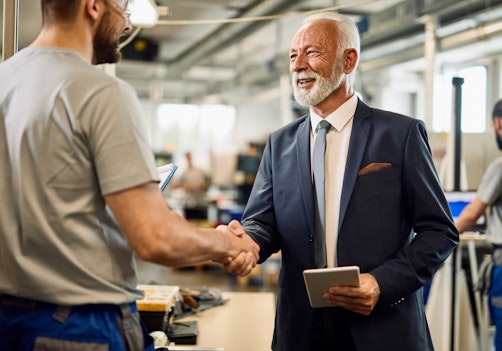 Fleet Fundamentals
Learn more about the differences of open- and closed-end leases
Heavy-duty fleet leasing
Lease your vehicles with low upfront costs and terms that make sense to the lifecycle specific to heavy-duty trucks. Our team of financially fixated experts works with you to determine the best funding strategy for your heavy-duty fleet that will avoid hidden, pre-paid, or pro-rated fees common with many standard heavy-duty leases. Plus, you can choose to add our maintenance management service designed for heavy-duty fleets with pre-negotiated pricing, parts discounts, mobile service providers, and first-priority service agreements at leading OEM shops.
Acquisition and upfit for heavy-duty vehicles.
In addition to varying lease options, we can assist you with procuring the vehicles best suited to the needs of your business. Heavy-duty options, including heavy-duty truck leasing, are available.
This process can include building a singular vehicle specification standard for your fleet or specifications customized to each vehicle. We work with you to determine factors such as use, application, and geography, so that we may fully understand your needs. Our experts then utilize their extensive knowledge of different options to maximize your vehicle power, fuel economy, safety, and brand recognition to ensure your fleet is customized for your success.
Avoid overpaying for commercial vehicles with matched depreciation.
Most commercial vehicle leases are configured to depreciate quickly in a straight line down to $0. But vehicles still have value at the end of their leases. That's why we match your vehicle's depreciation to the remaining book value at the end of your lease, saving you from overpayment. In face, with matched depreciation, many of our clients save up to to $150 per month per vehicle.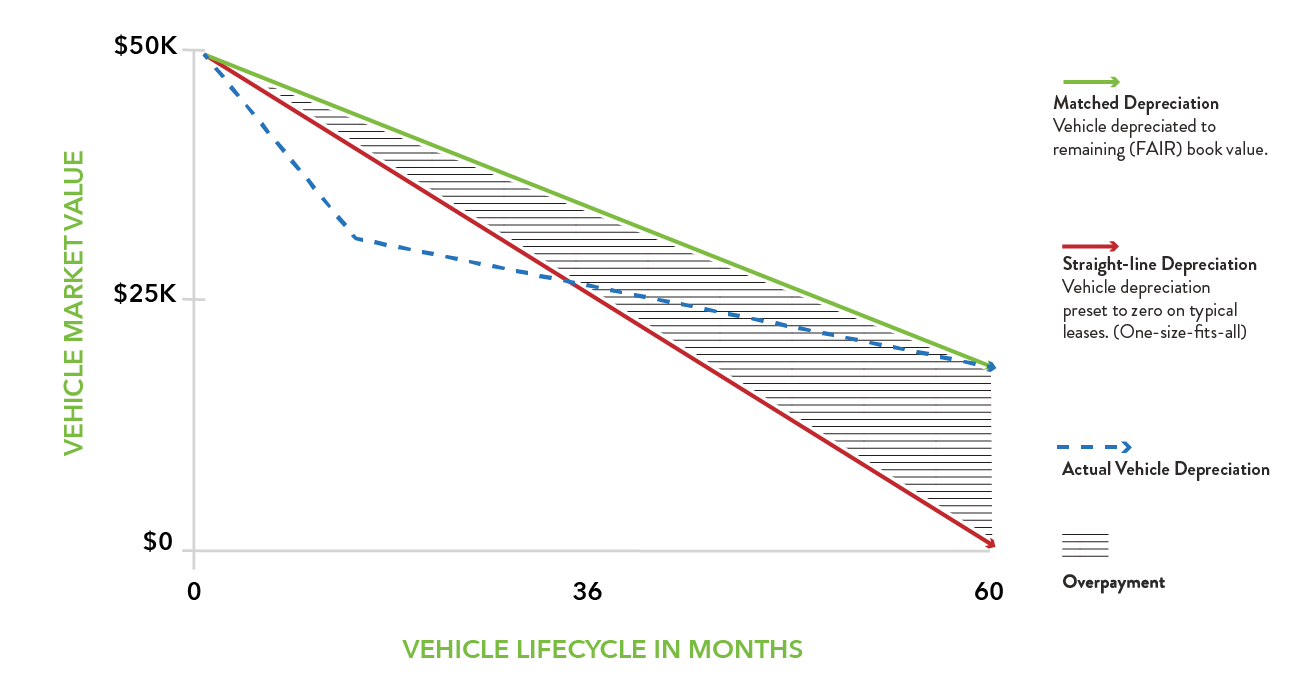 Stay on top of industry changes with the knowledge of our fleet pros
We understand that changes in your business and the economy over time may require adjustments to your vehicle financing strategy. Our team is always at the ready to make modifications that help you keep your fleet up and running safely and cost-efficiently.
Commercial fleet leasing FAQs
Fleet leasing, sometimes known as commercial vehicle leasing, is the low-risk funding strategy businesses use to acquire costly fleet vehicles and equipment. Like a private lease, an agreement between lessor and lessee allows the entity to page for depreciation and market value during the time the vehicle is in use. It also allows them to easily change vehicles if theirs is too expensive, or no longer the right fit. Commercial and private entities utilize fleet lease vehicles when they want to avoid the limitations of purchasing. Those limitations include:* Having a big down payment * Accommodating for seasonal profit differences * Avoiding impacts of credit reporting
Fleet financing describes the creative funding solutions that consider the asset needed, the length of service life, and how the client wishes to pay for the use of the asset. True fleet financing is not one size fit all. Fleet financing may look very different from one client to the next based on type of business and financial requirements. It can be in the form of outright purchases or open and closed-end leases. The leases can be structure to meet the client's needs for depreciation, cash preservation, mileage requirements, or upfit needs.
Any industry that relies on a fleet of vehicles can benefit from fleet leasing. These often include fleets that are used to: * Provide goods & services * Carry passengers * Represent your brand
Let's chat about your fleet management needs.
Share you info with us and choose a time to discuss your fleet with a member of our team.