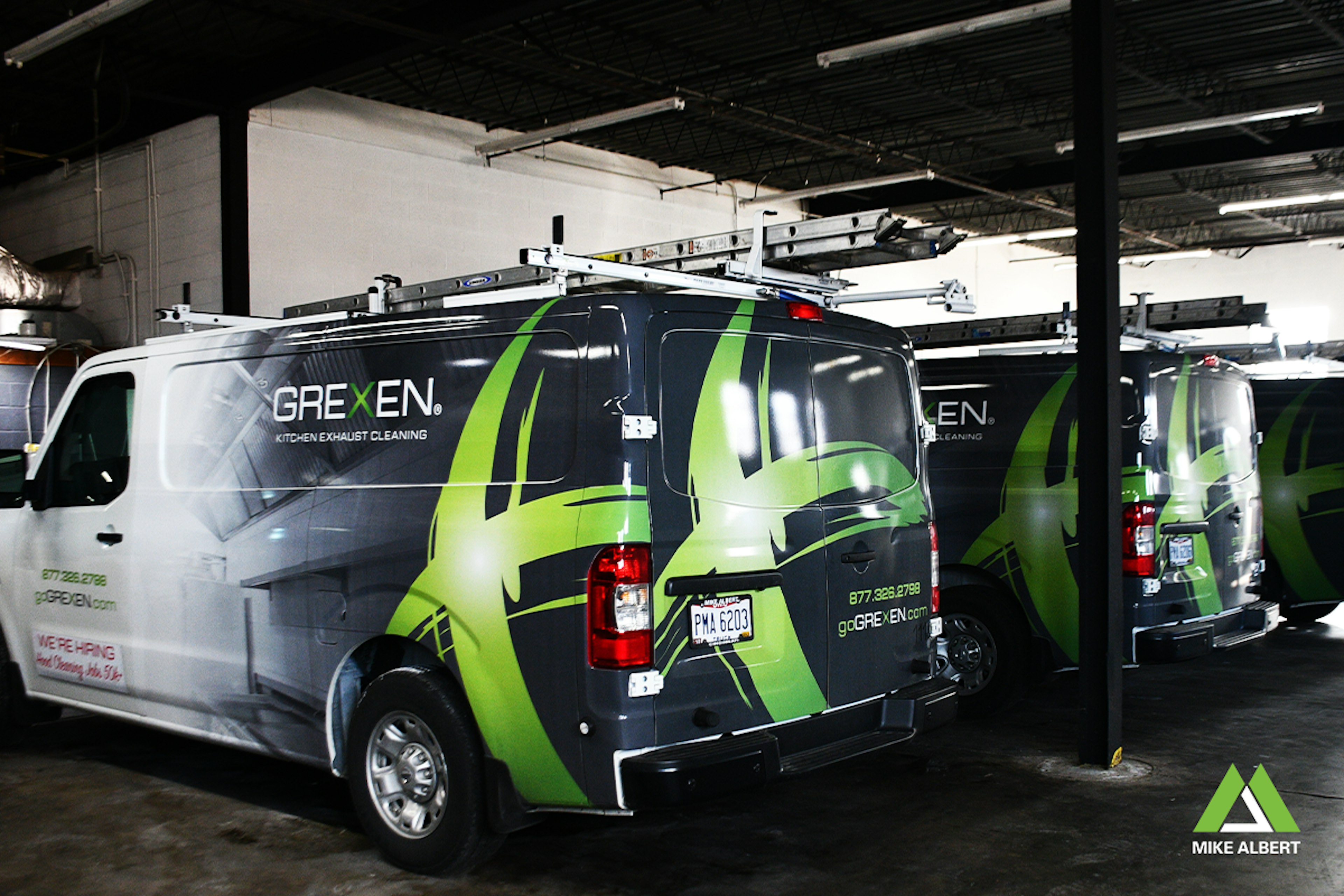 Grexen Cleaning Services
GREXEN TURNS COVID-19 STRUGGLES INTO SUCCESSES WITH NEW, CUSTOMIZED FLEET AND UPFIT SOLUTIONS

INDUSTRY
HOOD & KITCHEN EXHAUST CLEANING



Click here to download Grexen's Success Story.
GOALS
Acquire vehicles in a cost-effective way that doesn't tie up capital
Create a vehicle upfit system for easy maneuvering around heavy equipment
Wrap vehicles in refreshed branding for stylish on-the-road advertising
Boost job satisfaction for drivers with a vehicle that offers a pristine work environment
COVID-19 TAKES A BIG BITE OUT OF GREXEN'S BUSINESS
"When COVID hit, we had some time to pause," said Karl Riekstins, CEO and Co-founder of Grexen.
For many businesses, the eruption of the COVID-19 pandemic halted the regular work schedule. At Grexen, they faced a near-total reduction in work.
Grexen, a Cincinnati-based kitchen hood cleaning service, caters primarily to restaurants. When restaurants were shut down or operating at reduced capacity due to COVID-19, the need for Grexen's services was vastly reduced. Riekstins had to figure out how to ensure Grexen's survival through the pandemic, as well as how to keep his team employed. "When you can't do very much, what are you going to do?" he asked.
TURNING DOWNTIME INTO "WOW" TIME
Since business was so slow, Riekstins took the opportunity to reevaluate all aspects of his company. In addition to his usual focus on service and growth, he aimed to reaffirm the foundation of Grexen, determining that, "The culture of my company, its foundation, is everything that is tangible. It's our equipment, our vans, our workplace and the way things look." As a result, Riekstins resolved how to keep his employees working while also preparing for higher profit. "I decided we should clean shop, literally."
Riekstins and his team spent the first few months of the COVID-19 pandemic renovating their Cincinnati headquarters. They scrubbed, tiled and painted, transforming their shop into a pristine environment, making it a more enjoyable space to work. But there was still one crucial part of their business in dire need of a makeover—their fleet. The condition of their vans was a poor representation of their company as well as an unpleasant "mobile office experience" for Riekstins' team.
These vans were originally in great condition when Riekstins purchased them pre-owned from Mike Albert Sales & Service. But the large, heavy hood cleaning equipment they transported in the back of the vans was difficult to move and clean around, resulting in a severe build-up of grease, soot and dirt. Plus, the vans weren't equipped with ventilation systems for their equipment, so Riekstins' team vented the vans themselves with modifications that damaged the vehicles' value and appearance.
Consequently, since the vans were dirty, unsightly and not modified properly, Riekstins' team didn't feel the need to take care of them with regular maintenance. Riekstins explained, "We had these vans breaking down constantly, so I was putting more money in—two, three thousand dollars a month—just to keep them going."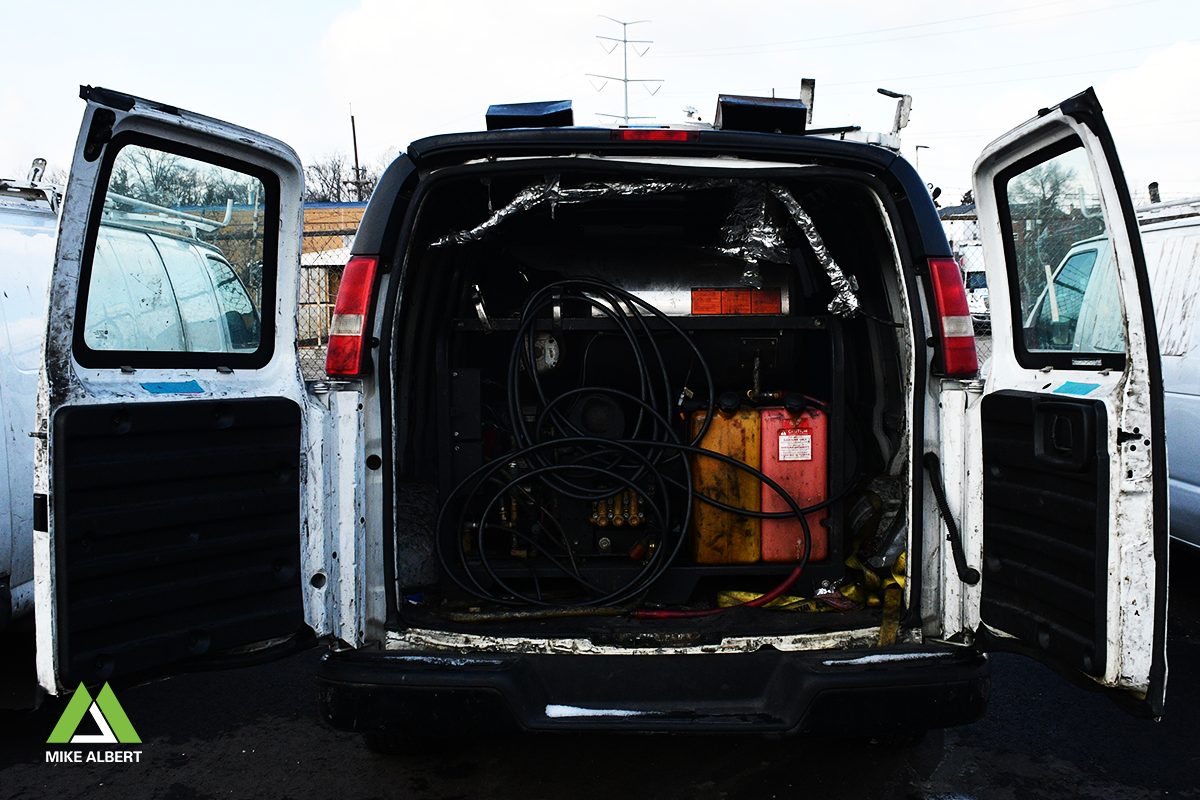 A NEW CUSTOM FLEET TO SOLVE THE UNSOLVABLE
At first Riekstins assumed the situation couldn't be fixed. He attempted to keep the vehicles in check by trying to monitor their maintenance more vigilantly from the get-go and encouraging his drivers to do the same, but nothing worked. In need of a better solution, Riekstins turned to Mike Albert Fleet Solutions.
"At the end of our meeting I was like, 'Wow, okay, we're definitely doing this,'" Riekstins recalled from his initial meeting with Jason Henning, Director, Sales & Strategic Markets at Mike Albert Fleet Solutions. "Jason wanted to know about our challenges. He wanted to know about our issues. He wanted to see the vehicles that we were using. He was very geared to getting us to a place where we could really think about our challenges and the potential ways of overcoming them. And he didn't just pretend to have the answers, he went back and did the research and talked to people."
With the help of an expert team of problem-solvers from Mike Albert Fleet Solutions and their holistic approach to fleet management and TCO reduction, Riekstins was able to lease a fleet of brand-new vans equipped to accommodate the specific needs of his business and his drivers.
The Mike Albert Fleet Solutions team arranged for the vans to be upfitted with a customized storage system designed with a super-sturdy sliding shelf to hold Grexen's heavy equipment. The shelf easily slides out of their vehicles and is supported by folding legs, so the equipment can be properly vented when in use. Plus, the sliding shelf makes it effortless to move their equipment out of the way when Grexen's team needs to clean the vans' interiors and access stored items.
Dividers between the crew and storage space were also implemented to ensure the crew area can remain clean and orderly. And to top it off, the vans we're wrapped with the Grexen logo and brand graphics to boost and advertise the company's image.
A REVITALIZED GREXEN IS FIRED UP FOR THE ROAD AHEAD
With these brand-new, well-equipped vans, Riekstins has experienced a positive turnaround for his business and his team. His employees now take pride in their vans and stay on top of their regular maintenance and cleaning. Also, his team is happier and more productive on the job since they're operating out of spiffy, new "mobile offices." As a result, Grexen is completing a greater volume of work in less time than ever before.
Thanks to the help of Mike Albert Fleets Solutions, Grexen is now prepared to use their new vans to tackle the post-COVID-19 world and expand their business into new markets.