You may not be in the business of selling used cars, but we are. Save yourself the hassle of worrying about reconditioning and representing your car at a fleet vehicle auction.
With our vehicle remarketing approach, we refuse to let you settle for less than your vehicle is worth. For every dollar we spend on value-added reconditioning, we will net you a $2-$3 gain in return. Maximize the profit of all your fleet vehicles and simplify the process by turning to a partner who knows the market in and out.
What is Vehicle Remarketing?
Vehicle remarketing is the practice of selling used fleet vehicles. Vehicle remarketing is based on forecasting trends, knowledge of vehicle makes and models, and connections with the right people and channels. Fleet managers often assume there's no value left in their vehicles and opt to dispose of them, but vehicle remarketing can help fleet owners return a fair market value for their used vehicles.
Putting more money in your pocket with our auto remarketing approach
We are rooted in the used vehicle market, giving us a unique advantage over our competitors when it comes to disposal & fleet lease remarketing.
We believe in pushing for a sale that is not just fast, but profitable. In 2019, we sold 75 percent of our fleet remarketing vehicles within 30 days of vehicle grounding. On average, it takes us 32 days to sell.
Our competitors may boast a quicker turnaround. But unlike other fleet management companies, we often won't sell the first time. And that translates to significantly more money. We've painstakingly tracked how much better we do on average when we hold out for a better offer — and that averages $1500 more in your wallet.
Here's what you get when you choose Mike Albert for your fleet lease remarketing needs:
Thorough examination of each vehicle to determine the profit potential
Data-driven reconditioning suggestions via condition reports outlining how to add value
Personal attention of vehicle to properly track its progress throughout the sales process
A fast sale with maximum net sales proceeds
Disposal vs. Fleet Remarketing
If you're looking for a quick few hundred dollars, fleet lease disposal may be for you. But fleet remarketing is the clear choice in cases where we find we can minimize expenses to sell and maximize the most money for retention.
By using developed pricing models and using multiple pricing guides, we're able to know when to sell and not sell. That sometimes means it takes a few extra days, but returns more money to you. Most of our customers eagerly opt to trade 10 days for an extra few thousand dollars.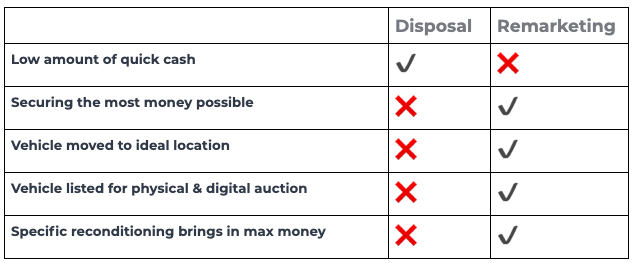 Experienced fleet vehicle auction management
Our experience in the auction management sector translates to hundreds of thousands in extra cash, right into your bank account. Over many years in the auto remarketing business, we've cultivated relationships that last with the highest-performing auctions around the country. And we have some of the highest gains to show for it. Here's what the fleet vehicle auction process looks like:
We send your vehicle to the closest, best-performing auction in your region.
A dedicated team reviews the vehicles either in person if they're in Cincinnati, or through an online conditions report.
That team tells us what reconditioning the vehicle needs to maximize profit potential for you.
We review account market timing, geographic market differences and sales history and determine the more appropriate floor price to sell your vehicle.
If you're based in Cincinnati, we personally represent your vehicle either in person or digitally.
If you're not in Cincinnati, our auction partners represent your vehicle, backed by our recommendations. If your vehicle doesn't meet the strategic floor price we set, we won't sell it — we'll list it digitally in between fleet vehicle auctions.
Our data and sales expertise informs us on when to sell and when to hold. When it comes to vehicle remarketing, we find that most people are willing to give an additional 10 days for an extra $1.5K in their bank.
Take a look at what else we can do for you. Browse our additional services or take our free fleet assessment. We'll give you a selection of services that will help you the most.