You gave your fleet vehicles a good run. They were reliable, well-used and took your business places you never thought it could go. So when it comes time to sell them, you'll want to be sure to maximize their return based on the use, tools and environment in which you're selling.
If you run your vehicles until the tires fall off, chances are you won't be happy with what you'll get in return. That's why it's always a good idea to consider strategic vehicle life cycle. Instead of planning for vehicle disposal, consider vehicle remarketing.
What is vehicle remarketing?
Vehicle remarketing (or fleet remarketing) is the art of selling used cars. And yes, we're referring to it as an art, because to get the best return on your fleet vehicles, it takes meticulous attention to forecasts and trends, knowledge of makes and models, and connections with the right people.
While fleet managers often opt to dispose of their vehicles (assuming there's no value left in them), vehicle remarketing is a better alternative.
When you work with an experienced remarketing partner, they'll do all the work to get your car into fleet vehicle auctions. Thanks to their expertise in the vehicle remarketing space, they'll help you secure the most money possible.
The vehicle remarketing process
Make a plan.
Call your remarketing partner and let them know you have a vehicle that needs to be picked up. They'll ask for the vehicle's location, an identification number and a contact person who can give them the keys. They'll then share this information with their auction partners.
Vehicle reconditioning
Once they have your vehicle, the remarketing partner will see how many bumps and bruises they need to repair to get your vehicle in pristine, auction-ready condition (think: a deep-clean and removal of identification decals). If they determine vehicle reconditioning could get you $3 for every $1 spent on it, they'll invest in it on your behalf. If not, your vehicle will go on sale as is.
Wait for a sale.
Your vehicle then gets posted on a pre-auction marketplace where it could sell as long as location allows. If it doesn't sell, it goes to a physical auction where someone will either make an in-person or digital purchase of the vehicle. From there, the turnaround is approximately 28-32 days, and you'll get the funds in your next invoice as a credit.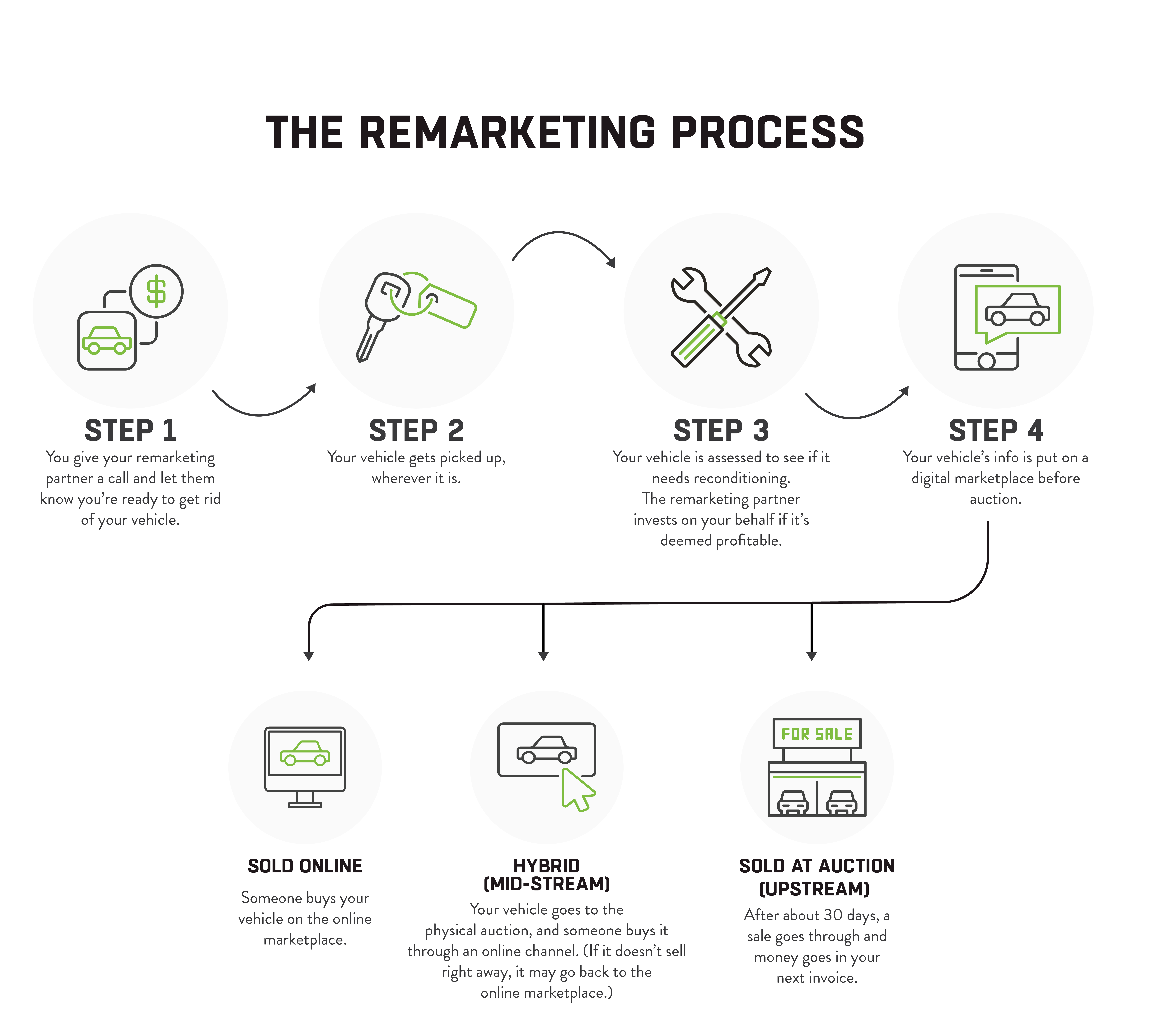 Get these ideas out of your head:
There are a number of misconceptions around vehicle remarketing. Should you think about vehicle reconditioning? What type of fleet vehicle auction should you consider? Here are some myths surrounding vehicle remarketing:
MYTH: My vehicle will sell the best at mega sales.
TRUTH: A great fleet remarketing partner will have contacts with different types of auctions.
→ If you're selling a Toyota Camry, and you take it to a mega sale with 25 other Toyota Camrys, there's no reason someone will choose to buy your vehicle over a national vendor's. That's why some vehicle remarketing partners have built relationships with national chains and independent mid-major auctions. These will have a unique buyer population and oftentimes a lower number of similar vehicles being sold, so yours stands out.
MYTH: The best offer is your first offer.
TRUTH: Holding out for a better offer could yield $1,500 more.
→ Don't push for a sale that's fast but not very profitable. Some companies will boast a fast turnaround, but they're not giving you the full picture. Companies who wait a little longer — a few days or a week — can yield you more money. Although selling fast is convenient, most people are happy to hold out a few days for an extra $1,500 for their bottom line. A great fleet remarketing partner knows your vehicle's true value — and if it doesn't sell for that price right away, they'll wait for the next auction and run it again.
MYTH: It's always a good sign if you get money back after turning in your leased vehicle.
TRUTH: If you get $0 back on your used fleet vehicle, it means you didn't overpay.
→ Think of leasing vehicles like you do your tax returns. Your goal should be $0 received and $0 owed. If you get a refund, it means you overpaid throughout the year. If you owe money, it means you need to close a gap. Although it may feel good to get $50,000 back into your business when you turn in 10 of your assets, that may be an unbudgeted, unplanned and taxable event — and accountants don't like surprises.
MYTH: Privately owned remarketing partners don't have as much reach as national vendors.
TRUTH: Nimble and privately owned fleet remarketing partners often have a reach beyond company headquarters.
→ Sometimes it's the nimblest fleet management companies that have the least red tape and some of the best talent in the business. Many have built meaningful contacts with dealers across the country. Plus, a private company will often hold off until the market is better if that's in their client's best interest. In contrast, a corporate machine won't always take seasonal considerations into account — they need to hit a quota and keep busy, so they're quick to convince you to sell low.
MYTH: Physical auctions will always yield the best return.
TRUTH: Sometimes you can get a great sale online before a physical auction.
→ These online auctions are called "upstream channels," and they were taking off even before the pandemic changed the way we buy and sell used cars. Upstream channels are like digital marketplaces where buyers can scroll through options. They allow you to list vehicles to a much larger audience and sometimes even yield a better return (and less money spent moving cars and reconditioning them for auctions).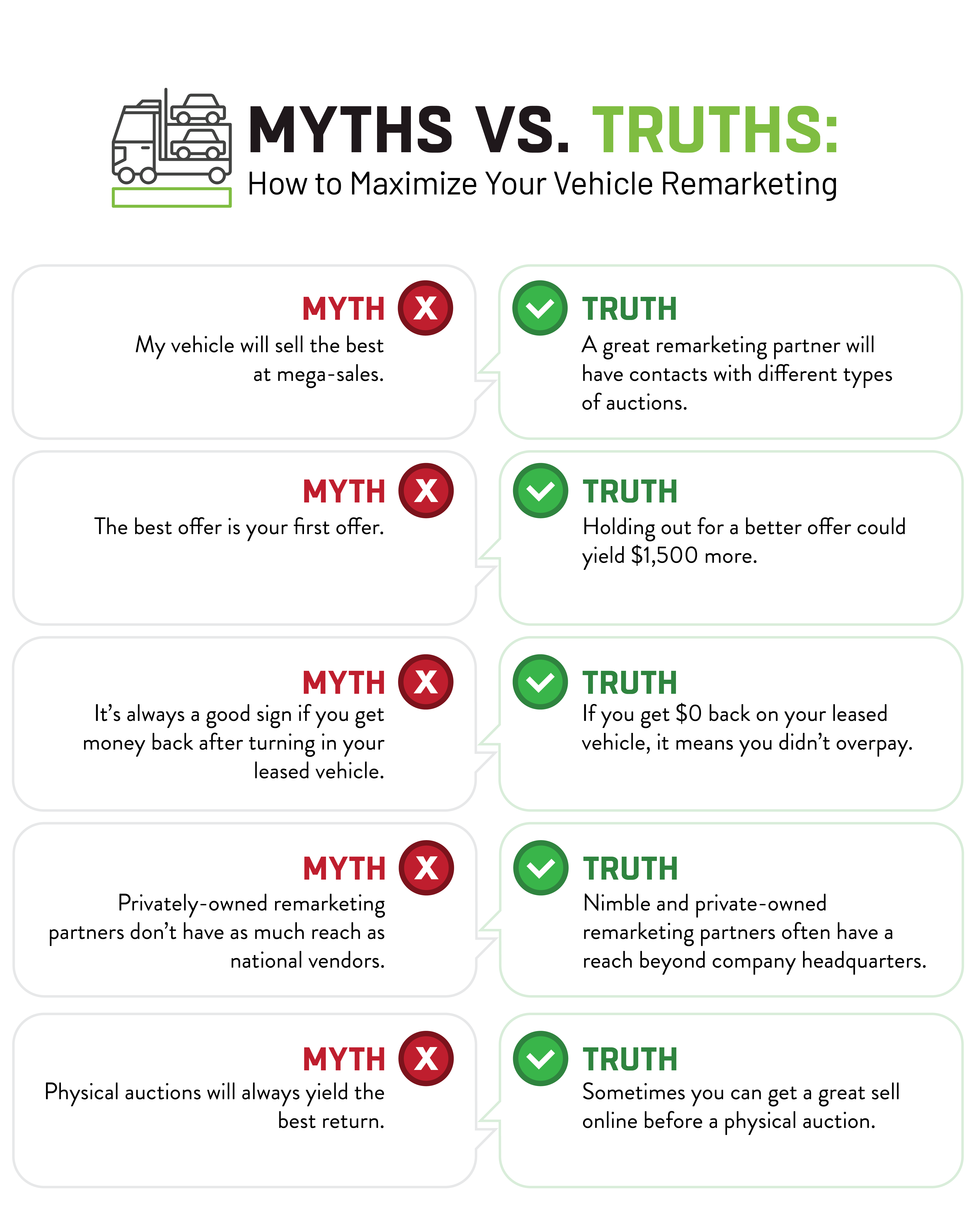 The roaring 20s for used vehicle sales
Why has used car value been so high?
The first few months of the pandemic were defined by unpredictability and panic. In hindsight, late summer and fall turned out to be a good time to sell cars. No one truly knew what would happen in the used car industry in March of 2020. Fleet management companies recommended not succumbing to knee-jerk reactions: Stay the course and do what you did in prior years.
That turned out to be sound advice. Before the pandemic hit, the average used vehicle sold for $19,270. As of August 2020, however, the average used vehicle was worth $20,245…$1,000 more than the pre-coronavirus period. So what was driving this value?
Supply and demand. At the most basic level, there was simply a low supply of cars but an extremely high demand. Americans spent less money on vacations and outings and had more savings to use on a vehicle. And people who typically relied on ridesharing platforms had a newfound desire for their own car.
General boredom. Demand was driven, in part, by boredom amid lockdowns. With the inability to go into work and restaurants, and a hesitance to gather with friends and family, people started shopping for cars.
Stimulus checks. Many Americans benefited from the $2 trillion economic stimulus package, which gave them extra capital for a down payment on a car. That, combined with many Americans working from home and spending less money on outings, led them to consider vehicle upgrades.
Why is it a great time to sell used cars?
Historically, the used car market heats up in late December and early January with tax season. But many analysts believe it could be a stronger year if the government approves a second stimulus package. According to an industry consumer survey, 11 percent of consumers indicated that if there was an additional stimulus package, they'd use it toward the purchase of a vehicle.
The auto industry forecast indicates it's a particularly great time for buyers to go with used cars, due to the fact that this year's new car production struggles to catch up to where it was. In 2019, the U.S. hit a high of 17 million new cars produced. As workplaces temporarily shut down this year, original equipment manufacturers (OEMs) had fewer people working. That led to fewer vehicles being manufactured. Experts predict this year's final production number will be significantly lower, about 14 million.
Because of these factors, it could take a while for manufacturing to ramp up again as we enter the new year. With the used car supply continuing to gain ground, it continues to be a great time for selling used cars.
Find a company that makes a difference
You should be as thoughtful and strategic about the disposal of your vehicle as you are about acquiring it in the first place. But getting the best return on your used car sales might as well be a full-time job. For many people, it is. Fleet management companies and remarketing partners have the know-how on industry benchmarks, trends and connections to get the best bang for your buck.