When to buy, sell, or trade your commercial fleet of vehicles.
It's not the stock market, but effectively replacing fleet vehicles is all about timing too. Should they stay or should they go? It's a question all fleet managers will eventually face.
301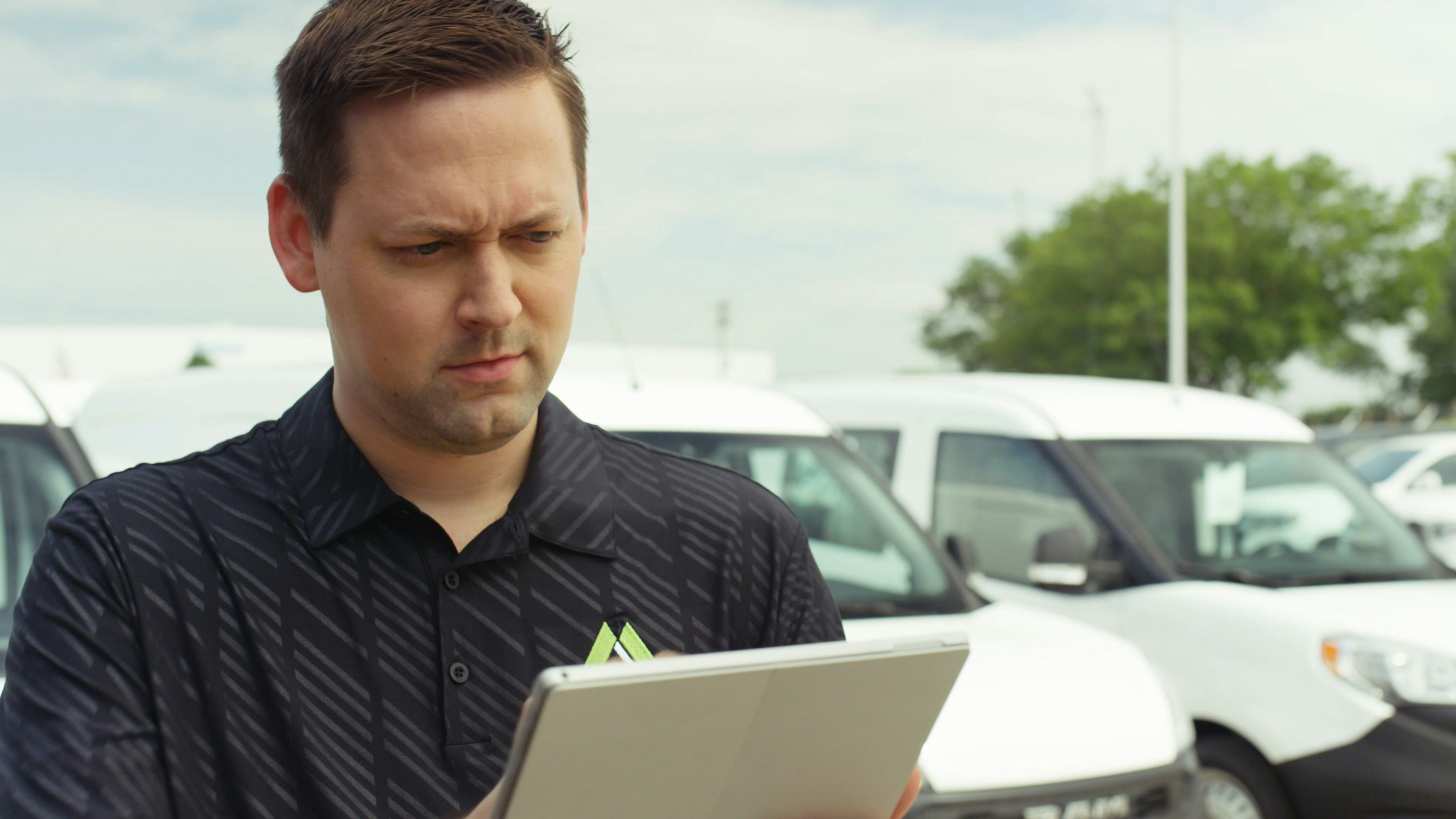 Skills covered in the class
Financial Management
Monitoring and understanding the TCO of each of your vehicles and your fleet's overall ROI.
Vehicle Life Cycle Analysis
Knowing how and when to sell or turn in your vehicles for new ones.
Driver Retention
Keeping your drivers safe, productive and happy.
Operational Efficiency
Ensuring your fleet is performing at its highest level at the lowest possible cost.
Should they stay or should they go? It's a question all fleet managers will eventually face. Replacing fleet vehicles is all about timing.
When is the ideal time to replace a unit? Deciding on vehicle replacement schedules can be challenging, especially without a good fleet management partner. For most fleet managers, knowing exactly when to replace a vehicle is like trying to figure out the precise time to let go of a favorite stock or commodity – it's an indefinable, unpredictable guess.
When do you believe is the right time to cycle vehicles? What steps are you taking to accurately track the costs and get out of vehicles at the right time? Is your strategy in alignment with your financial and operational goals?
Focusing on the Total Cost of Ownership, Mike Albert Fleet Solutions answers these questions by taking into account factors like best practices, resale market conditions, manufacturer's model year timing, incentives and maintenance data. Deeply rooted in the used vehicle environment, Mike Albert has extensive experience in "playing the market" that creates a distinct advantage when it comes to maximizing vehicle resale.
There's no replacement for a Fleet Vehicle Inventory Replacement Strategy
In today's economy, companies are trying to reduce operating costs by any and all means. As a top five to 10 business expense, fleet management typically ends up on the chopping block of operational expenditures. This creates tremendous pressure for fleet managers who are expected to keep costs as lean as possible while maintaining a fleet of vehicles. It's tempting to try and extend the lifecycle of fleet vehicles. However, this strategy will actually end up costing fleet managers more in the long run.
The majority of fleet and fleet-related costs are impacted by when a vehicle is replaced. Yet, most fleet managers are unsure of the optimal time to replace a unit. At Mike Albert Fleet Solutions, one of the strategies used to advise clients on the ideal time to optimize lifecycle programs is to consider the market – in other words, how to depreciate and reduce maintenance. A review of industry best practices combined with 80 plus years of automotive experience spanning more than 13,000 vehicles managed has revealed effective fleet managers use data-driven strategic cycling. Why?
Warranty expirations
Fuel degradation
Non-budgeted maintenance cost spikes
Productivity
Risks,
Aggressive incentives
Ability to maximize resale market
By using national as well as empirical data, Mike Albert has created a detailed system to strategically prioritize vehicle lifecycles and replacement decisions. Mike Albert Fleet Solutions' experience drives the right results for achieving true cost optimization.
Know when to hold them, know when to fold them
Many organizations continue sinking money into vehicles long after the value has diminished beyond the point of keeping, let alone repairing them. Maintenance costs on older vehicles can be astonishing and will add up quickly.
Clearly, it's not financially prudent to operate extremely high-mileage vehicles. As vehicles age, fleet managers could be spending nearly $70 a month on maintenance costs alone. The challenge is pinpointing precisely when that time occurs. A careful and thoughtful analysis of direct and indirect costs combined with the use of predictive analytics can tell you when the right time is to strategically cycle out a vehicle for replacement. And even common sense says the ideal time to get out is right before the major breakdown – not after.
While one size does not fit all, based on data, maintenance costs typically skyrocket by two to three times after 150,000 miles. Generally, during the first 50,000 miles, preventative maintenance such as oil changes, wheel alignments and tire rotations constitute the bulk of a vehicle's operating costs. Over the next 30,000 to 50,000 miles, operating expenses increase as items such as brakes and tires need to be replaced. From this point forward, costs continue trending upward throughout the life of a vehicle. Not all maintenance costs are predictable, yet they do tend to be cyclical. Extending replacement beyond this point runs the risk of significantly overpaying for a vehicle.
Trying to depreciate vehicles down to $0 is even more costly. A vehicle is never really worth $0, so attempting a straight-line depreciation schedule ensures overpayment as costs won't be recovered when the vehicle is sold.
Lease depreciation: Optimal rate versus current practices: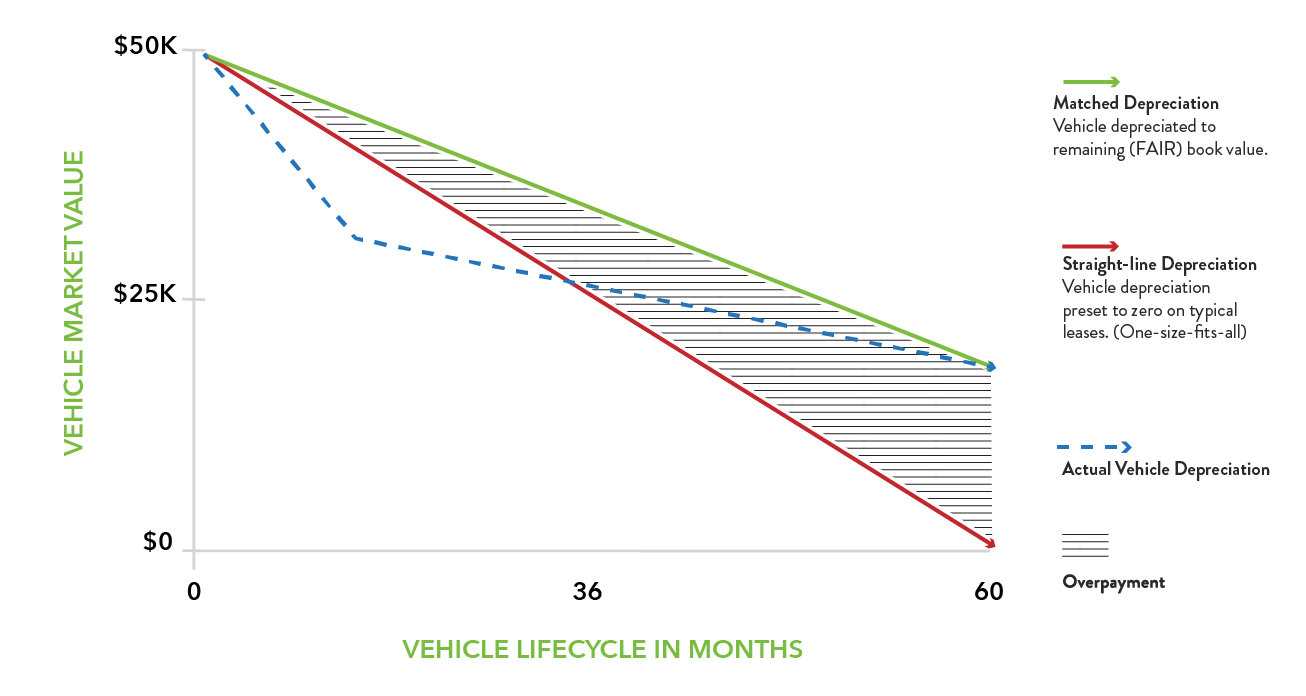 Driving vehicles too long drives up hidden costs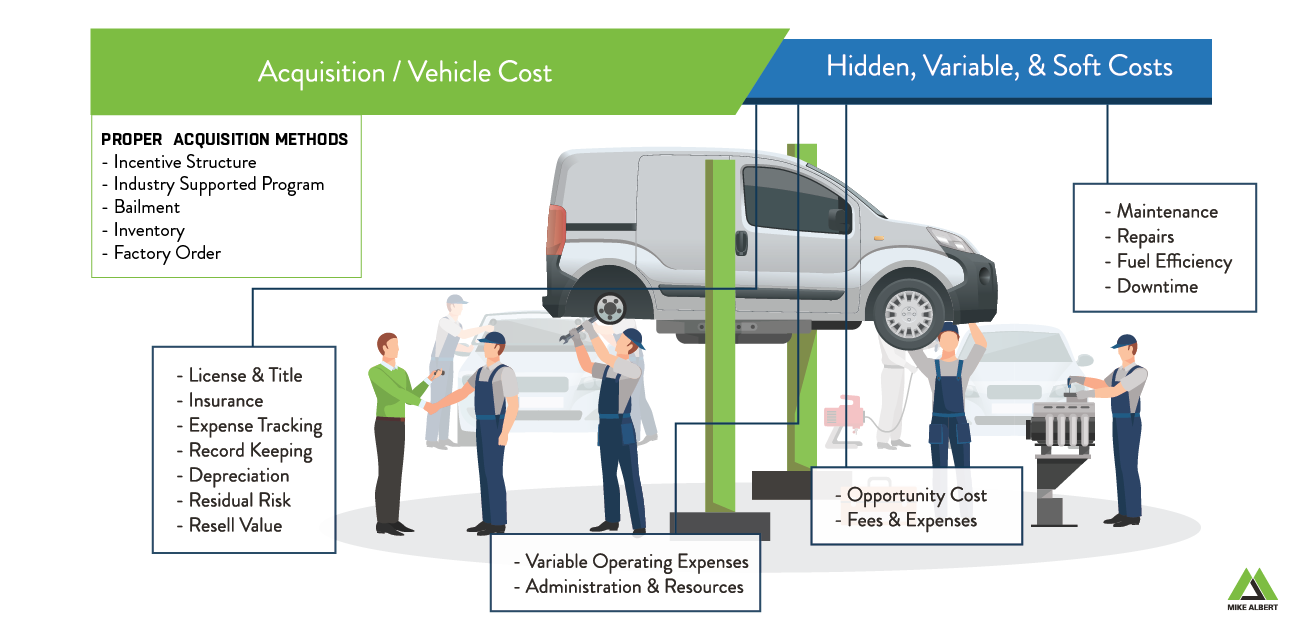 In addition to the potential for downtime with more fleet maintenance events and work order expenses, "experienced" vehicles also have a greater likelihood of driving up "soft costs." The older a vehicle the more likely it's general condition declines. For example, the driver's seat will have seen it's better days creating comfort issues, carpeting and interior trim will deteriorate and even the environment within the cabin (i.e. odor) can negatively impact the driver experience and decrease productivity.
Additionally, increased mileage also means that dents, dings and other exterior imperfections begin to take a toll. While this may only appear cosmetic, a fleet vehicle also serves as a mobile ambassador and its appearance reflects directly on a company's image. A driver's morale may also be affected knowing they are "stuck" driving vehicles even another year or two beyond this point.
Prolonging vehicle replacement does not reduce costs and, in most cases, actually increases them while proving detrimental to driver productivity. An effective inventory replacement strategy is critical not only to resale value but also fleet productivity and efficiency. Mike Albert Fleet Solutions can pinpoint a fleet's optimal lifecycle and, as a result, minimize cash outflow, optimize remarketing value and achieve true cost optimization. The result – a reduced Total Cost of Ownership, maximized productivity and ultimately increased revenue.
Sign up for our newsletter for the latest information about the fleet industry.
Sign up for our newsletter for the latest information about the fleet industry.
Sign up for our newsletter for the latest information about the fleet industry.
Sign up for our newsletter for the latest information about the fleet industry.