The pandemic shook up the automotive industry in countless ways. In particular, it showed the importance of the transportation as a service (TaaS) industry. As people stayed at home, many turned to TaaS.
Now, more than a year after the pandemic first put the world on lockdown, we revisit the TaaS industry and cast new predictions for its future. But first, let's cover a basic question:
What is taas?
TaaS stands for Transportation as a Service, referencing the buying of miles or trips without the hassle of ownership like parking, maintenance and gas. There are three prime examples of TaaS that often come up in the greater TaaS conversation: delivery, ridesharing and shared micromobility.
The home delivery surge: it's here to stay
During the height of lockdowns, online shopping surged. Consumers became more comfortable with online ordering, contactless payments and deliveries straight to their door. For both store and restaurant owners, going digital was sometimes the only way to conduct business. In the midst of this digital revolution, customers found the ease of online ordering incredibly convenient. Because of the continual demand for online shopping, many businesses are putting a renewed focus on their delivery efforts.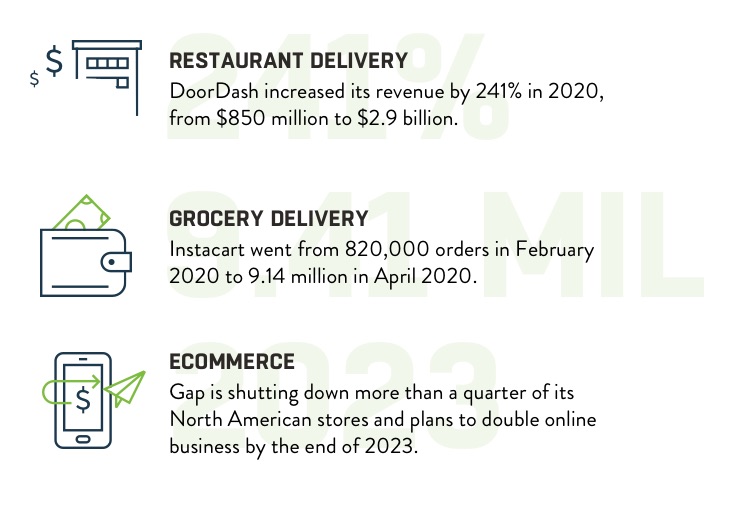 Experts predict delivery of all kinds will remain strong in 2021, including:
Restaurant delivery. Many people who had never used a third-party delivery app 12 months ago came out of 2020 with DoorDash and Uber Eats on their phone's home screen. The numbers back it up: DoorDash increased its revenue by 241 percent in 2020, from $850 million to $2.9 billion. Uber Eats generated $4.8 billion in revenue, a 152 percent increase year-on-year. Experts predict, after the year's decline in in-person dining, people will continue to turn to delivery services out of convenience.
Grocery delivery. Grocery stores were one of the few businesses allowed to remain open during lockdown, so many avoided possible crowds by turning to third-party apps for grocery delivery. The number of consumers who made at least one online grocery order grew 43 percent in 2020. Popular platform Instacart went from 820,000 orders in February 2020 to 9.14 million in April 2020. Grocery delivery growth will continue even as the pandemic subsides: U.S. grocery ecommerce sales are expected to increase almost 18 percent in 2021.
Product delivery. Market analysts say ecommerce will be one of the biggest beneficiaries of the pandemic. Gap, for example, is shutting down more than a quarter of its North American stores and plans to double online business by the end of 2023. Consumers have high expectations for online shopping and delivery of goods to their door. In a February 2021 survey, 68 percent of consumers said fast shipping would lead them to place an online order. As shipping continues to get faster, retailers are looking into ways to make same-day delivery happen.
The rise in last mile delivery: what it means for your fleet
Before the pandemic, some rural areas did not have access to certain grocery and restaurant deliveries. As deliveries continue to rise, many companies are expanding their delivery radius to reach these areas.
Regardless of area size, products must reach their final destination. When your drivers take products through to the last mile, it's imperative they avoid downtime. With a sharp increase in deliveries across all kinds of industries, you'll want to put more resources into the logistically challenging last-mile delivery to ensure customer satisfaction.
Vehicle health monitoring and telematics can make a big impact on the last mile. This data gives you greater transparency and insight into driver behavior, location and activity. You can fix dangerous habits, manage maintenance and create better replacement cycles. In turn, you'll exceed customer service expectations, retain great drivers and maintain a fresh brand image with good-looking vehicles.
Ridesharing sees a decline, demand for personal vehicles spikes
Before the pandemic, experts predicted a major boom in ridesharing, to the point that people would decline to own personal vehicles altogether. After all, only about a quarter of 16 year olds had a driver's license in 2017, a steady decrease since 1983. Without all the hassles of vehicle ownership, like paying for parking, gas and maintenance, why wouldn't people rely on Ubers to get around all the time — especially in big cities where parking alone can cost more than maintaining a used vehicle?
The pandemic threw all estimates out the window by affecting consumer opinion and production. Consumers began to question the safety of getting into an enclosed space with a stranger, stayed in their own bubbles and used their own vehicles. In April of 2020, Uber suffered losses of 80 percent or more in its hardest-hit markets.
Ridesharing appears to be bouncing back as life slowly returns to normal. The global ridesharing market has a new projected growth of more than 50 percent between 2020 and 2021. Despite this back and forth, the pandemic highlighted how many consumers still place an importance on owning their own personal vehicle.

The shortage of new vehicles
Unfortunately, it's not an ideal time for personal vehicle demand to increase. Experts estimate the global auto industry will make between 1.5 million and five million fewer vehicles this year than originally expected. The reason for the shortage? A lack of microchips. Here's why:
Brand-new vehicles contain microchips that control everything from engine timing to cabin temperature, and manufacturers cannot make brand-new vehicles without them.
In addition, automakers decreased their orders due to an anticipated period of low demand.
In the meantime, consumers bought a majority of microchips in the form of laptops, web cameras and other electronics as they adjusted to life at home.
Today, that leaves manufacturers with a major shortage of new cars.
Continued auto market shortage: what it means for your fleet
If your fleet is expanding, you may find it difficult to acquire the vehicles you usually receive. Because of this, you might consider working with a fleet partner who can help you come up with creative solutions, such as buying gently used vehicles.
Being a resilient business means considering all options during difficult times, and a great fleet partner will help you get there. A proactive fleet partner will be willing to lease low-mileage, certified pre-owned vehicles to you. Plus, if they have good relationships with companies for upfitting, outfitting and wrapping, they can help customize your vehicles to fit your fleet's needs.
Micromobility still ideal for short, social-distanced trips
Micromobility usage declined 50–60 percent during early pandemic days, with consumers citing risk of infection as a top fear for taking micromobile trips.
However, a 2021 consumer study showed that micromobility will make a full recovery. The number of respondents willing to use shared micromobility in the "next normal," or toward the end of the pandemic, will increase by 12 percent.
There are a few reasons it's expected to bounce back:
It's single-occupant. Most forms of micromobility, such as bikes or e-scooters, are single-occupant. In other words, micromobility is made for social distancing. It has the benefits of ridesharing without the burden of sharing a vehicle. Plus it's all outside, which the CDC recommends over being inside.
It's affordable. People who use bikes or e-scooters to get to work or a connecting transit station can buy a monthly plan. These go from $15-20 a month for unlimited trips, and annual plans can offer discounts between $100-200 per year, a small price to pay for getting to destinations quickly and easily.
Cities are investing in it. Micromobility is only as safe as the roads around it. City leaders are seeing the value and opportunity in opening up more spaces for people who choose to walk or take a form of shared micromobility. Seattle recently closed 18 miles of streets permanently to vehicles to allow for more walking and biking, and Montreal created almost 200 miles of pedestrian and bike paths.
The rise of micromobility: what it means for your fleet
Market models from 2019 predict the micromobility industry will be a $300–500 billion market by 2030. This prediction is expected to remain on track, despite the brief dip in spring 2020 usage.

Consider how micromobility might play a role in your fleet:
Short-term trips for staff. In small municipalities, patrol officers may use micromobility to monitor parks. In turn, you reduce your fleet's fuel consumption and encourage staff to get fresh air and exercise.
Last-mile deliveries. If your fleet delivers small products or food around an urban area, micromobility might be ideal transport. By attaching a mini trailer to the back, a bike can be used to make last-mile deliveries without the hassle of parking, gassing up or dealing with maintenance.
A brand-new fleet for a smart city. As autonomous scooters, dockless bikes and Internet of Things (IoT) technology become more of a reality, a tech-savvy micromobile fleet could be a great addition to a smart city.
City leaders are expected to reduce permit fees to support micromobility as an alternative to private car ownership after the pandemic. A McKinsey & Company analysis found the profitability of shared e-scooters could increase by up to five percentage points in this "next normal."
New taas predictions
A year ago, experts had countless predictions about TaaS. Now, after an unprecedented pandemic, some key takeaways have emerged:
The rise in delivery is permanent. Customers now have higher standards for their delivery experiences, including same-day delivery — making last mile logistics imperative.
Car ownership is not going anywhere. Ridesharing is bouncing back after a sharp decrease in 2020, but car ownership is proving to be more important to customers than experts initially predicted.
Shared micromobility is on the rise. As young consumers value sustainability and cities focus on bike-friendly infrastructure, more people will gravitate toward these options for short trips.
To learn more about the future of fleets and what TaaS means for you, consider working with a fleet partner who stays up-to-date on industry knowledge.
Did you enjoy this class?
Share it with your organization and colleagues.