Transportation as a Service
Consider the ways in which Transportation as a Service can impact your fleet for the better.
TaaS is the Future
Car ownership is shrinking. The future of Transportation as a Service (TaaS) is already here and the ramifications for the industry are endless. We can help you embrace the business opportunities created by TaaS as car ownership declines, allowing the transportation market to increase.
Transportation as a Service (TaaS) refers to the buying of miles, trips, and/or experiences and none of the hassle of ownership: The buying and financing of vehicles, maintenance, gas, insurance, traffic, actual driving, and sometimes even finding and paying for storage. Using TaaS means not having to put up with any of the headaches of current vehicle ownership, while still having access to the necessary transportation.
Why Transportation Fleets?
Cars are expensive. Just about every type of vehicle costs, on average, $9,000 a year to maintain, all-in.
Cars sit parked most of the time. Whether in your driveway or a parking lot, the fact is cars are not being driven 95% of the time.
People are busier than ever. One poll suggested American families spend just 37 minutes of quality time together every day and that they work longer weekly hours than their counterparts in other developed countries.
Cars are a major source of global warming. Vehicles with combustion engines contribute one-fifth of the air pollution in the United States due to the carbon dioxide they emit.
Cars are losing popularity across the globe, and some cities have begun the process of banning diesel and combustion engine vehicles completely.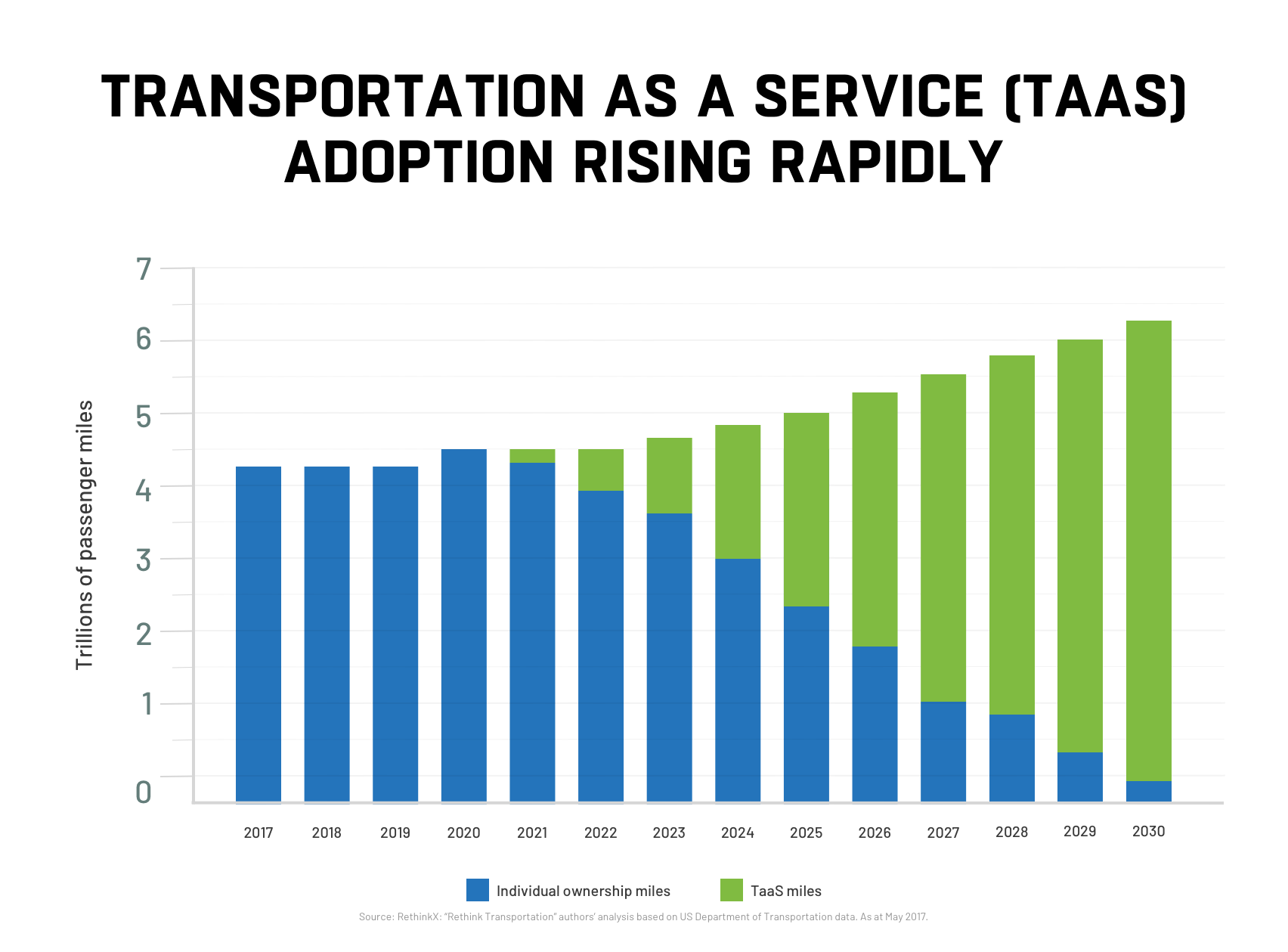 What companies are adopting transportation fleets today?
Delivery services. Amazon Prime Delivery, Grubhub, Postmates, and DoorDash all deliver services right to your door.
Rideshare services. Uber, Lyft, Ridesharing, Zimride, GoNanny will take you where you want to go, so you don't have to worry about owning a car to get around.
Rental transportation fleets. Companies like Turo and WaiveCar can help you lease out your own vehicle (or find one to lease), similar to having an Airbnb for your vehicle.
Car subscription services. Subscribe by Mike Albert's program lets you swap vehicles when you need a change.
Car rental. You can also rent a car right when you need it from a home post in your neighborhood with the help of apps like aGO, Getaround, and Zipcar.
Advances won't end with food being delivered to your door. Experts predict that one day (in the not-so-distant future) you will be able to summon a car exactly when you need it (with or without a driver) and/or turn what once was a backseat into a boardroom as you make your way to a business trip.
What might change in the face of widespread TaaS adoption?
The need for parking may go down. This could result in an expansion of carpooling lanes and more spaces for taxis and ridesharing vehicles to pull off and wait for passenger pick-up.
Autonomous vehicles may play a role in ridesharing. In a couple decades, a self-driving taxi coming to pick you up could be the norm. Currently, however, there are laws limiting full autonomy of vehicles in most states, and many Americans don't trust the tech.
Fewer Americans will get their drivers' licenses. Only about a quarter of 16-year-olds have their license in the United States, a big decrease from 80 percent of 16-year-olds in 1983.