From major supply chain issues to a sudden spike in delivery demand, the automotive sector experienced some major challenges in 2020 and 2021. How have these changes affected the automotive landscape? And what type of automotive trends can we expect to see in 2022? Watch for these trends hitting the auto industry.
Lease luxury for less
Rise in subscription-based vehicle usership models
Car subscriptions are similar to a lease, but with shorter, more flexible terms. They give customers the ability to drive high-quality, expensive vehicles with a shorter commitment and lower price point.
Subscription-based models may see a rising popularity in the younger generations, who have less interest in ownership as older generations. The reasons why subscription models might be of interest to younger generations are varied:
They don't want to worry about maintenance. Auto repair is a headache for anyone, but particularly so for those saddled with student loan debt. With subscription models that cover maintenance, customers can drive a car without the hassle of extra costs.
They dread dealing with car salespeople. Not wanting to spend time negotiating, today's consumers are more likely to avoid car dealerships altogether. Under subscription models, customers can input their vehicle of choice and budget online, skipping everything they find undesirable.
They're unsure about the future of gas vehicles. Buying an expensive, depreciating asset is a big commitment. And once you buy a new car, you generally can't take it back for the price you paid. With fast-trend cycles and electric vehicles (EVs) gaining major traction, today's customers prefer less commitment and more flexibility.
Digital dealing
Online purchase of cars is booming
Dealerships were already under threat in recent years, with startups like Tesla selling directly to consumers through company-owned stores. But the pandemic was the catalyst that spurred consumers to switch to digital purchases. Before the pandemic, less than two percent of vehicles were purchased digitally. Last year, nearly 30 percent of U.S. new car sales were completed online.
Buyer satisfaction reached an all-time high in 2020, according to a Cox automotive study. Opting to purchase online instead of through an in-person dealer means bypassing pushy salespeople and avoiding potential overpaying and negotiation pressure. The more efficient a buying process, the higher the satisfaction level.
Due to this online push, vehicle salespeople may transition to being consultants or product specialists, and dealerships may have to lean more heavily on digital platforms for traffic. And there are no signs of a digital slow down: The global online car buying market is expected to garner $723 billion by 2030, a compound annual growth rate of 12 percent from now till then.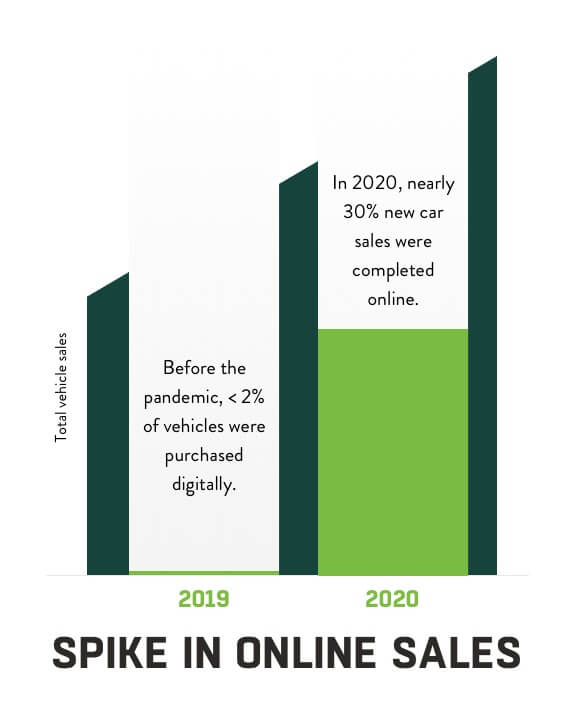 Ditch the gas stations and charge up
EV expansion
The EV market's collective accomplishments over the past two years show that electrification may come sooner than expected, despite the short-term impact of the pandemic. Take these recent predictions, for example:
Volkswagen says almost 100% of its new vehicles in major markets should be zero-emission by 2040.
General Motors says it will make only electric vehicles by 2035.
EV sales will surpass internal combustion engine (ICE) vehicle sales by 2030.
In the near future, expect to see more manufacturers committing to pushing out and marketing more larger-size electric vehicles to reach these goals. But EV expansion is not possible without a widespread charging infrastructure.
The Biden administration reportedly plans to spend $15 billion of their $174 billion national EV expansion plan to go toward building a national network of 500,000 charging stations by 2030. If all goes well, we can expect to see more charging stations not only in public spaces, but also in apartment complexes and businesses.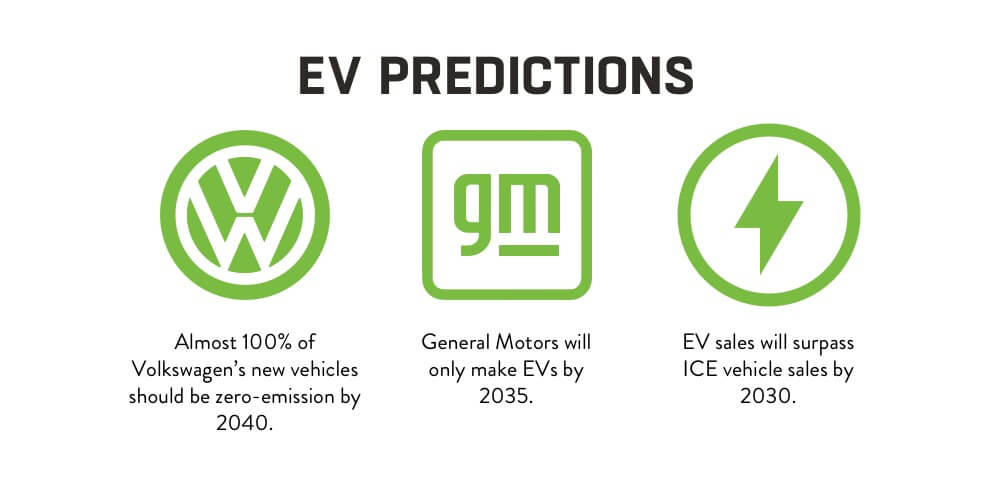 Sit back and relax
Health, wellness and well-being features (HWW)
With autonomous cars coming in the future, more amenities are expected to transform them into more than just a way to get from point A to B. In addition to taking over driver responsibilities, more auto manufacturers are exploring the potential of a vehicle that improves the body, mind and soul.
HWW features already on the horizon include:
Massage functionalities — Massaging seats have been common for some time on luxury cars. But they're expected to be more and more accessible as manufacturers recognize the demand for these premium features. Seat massagers can improve circulation on long drives, reduce stress and lift drivers' moods, especially in traffic.
In-air vehicle purification — So-called "measure and monitor" vehicle features may be on the rise. In other words, they may be able to monitor external air quality and, in turn, regulate in-vehicle air quality.
Street pollution analysis — Traditionally, experts monitor a city's air quality with networks of stationary monitors that are often sparse. However, an upcoming alternative is to equip fleet vehicles with sensors that collect real-time data to identify local air pollution and hot spots.
The race to digital transformation
High-tech digital technology integral to vehicles
Today's high-end cars are some of the most digitally complex, requiring around 100 million lines of code. Tesla owners, for example, get notified often of operating system upgrades that unlock new capabilities such as autonomous driving.
More than ever, automakers will be thinking digitally first. Simple cars just won't cut it anymore, as tech has become integral to the modern vehicle. One expert predicted car companies may even create their own versions of iOS or Android specifically for mobility.
From here on out, every new year will bring its own level of energy and excitement toward the latest in technology and digital transformation. Want to stay ahead of these automotive trends? Stay up-to-date on fleet resources and news by following Mike Albert on LinkedIn.
Did you enjoy this class?
Share it with your organization and colleagues.