Business owners that require their fleet vehicles to haul products have never had a viable electric equivalent to replace their combustion work trucks and vans—until now. While there have historically been options to do a retrofit or alternative fuel conversion to an existing truck or van, original equipment manufacturer (OEM) participation is now moving the market forward. The reality of an all-electric, revenue-generating commercial fleet is on the horizon.
Most OEMs have been working toward making electrified fleets a reality for the past few years, but today, the rate to market is speeding up, as OEMs partner with corporations with zero-emission goals such as FedEx and Amazon. And as interest in and demand for this technology grows stronger, OEMs like Ford and GM are feeling confident enough to run full speed ahead with electrification.
Now is the time to start planning for fleet electrification. Not sure where to start? This list of electric trucks and vans that are expected to hit the market in the next two years can help. One of these may become your fleet's newest addition.
Electric cargo vans
Electric cargo vans offer the benefit of not only fuel savings, but up to 40 percent savings in maintenance costs. Additionally, they offer an opportunity for fleet owners to "walk the walk." If your company sells energy-efficient HVAC or solar energy solutions, going electric is an opportunity to showcase your environmental commitment to your customers.
Electric cargo vans are typically useful for two purposes: as a vehicle to make last mile deliveries, and as work vans. Last mile delivery vans offer top-notch maneuverability. Electric work vans can give drivers the ability to plug light-duty tools directly into their van to charge, eliminating the need to haul heavy power generators.
Learn more about the specifics of the electric vans coming to market in the next two years, as well as their pros and cons:
Numbers for the low roof option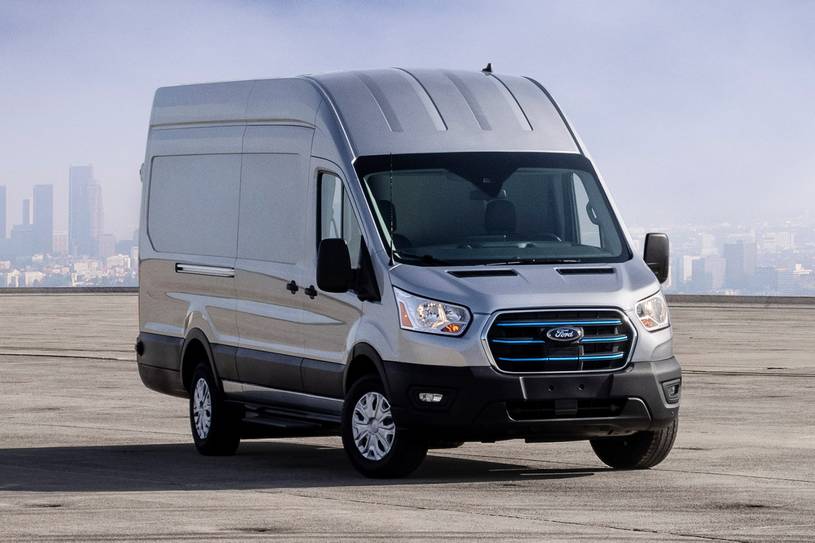 Range: 126 miles
Payload: 3,800 pounds
Cost: $55,000+ with a $7,500 tax credit
Launch: In production now*
Highlights: Because Ford is a known and trusted manufacturer, fleet owners with the E-Transit will have an established dealer and service network to turn to if they hit any bumps in the road. Additionally, these vehicles will include Ford Pro technology, a connected network that sends alerts about charging information, telematics and more.
The E-Transit is available in eight different body types including three roof heights, three lengths, cab chassis and, a cutaway option. Existing upfit equipment designed for the Transit will work with its electrified equivalent.
What to watch out for: Before acquiring any electric vehicle (EV), make sure you are aware of daily mileage requirements; However, most fleets average 75 miles or less per day, so this vehicle serves the majority of applications. If you typically use pickups for towing or find yourself frequenting hills in extreme weather conditions, you may want to wait before investing in the first model of a Ford E-Transit.
If you need to charge on-the-go, connected built-in navigation will show you the nearest public charging station. With a fast charging capability, 45 miles can be added to your range in just 15 minutes.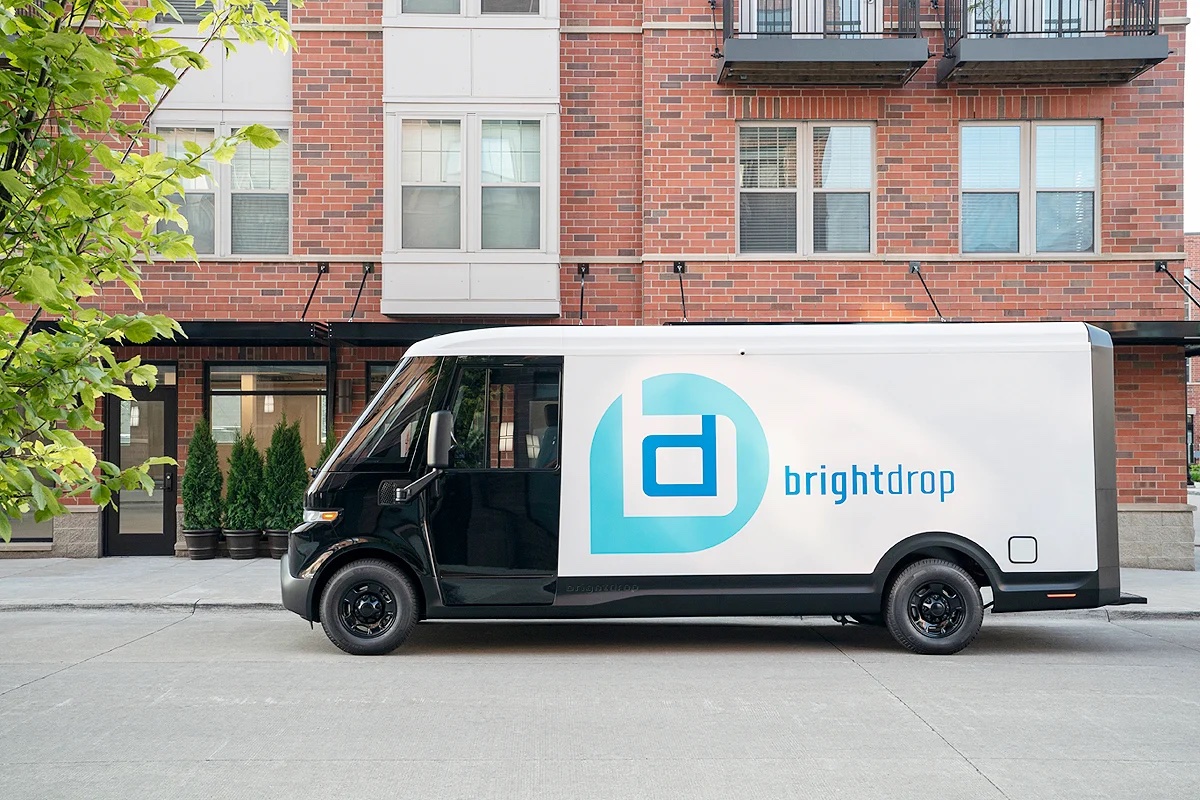 Range: 250 miles
Payload: 2,200 pounds
Cost: Must request info
Launch: In production now
Highlights: An enhanced security system comes standard, including motion sensors, a large sliding bulkhead door with an auto-locking mechanism, and motion-activated interior LED lighting. The EV600 model isn't exclusively designed for delivery fleets — its setup is versatile enough to be used by electricians, plumbers or HVAC technicians. While BrightDrop is a start-up, it's funding comes from GM, a solid manufacturer. The Zevo 600 has 600 cubic feet of cargo space, while a Zevo 400 with 400 cubic feet will launch in late 2023. BrightDrop with reach an annual production volume of 50,000 by the year 2025.
Bonus - the Trace power cart
BrightDrop is offering the Trace carts at this time which can be used within health care, hospitality, theme parks, and distribution facilities and more in addition to loading these units into vans or trucks for hassle-free deliveries. The Trace can secure up to half a pallet of goods (23 cubic feet, 200 pounds) until the contents are needed, unlocked remotely and several units can be tethered together for powered movement by a single operator. Data shows that, when used in tandem with the Trace cart, the Zevo 600 can deliver 25 percent more packages.
What to watch out for: The Zevo 600's first customer is FedEx, and this partnership is exclusive for the time being. The '22 launch will have an extremely limited allocation, so it likely won't be available to others until late 2022 or early 2023. Fortunately, the EP1 is available at this time.
Other electric van to watch:
RAM ProMaster EV An electrified version of this popular cargo van, the RAM ProMaster EV is expected to ship sometime in 2023. Mercedes Benz Sprinter EV The Mercedes Benz Sprinter EV will be available in the second half of 2023. The Canoo LDV The Canoo LDV is Engineered for sustainable last-mile deliveries with improved driver ergonomics and safety.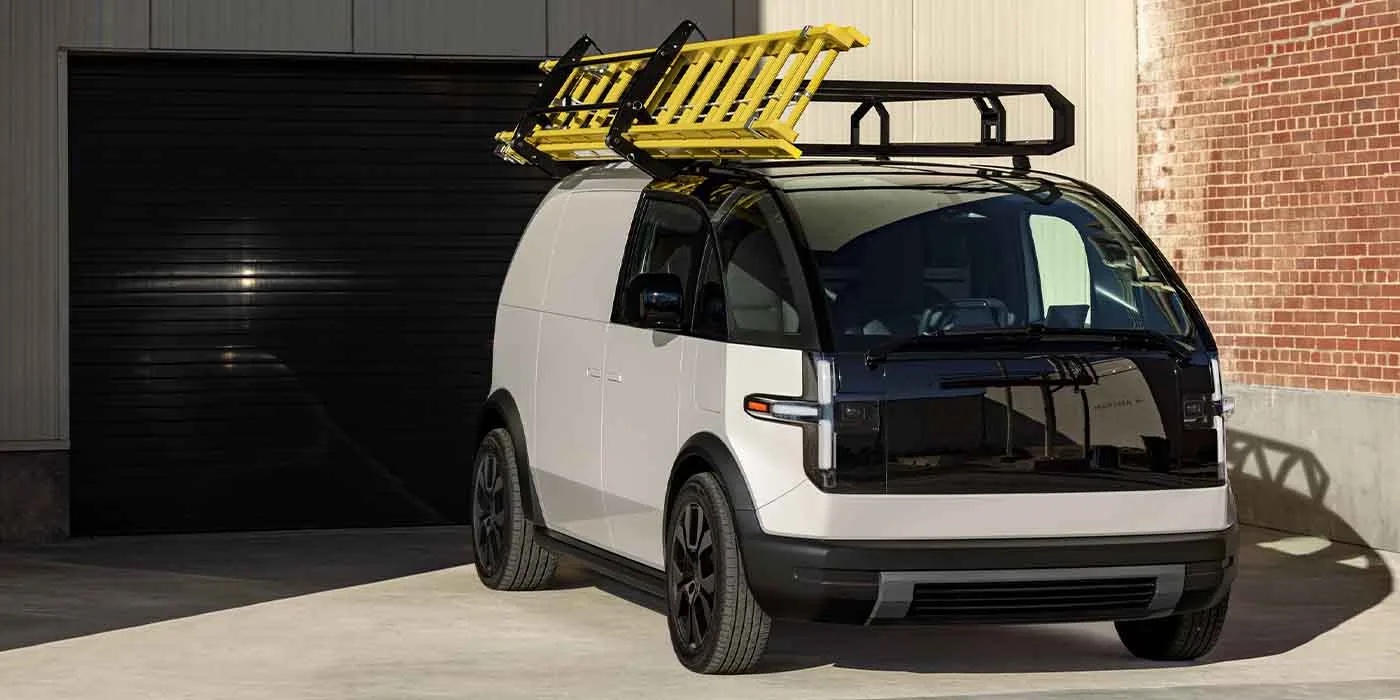 Canoo's fully electric Lifestyle Delivery Vehicle (LDV) is an American-made commercial EV optimized for sustainable last mile delivery use cases. The LDV is engineered for high stop-and-go deliveries and speedy vehicle-to-door drop-off, including grocery and food/meal delivery. Its customized interior is designed for small package delivery, at competitive per-stop economics. The modular design and 120 cubic feet cargo volume are adaptable to evolve with customer needs which contributes to a decreasing per unit investment over time.
Canoo anticipates starting production of the Lifestyle Delivery Vehicles beginning in Q4, 2022.
Electric pickup trucks
Despite electric cars being widely available since 2010, electric pickup trucks had yet to hit the market until now — especially surprising since pickup trucks make up more new-car sales in the U.S. than any other type of vehicle.
There are many advantages to electrifying your fleet's pickup trucks. First, since there is no internal combustion engine in the front of the vehicle, that space can be used to store extra cargo like cement bags or other necessary job equipment. Second, electric pickup trucks can idle for long periods of time, making it ideal not only for plugging in tools and laptops, but also as a de facto work station between stops. Second, electric pickup trucks can idle for long periods of time, making it ideal not only for plugging in tools as well as laptops, but also as a de facto work-station between stops.
Here are some of the top electric pickup trucks to consider for your fleet: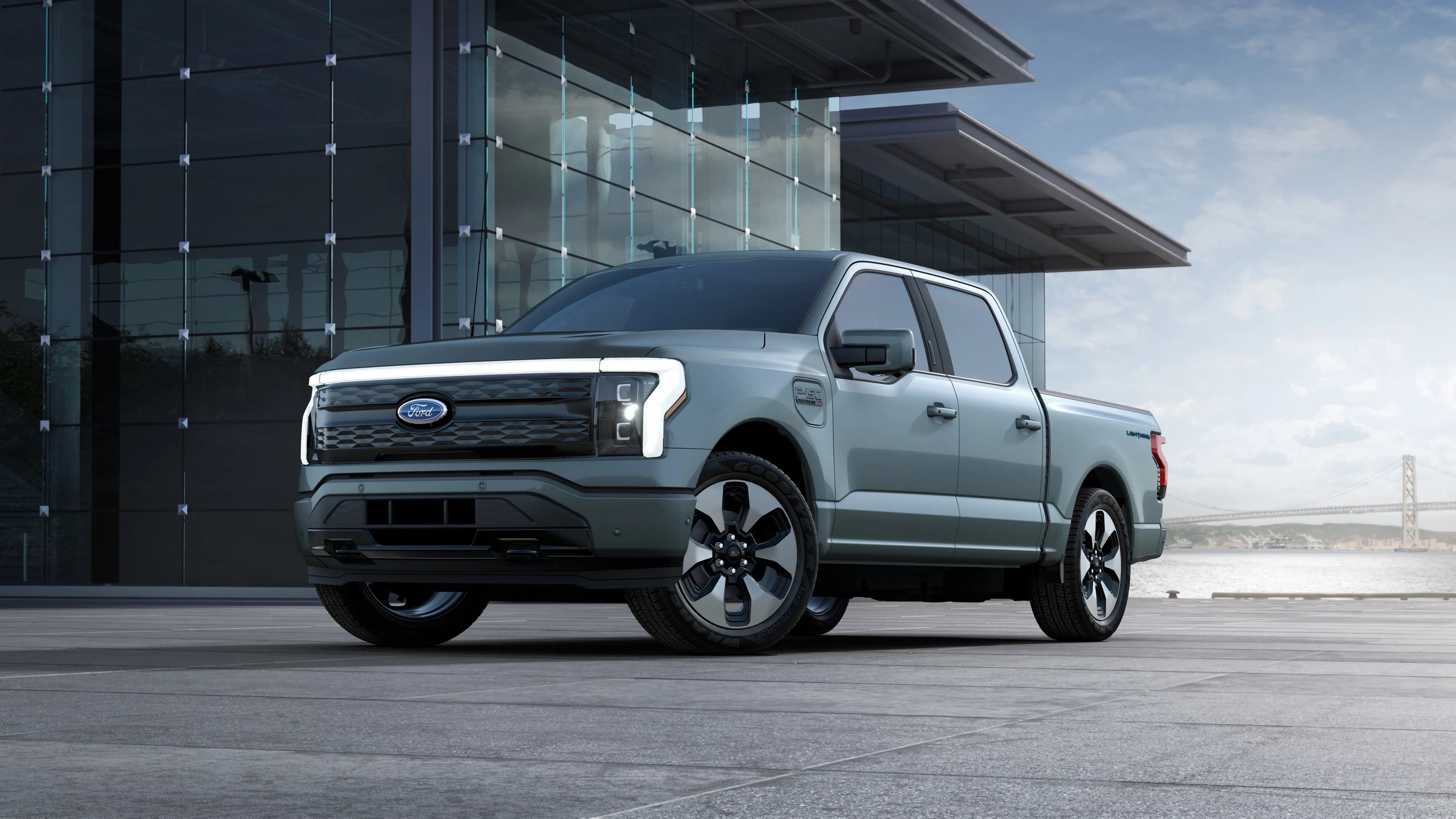 Range: 240, or 320 with extended range battery (extra cost)
Payload: 2,000 pounds in the bed + 400 pounds in the mega power frunk
Cost: Starting price $47,000 with a $7,500 tax credit*
Launch: In production now
Highlights: As a known and trusted manufacturer, Ford's electric pickup is significantly more affordable than their competitors' electric trucks. And if you like the classic "look" of a combustion F-150, the F-150 Lightning will appear almost exactly the same from the outside. This is ideal for reasons beyond aesthetics. It means that if you have equipment (such as a ladder rack) that's designed to fit your combustion F-150, it can easily be repurposed to a F-150 Lightning, saving you money on upfit costs.
What to watch out for: For now, the F-150 Lightning will only be available in one configuration: a crew cab with the full four doors and a short bed (as this is 80 percent of F-150 orders the past few years). If you are looking for an electric version of cab chassis without a truck bed, you may be out of luck for a few years.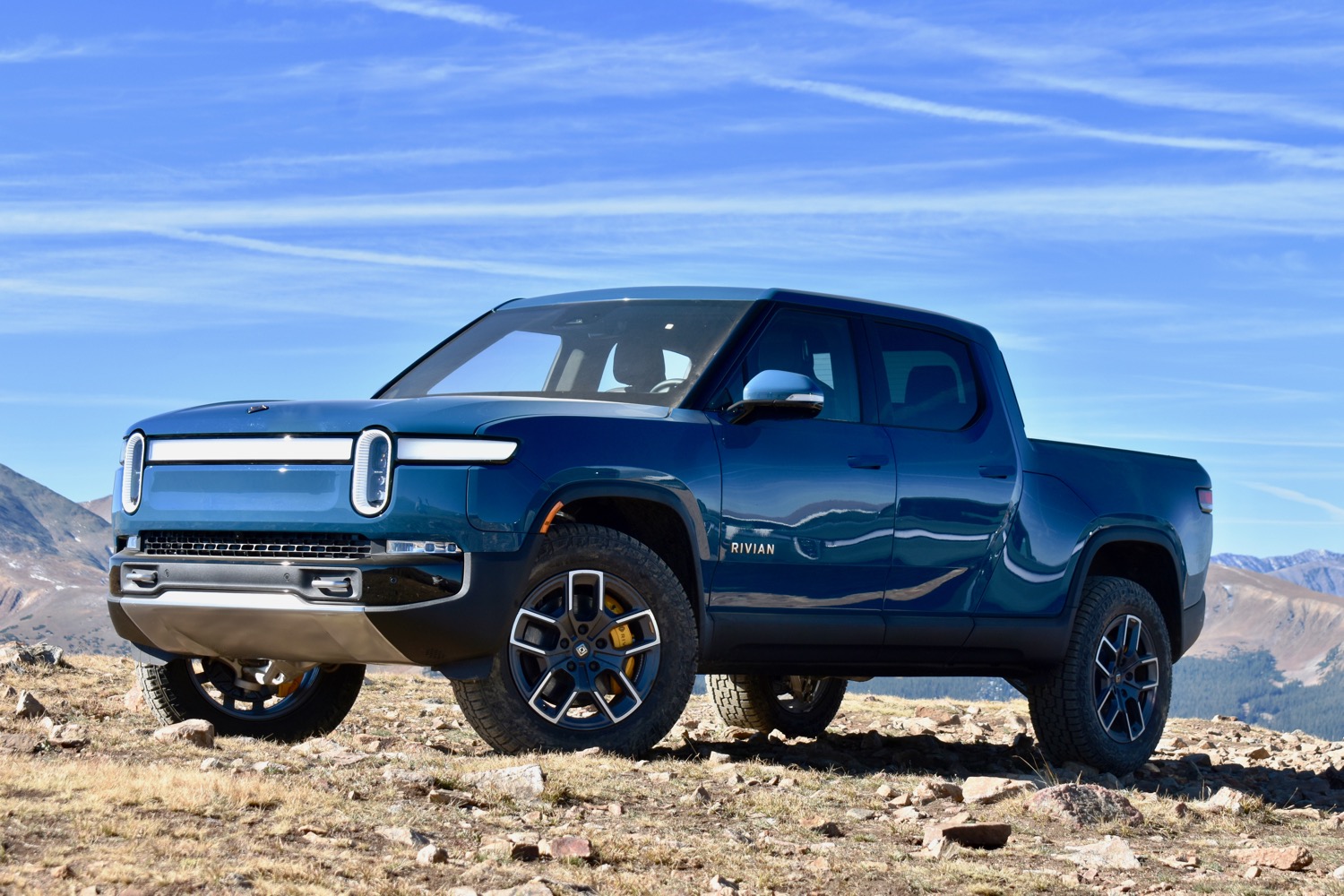 Range: 314 miles
Payload: 1,760 pounds
Cost: $67,500 with $7,500 tax credit*
Launch: In production now
Highlights: Rivian may technically be a startup, but it's extremely well-funded. The company, which went public in 2018, is backed by Amazon, Ford and T. Rowe Price. The model has plenty of storage — 68 cubic feet total, including the front trunk and a bonus gear tunnel.
What to watch out for: This truck can be better described as a "lifestyle vehicle" rather than a "work truck," since it can offer features such as a slide-out camp kitchen with two burners to heat food and rooftop tent configurations. Since it is a startup, Rivian doesn't have an established dealer network, opting instead for a mobile service model to support vehicles in the field.
Other electric pickups to watch:
Chevy Silverado EV WT The work truck version of the Chevy Silverado EV is anticipated to feature 400 miles of range and is supposed to start at $50,000. It's set to launch in early 2023.
RAM 1500 EV An electrified version of this half-ton pick-up is anticipated to feature 500 miles of range. Pricing, towing, battery charge rates, and other details have not been published yet, but launch should occur in 2024.
Are electric vans and trucks worth the investment?
If you buy a new electric van or truck, you might spend around $4,500 more up front. However, let's assume you typically spend about $3,000 on gasoline each year. That fuel cost would be replaced with a charging spend of about $500, saving you $2,500. In less than two years, your initial up-front cost could be covered.
That's not even factoring in how much you'd also save on oil changes and other maintenance costs which are estimated at up to a 40 percent savings — or the added benefit it gives your company image to have a fleet of EVs. To figure out if an EV is right for your fleet, first calculate how long it will take to make up that initial up-front cost. For many clients, it's made up in the first year of ownership.
What's next?
While we're still in the transition phase for electric trucks and vans, they'll be here before you know it.
At Mike Albert Fleet Solutions, we take pride in monitoring these details for you. Our team of electric vehicle experts, combined with our commitment to being upfit-focused, means we take great strides to create the perfect vehicles for our clients.
If you're interested in EV technology, we can find the right vehicle fit and the optimum upfit solution for you. Contact us for a free fleet consultation today.
*$7,500 refers to federal tax credits. State and local tax incentives could mitigate costs even further. **Inflation Reduction Act 2022 revised conditions and qualifications may impact Incentive availability and your personal / business application
Did you enjoy this class?
Share it with your organization and colleagues.