High Roof Vans? Electric Vans? What Are the Best Cargo Vans for Your Fleet?
Cargo vans are the way to go if your business needs vehicles for tasks such as transporting tools and technicians, hauling items like HVAC replacement parts, or completing last-mile deliveries. But, deciding which particular cargo vans are the right fit for your business can be a difficult choice to make. With so many options on the market, it can be hard to keep up with the newest models, features, and discontinuations.
If you are considering adding high roof vans and/or other commercial cargo vans to your fleet, we're here to help. In this article, we provide the basics and highlights of many of our tried-and-true makes and models, as well as some important factors to consider in your search.
How to overcome vehicle shortages.
Supply chain issues and vehicle shortages have left fleet managers scrambling to find trucks and vans for their organizations. Unfortunately, while availability is beginning to improve, experts predict that shortages will continue for the rest of 2023 and beyond. A dedicated fleet management company can help you source new vehicles—but even so, expect to pay a higher price than you would have a few years ago.
How can you best adapt to the ongoing shortages of vehicles? "When people ask me what my number one draft pick is for a new vehicle, my response these days is 'the existing vehicle you have,'" said Jason Kraus, director of vehicle acquisition and lease structure at Mike Albert. "With brand new vehicles being expensive and hard to secure, it's more important than ever to properly maintain the vans you already have in your arsenal."
Doing so requires a proactive approach. If you're not deploying them already, consider utilizing predictive analytics and preventive maintenance programs—both of which are excellent ways to optimize your vans' fuel efficiency, reliability, and longevity.
It's also important for fleet owners and managers to take a brand-agnostic approach to vehicles—at least for the time being. Historically, fleet owners would shop around at different manufacturers for the best incentives and products, a practice that's no longer an option.
"There's a totally different mindset when it comes to finding and purchasing new vehicles. With these widespread shortages, manufacturers aren't offering the same incentives that used to be the norm. Instead, we're focused on finding models that fit a fleet's needs, no matter where they come from. Fleet managers and owners can't be as picky as they were previously." - Jason Kraus, director of vehicle acquisition and lease structure at Mike Albert
What to evaluate, from high roof vans to lower costs.
Every fleet is unique, so the right vans for your business will depend on the services you provide, the number of people on your team, and where you operate, among other factors. When selecting a work or cargo van for your operation, be sure to consider:
Cargo space: Are you delivering products, or do you need an upfitted cargo space that can store tools and equipment? What you're transporting—and how much of it—can help narrow down your options.
Maneuverability: Consider where your vans will be driving. Will they primarily be driven on crowded city streets or winding rural roads? What about the terrain and weather conditions?
Roof height: Understanding if your drivers will need to stand up inside the van or use the roof for storage can help you decide if you need a low, medium, or high roof van. You should also consider whether your vans will be encountering parking garages or overhangs on a regular basis—both of which can be a challenge for higher roofs.
Payload and gross vehicle weight rating (GVWR): Payload refers to the objects and amount of weight that a truck is hauling, while the GVWR refers to the maximum total weight of the vehicle once it's loaded with whatever you're hauling. Selecting a vehicle that can comfortably (and legally) carry your equipment and people is essential. An overloaded van can result in more wear and tear on the tires and engine, leading to unexpected breakdowns.
Safety features: OEMs know that driver safety is a top priority for companies with fleets. That's why many of the commercial cargo vans available today come loaded with top-of-the-line safety features. Determine which of these safety technologies are "must-haves" versus "nice-to-haves."
Cost: "Affordability" means something different to everyone—some fleet owners might opt for the cheapest option that comes with no bells and whistles, or decide that spending extra cash is worth it for enhanced safety features.
Top commercial cargo vans.
The perfect cargo van for your fleet will be heavily dependent on your business model, goals, and budget—not to mention what's available for purchase. With that in mind, here are some of our favorite tried-and-true models on the market today.
Ford Transit (2023)
Cost: Starting at $43,455, per manufacturer website
Payload: 3,668 lbs. (for the base T-150)
Fuel economy: 17 MPG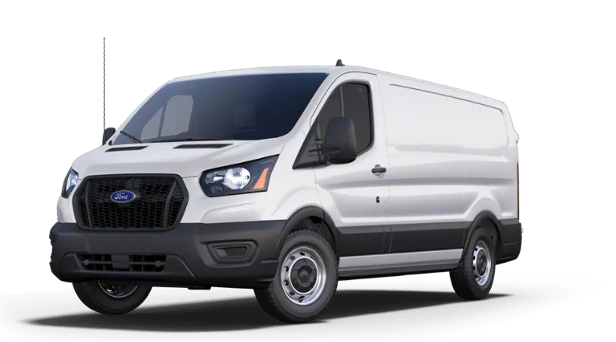 Highlights: The Ford Transit can be ordered in a variety of styles with low, medium, and high roof options and three wheelbase lengths. The base model cargo van T-150 is touted by Car & Driver for its "generous selection of standard features." Plus, Ford's fleet management-and- telematics system offers tracking and data analysis of their armada of vans.
RAM ProMaster (2023)
Cost: Starting at $40,635, per manufacturer website
Payload: 4,680 lbs.
Fuel economy: 14 MPG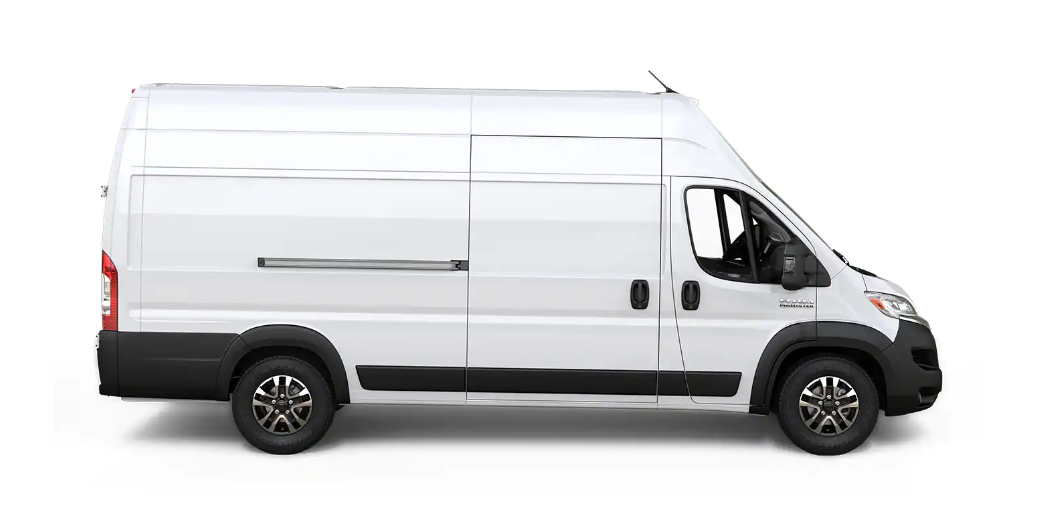 Highlights: The 2023 Ram ProMaster offers an impressive amount of flexibility with several body styles and interior layouts for hauling equipment, packages, or crew members. The ProMaster can also be ordered with an extra-high roof option, making it ideal for hauling bulky cargo. Additionally, this van brings a "comprehensive list of standard equipment, including infotainment and driver-assistance tech."
Chevrolet Express (2023)
Cost: Starting at $38,100, per manufacturer website
Payload: 4,280 lbs.
Fuel economy: Not available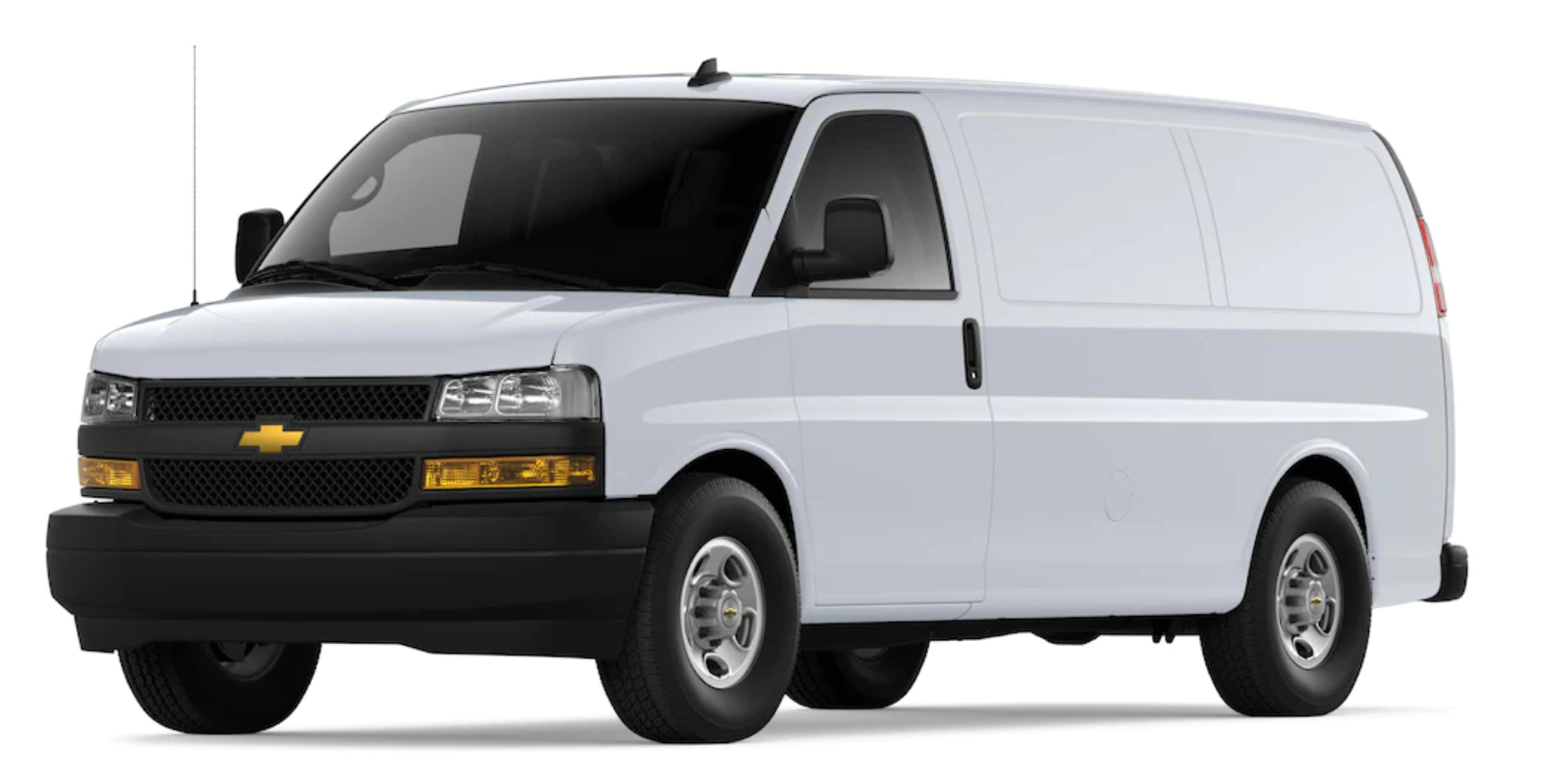 Highlights: The 2023 Express Cargo van comes in two different models that can be customized with regular or extended wheelbases as well as two different powertrains. This full-size van is an old-timer, first hitting the market in 1996, but "remains a reasonably competent workhorse and people-mover" according to Car and Driver.
GMC Savana (2023)
Cost: Starting at $38,100, per manufacturer website
Payload: 3,285 lbs.
Fuel Economy: Not available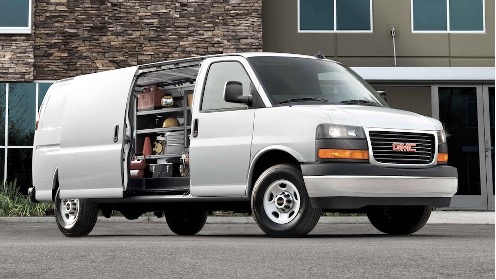 Highlights: The GMC Savana is widely considered a simple, cost-efficient solution for hauling cargo, though it is only offered as a 2500 or 3500 heavy-duty model. This van is simple and reliable—but don't expect any fancy bells and whistles.
Mercedes Benz Sprinter (2023)
Cost: Starting at $43,500, per manufacturer website
Payload: 3,953 lbs.
Range: 15 MPG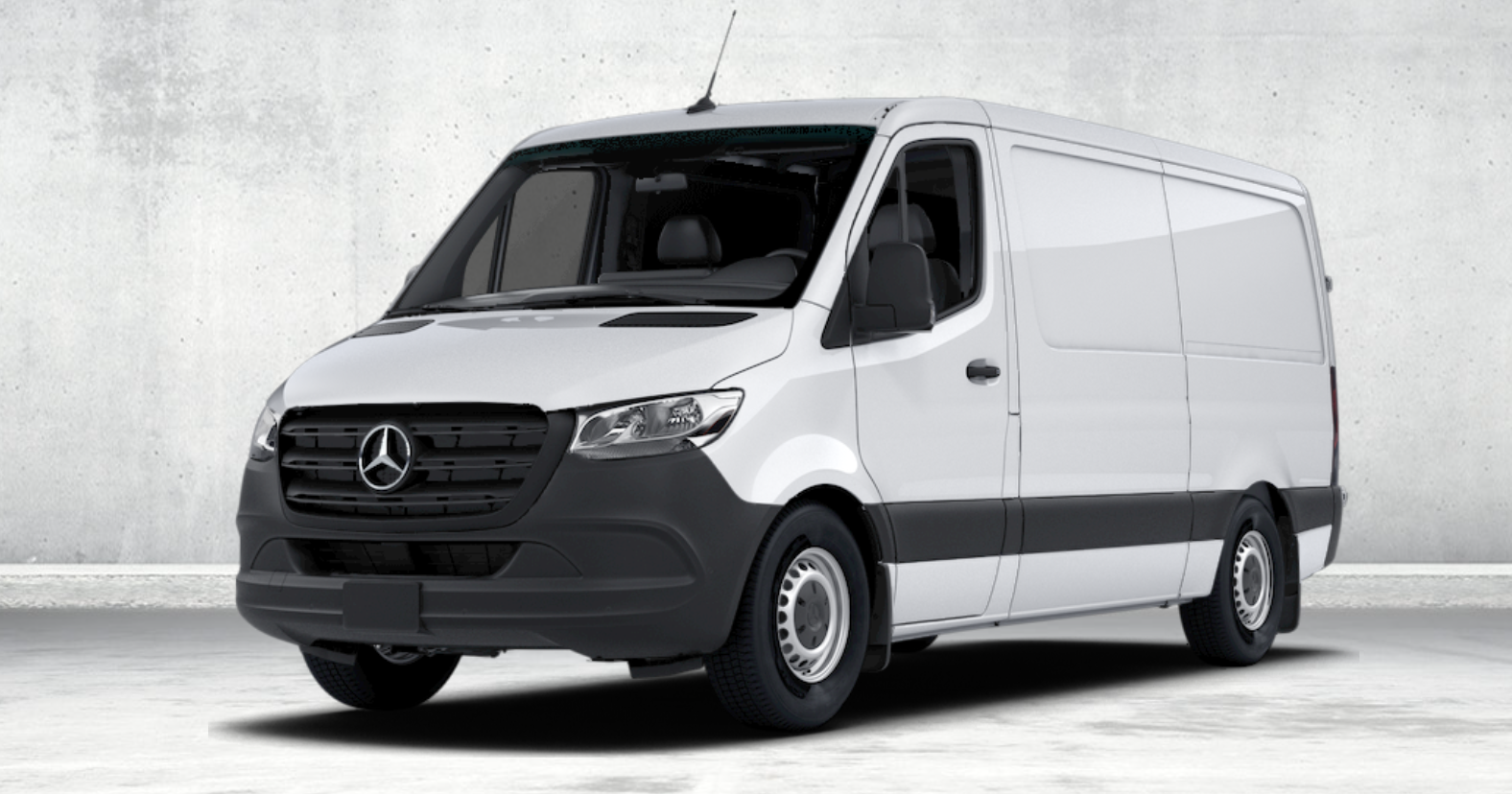 Highlights: Fleet owners can choose from several options for the Mercedes-Benz Sprinter—cargo van, crew van, passenger van, or cab chassis—along with three four-cylinder engine options. This model can comfortably meet the needs of almost any industry thanks to its wide span of configurability.
Top electric cargo vans.
Electric cargo vans offer the benefit of not only fuel savings but up to 40 percent savings in maintenance costs. Additionally, they provide an opportunity for fleet owners to "walk the walk" when it comes to hot topics like sustainability and carbon neutrality. Below are details on a few available options; for more information on the electric vans coming to market in the coming years, see our guide to electric trucks and vans.
Ford E-Transit (2023)
Low Roof Option:
Cost: Starting at $55,000 with up to a $7,500 tax credit
Payload: 3,800 lbs.
Range: 126 miles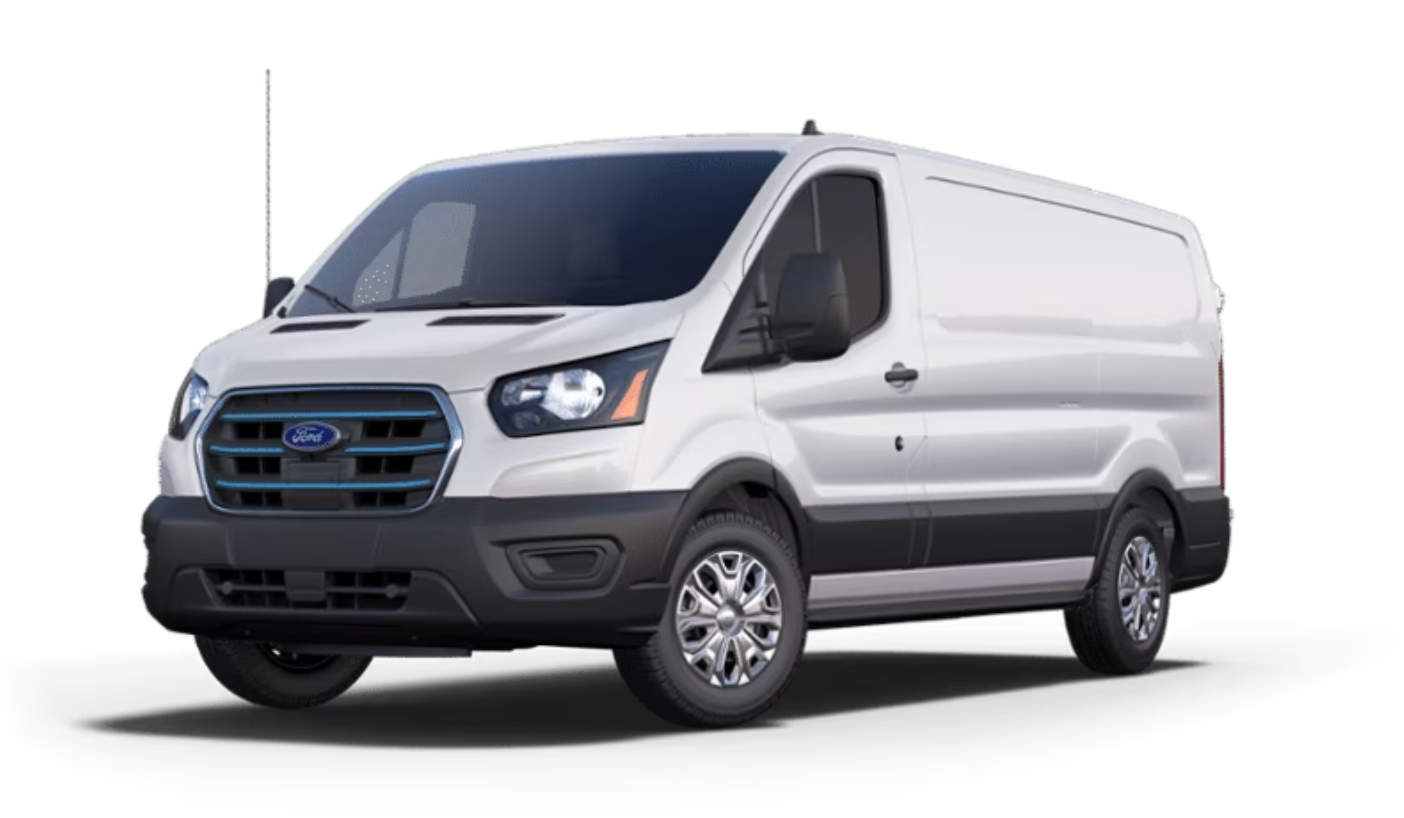 Highlights: Because Ford is a known and trusted manufacturer, with the E-Transit you will have an established dealer and service network to turn to if you hit any bumps in the road. Additionally, these vehicles include Ford Pro technology, a connected network that sends alerts about charging information, telematics, and more.
The E-Transit is available in eight different body types including three roof heights, three lengths, cab chassis, and a cutaway option. Existing upfit equipment designed for the Transit will also work with its electrified equivalent.
BrightDrop Zevo 600 (2023)
Cost: Must request info
Payload: 2,200 lbs.
Range: up to 250 miles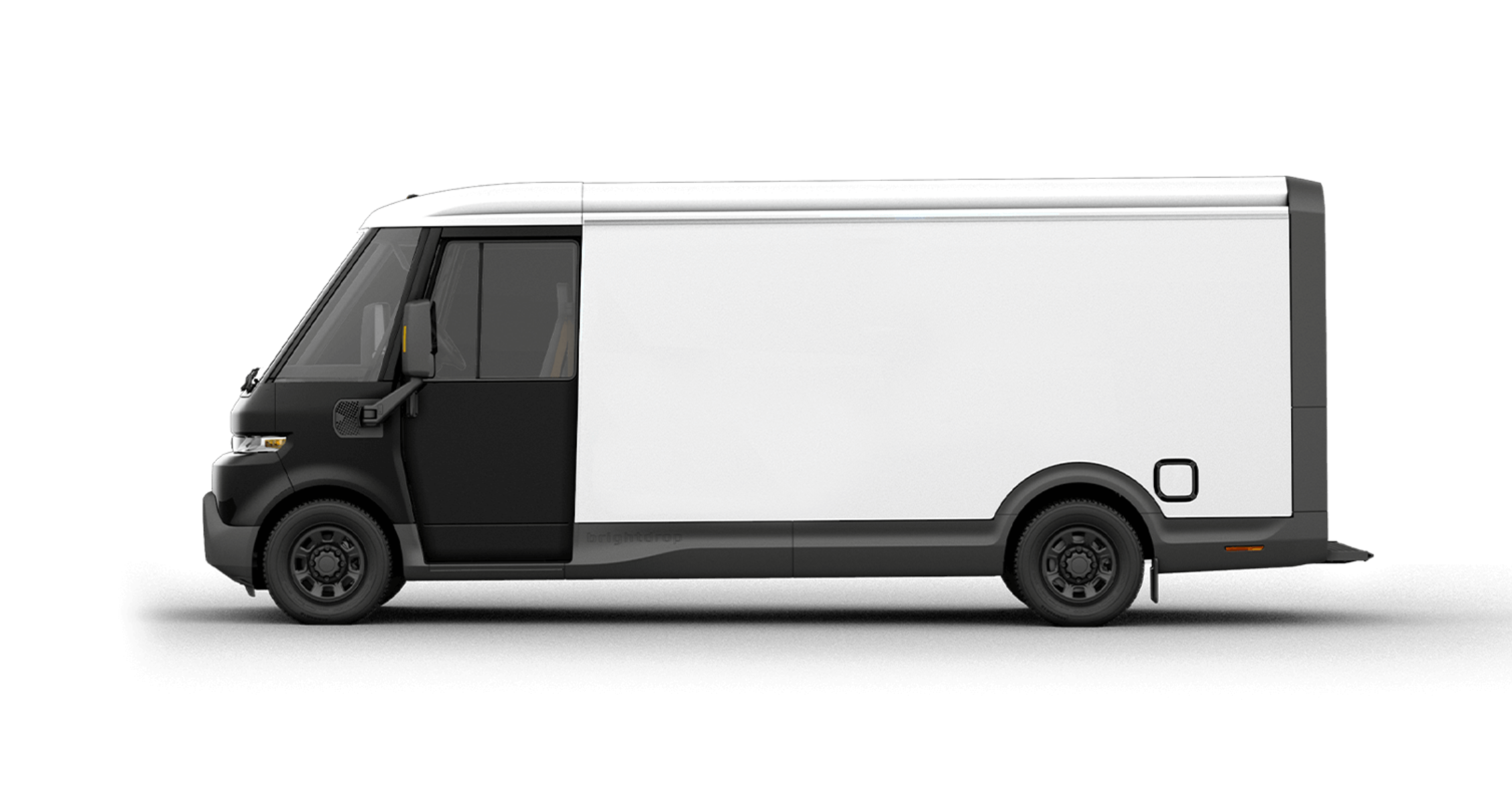 Highlights: An enhanced security system comes standard, including motion sensors, a large sliding bulkhead door with an auto-locking mechanism, and motion-activated interior LED lighting. The Zevo 600 model isn't exclusively designed for delivery fleets—its setup is versatile enough to be used by electricians, plumbers or HVAC technicians. While BrightDrop is a start-up, its funding comes from a trusted manufacturer, GM. The Zevo 600 has 600 cubic feet of cargo space, while a Zevo 400 with 400 cubic feet will launch in late 2023.
Say goodbye to compact vans.
While many OEMs have offered compact cargo van options in recent years, it appears that the death of the small commercial van is upon us. GM cut the Chevrolet City Express small van in 2018, Nissan followed suit just a few years later, and Ram discontinued the Pro Master City small cargo van after the 2022 model year. Meanwhile, the 2023 model year is the final release for both the Ford Transit Connect and Mercedes Benz Metris.
While the options for compact vans are vanishingly small, there are alternatives that offer the compact size and maneuverability of a small commercial cargo van. The fully electric Canoo Multi-Purpose Delivery Vehicle promises "more cargo and easy maneuverability" with a small carbon footprint. Or, you can look into other options such as a pick-up truck with an upfit to provide storage similar to a small van.
For more versatility, consider cutaways or cab chassis.
For industries like plumbing, telecommunications, or HVAC services, work vans typically need to be customized in ways that enable daily job tasks to be completed more efficiently and safely. In cases like these, cutaways or cab chassis may be the best option. Unlike fully assembled vans, cutaways and cab chassis can be customized with a wider variety of upfits—such as utility/service bodies and box van bodies—that maximize vehicle functionality and employee productivity.
Our recommendations for cutaway and cab chassis van models, include:
If you're interested in adding cargo vans to your fleet or upgrading your existing vehicles, contact us at Mike Albert Fleet Solutions. We'll gladly help you determine the models, specs, and upfit options that align best with your business needs.
Did you enjoy this class?
Share it with your organization and colleagues.