Last Mile Delivery Fleets: Trends, Insights, and Logistics Planning.
Need to improve the logistics of your last mile delivery vehicles to keep up with your customers' increasing expectations? For insights and trends that bring about successful results, read our guide on last mile delivery fleets.
101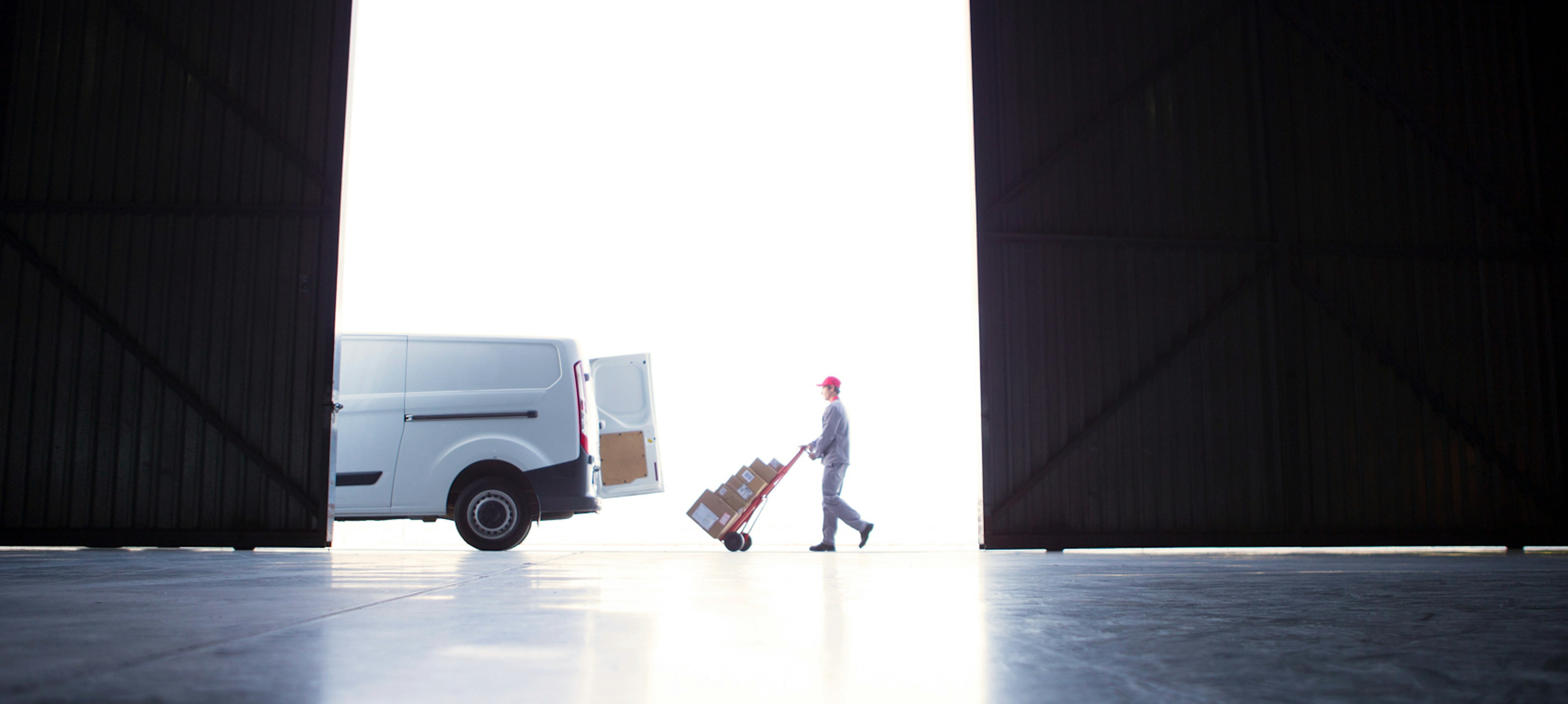 Skills covered in the class
Mobility-Mindset
Appreciating how the evolution of mobility via TaaS (transportation as a service), last-mile, smart cities, etc. are impacting the future of fleets.
Operational Efficiency
Ensuring your fleet is performing at its highest level at the lowest possible cost.
Driver Retention
Keeping your drivers safe, productive and happy.
Vehicle Specification
Identifying the best, most appropriate vehicles for your fleet.
The last mile of any delivery is vitally important to ensure a smooth transaction and a satisfied customer. In 2020, it became more important than ever when the COVID-19 pandemic spiked the demand for delivery due to lockdowns and social distancing.
Now, even though most stores and restaurants have returned to business as usual, consumers are still requesting deliveries and expecting the fast arrival times they became accustomed to during lockdown. One study showed that 33% of consumers expect their deliveries to arrive in two to three days; meanwhile, rapid delivery apps made $4.7 billion in revenue in 2021, nearly quadrupling the amount made the previous year.
The final push that gets a product to a customer's door directly impacts their satisfaction and your bottom line—but managing last mile delivery vehicles is logistically complicated. As a result, you may be struggling to keep up with the growing demand for the quick turnaround of goods. To smooth the bumps in the road, read on for insights and advice from our last mile experts at Mike Albert.
What is last mile delivery?
Last mile delivery is the final leg of a delivery when a product goes from a transportation hub to its final destination. With ever-growing consumer demand for fast deliveries, finding ways to improve this last step can be logistically challenging. An expert fleet management partner can help.
What is last mile delivery vehicle logistics?
Last mile logistics are the strategic decisions that go into a well-routed and efficient final mile delivery. By using advanced technology for route planning, you can cut your delivery times and make certain your routes are safe for drivers and optimized for a great customer experience. Well-planned last mile logistics ensures you have a centralized fleet comprised of the right-sized vehicles with the right upfits.
Current trends for last mile delivery vehicles.
The delivery industry has always been evolving, but the pace of change has accelerated. Here are some of the latest last mile trends and insights to keep in mind.
1. A turbulent economy requires creative approaches to cost-cutting
With rising inflation and the threat of an impending recession, businesses across all industries are looking for ways to tighten their belts. And while many companies are passing along costs to consumers to boost their bottom line, using technology like AI to streamline and optimize your last mile logistics could provide a more consumer-friendly path forward. Algorithms that analyze factors like traffic, weather, shipment origins, and delivery destinations can help you find the most efficient routes and avoid foreseeable delays. They can also calculate the fastest, most fuel-efficient route for drivers—optimizing your asset usage and reducing your overall cost.
2. Compact cargo vans production is a thing of the past.
This segment has essentially vanished, with holdouts Ford and Ram both announcing last year that they're ending production of their compact van offerings. "The compact van segment is dead," according to Kelley Blue Book—so, as a last mile delivery provider, you will need to find other solutions. Experts predict that larger electric vans will replace compact cargo vans, suggesting that fuel economy was the major appeal of the smaller models.
3. Electric vehicles lead the charge toward decarbonizing last mile deliveries.
The use of electric vehicles (EVs) is expanding as companies continue to emphasize sustainability initiatives. Today's consumers are more cognizant than ever about the environment and expect brands to follow suit. That's strong incentive for companies to find ways to decarbonize their last mile deliveries—one of the biggest contributors to global carbon emissions.
A number of large corporations have already taken this step. For instance, Amazon has contracted Rivian to produce 100,000 electric delivery vans by 2030, and FedEx has made an agreement with BrightDrop to receive 2,500 of their electric delivery vans over the next few years.
If you haven't yet, now is the right time to consider incorporating hybrids or EVs into your delivery fleet. Electrifying your last mile delivery vehicles can result in:
Overall cost savings. The price gap between EVs and combustion engine vehicles is narrowing. When you consider the total cost of ownership including depreciation, fuel, and maintenance, EVs are often a better fit and a smarter investment.
A sustainable brand image. EVs play a crucial role in reducing your company's carbon footprint. EVs emit fewer pollutants than internal combustion engine vehicles and avoid the environmental damage associated with drilling for oil.
A chance to lead by example. As more and more companies adopt EVs, other companies will be inspired to join the movement. In turn, this will lead to lower EV prices, more charging stations, and reduced air pollutants.
How to keep your last mile delivery vehicles up and running on time.
Want to prevent downtime and late deliveries? Proactively address last mile logistics issues by using telematicsand vehicle and driver monitoring technology.
These technologies provide insight into: the mechanical health of your vehicles; when and where they're driven; and how safely your drivers are operating them. This information enables you to ensure that required maintenance and repairs are completed on time to avoid breakdowns. It also allows you to track and address noncompliant driver behavior that jeopardizes safety, cargo protection, and timely deliveries.
Here are a few scenarios of how the data you collect from telematics and vehicle and driver monitoring empowers you to determine the best action for solving existing and potential problems.
Problem: Your vehicles are breaking down on the last mile, and the costs of major repairs are exponential.
Strategy: Using a vehicle health monitoring system, you set up proactive alerts for drivers when vehicles need preventive maintenance.
Solution: Your drivers receive alerts for services due, such as oil changes and tune-ups. Your drivers are accountable for the servicing and schedule it into their routes.
Result: When your vehicles are well maintained, they are reliable, consistently delivering in a timely manner—and therefore maintaining the expected level of customer service.
Problem: Your drivers' routes are taking longer than expected and they are missing their promised delivery times.
Strategy: With vehicle behavior monitoring, you'll receive alerts whenever your drivers exceed the authorized distance, trip time, or number of stops and trips.
Solution: This data lets you know when adjustments need to be made—like requiring certain drivers to take a refresher course on company policy for vehicle usage.
Result: When you make driver compliance a priority, driver productivity goes up and vehicle operation costs and late deliveries go down. In turn, customer satisfaction remains intact.
Potential problem: The mileage on some of your vehicles is creeping toward 100,000 miles or more.
Strategy: With the right technology in place, you can stay on top of which vehicles have the most mileage and are incurring more repair costs at an increasing rate.
Solution: Based on this data, you can determine the ideal time to replace a vehicle before it starts losing you money in terms of repair costs, downtime, depreciation, and more. An experienced fleet management company can help you with this analysis by developing a vehicle life cycle strategy for your entire fleet.
Result: A well-planned vehicle life cycle strategy pinpoints when to order new, replacement vehicles from the factory so you can get the exact vehicles you need when you need them and avoid marked-up retail pricing. In turn, remarketing your aging vehicles at the right time will fetch a higher resale price. On top of that, replacing vehicles before they become unreliable will increase driver safety, satisfaction, and retention.
Navigating last mile delivery logistics can be an overwhelming job to handle on your own. To lighten the load, the last mile experts at Mike Albert are here to help you with everything from route efficiency, delivery punctuality, and sustainability to vehicle acquisition, life cycle strategy, and maintenance management.
Sign up for our newsletter for the latest information about the fleet industry.
Sign up for our newsletter for the latest information about the fleet industry.
Sign up for our newsletter for the latest information about the fleet industry.
Sign up for our newsletter for the latest information about the fleet industry.