Are there enough EV charging stations to power your fleet?
A lack of electric vehicle charging stations prevent fleet electrification. Will there be enough public stations to power your fleet in the next 10 years?
100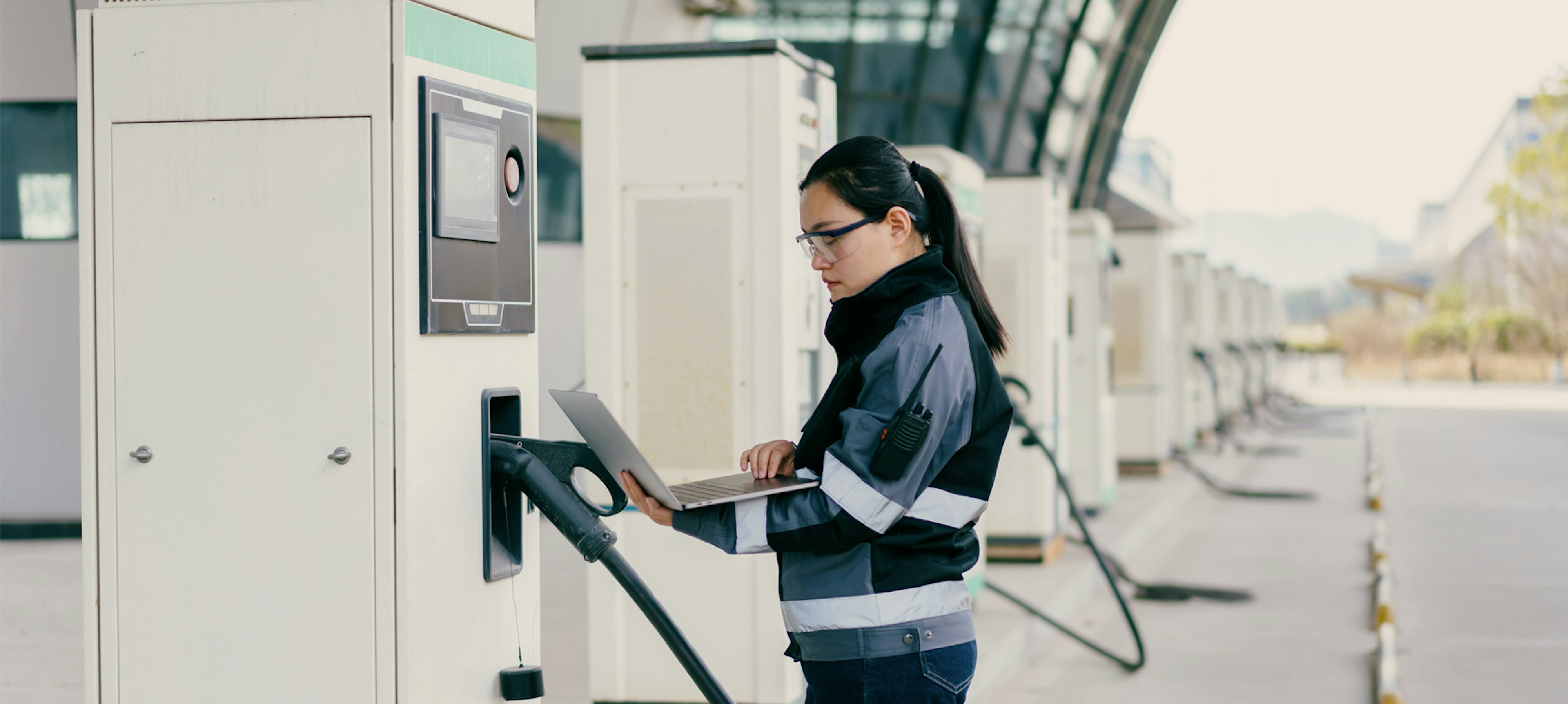 Skills covered in the class
Mobility-Mindset
Appreciating how the evolution of mobility via TaaS (transportation as a service), last-mile, smart cities, etc. are impacting the future of fleets.
Fleet Electrification
Understanding the fundamentals of EV planning and operations, and their impact on sustainability.
Data-Driven Decision Making
Using facts, data, and metrics to determine what actions to take to enhance your fleet operations.
Operational Efficiency
Ensuring your fleet is performing at its highest level at the lowest possible cost.
Today, there are around 3 million Electric Vehicles (EVs) on the road in the United States, and the potential of the future of EVs used in fleets is only growing. More and more consumers are recognizing that a cleaner future starts one vehicle — or fleet — at a time. In fact, the Midwest is revolutionizing vehicle electrification with everyone from farmers to university students putting EVs to use.
Of course there are quite a few obstacles to overcome, the biggest being worry over how far a vehicle can get on a single charge (often called range anxiety). If you're thinking about adding EVs to your fleet, you'll first need to understand the availability of charging stations and the cost and effort of installing them in the future.
Searching for a charge: A look into the lack of charging stations and range anxiety.
There are currently 130,000 public charging stations for electric cars in the country, a quarter of which are located in California alone. With more than three million EVs on the road this year, and a good amount of these charging stations mostly concentrated on the West Coast, it's no wonder that people hesitate to jump on the EV bandwagon. In fact, the top two reasons people hesitate to convert to electric are a lack of charging stations and range anxiety.
The good news is, with the expected massive growth of EV, experts predict we're going to see more charging stations (500,000 charging stations by 2030) in the next five years. And the global EV charging stations market will have a 30.41 billion dollar value by 2023.
In 2019, a Maryland gas station became the first to fully convert to an EV charging station. It includes a comfy wifi lounge for customers to relax during the 15 to 30 minutes it can take to charge their EV. Wawa, a chain of convenience stores and gas stations along the East Coast, has implemented EV charging across 80 locations. (Because of its partnership with Tesla, however, most of its stations don't offer charging compatible with non-Tesla EVs.)
While not every city has fully electric charging stations in place of gas stations, new applications are ensuring drivers not only have access to charging, but can find it easily, too.
Apps like PlugShare, ChargeHub, and even Google Maps allow drivers to easily search for "EV charging stations near me." And, in terms of paying for that charging session? An app is usually needed for that too, so drivers often use apps like ChargePoint or EVgo. In addition, these apps can estimate the cost of a full charge and predict how many miles you'll be able to go on that charge. And with stations popping up at convenient locations like Walgreens and Kroger, charging an EV is becoming easier than ever.
"The ability to identify available charging stations when a vehicle is low on range, or when route planning for longer trips over multiple days, is vital to safety, convenience, and driver satisfaction," said Nate Shadoin, Business Development Manager of Mike Albert. "Having real-time information of Level II or DC fast chargers in the immediate area or on a specific route will enable the driver to maintain as much uptime as possible."
While emerging applications will eliminate much of the hassle of EV, the most reliable way to charge a fleet might just be at your own headquarters.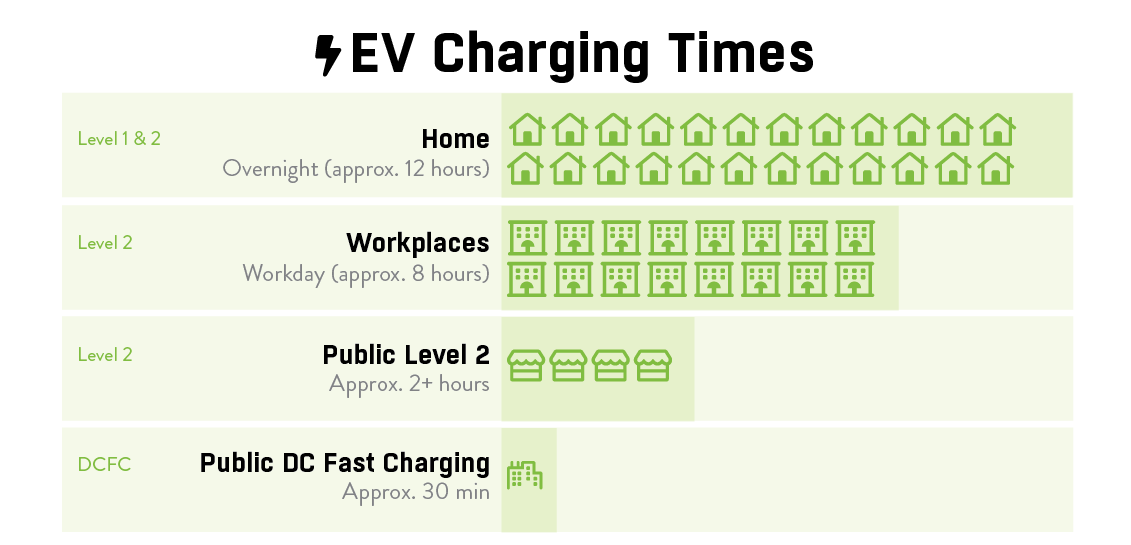 Step 1: Setting up charging stations for electric cars at your headquarters
The easiest and cheapest way to charge EVs is to have a reliable system at your place of business. EV drivers who charge their vehicles overnight at home typically use alternate current (AC) plugs, which can take 8 to 12 hours. More powerful direct current (DC) chargers can charge a vehicle in as little as 10 minutes, but are only available at certain EV charging points.
Fleet managers need to consider how many stations and what kind they need to add on to their own site.
"If daily routes exceed the range of standard EV's, roughly 200 miles, the fleet manager will then need to identify options for charging," said Shadoin. "Public charging infrastructure is one option, installing a charging network at a private location is another. Educating the drivers on the protocol to follow if an EV is low on range and providing access to charging are important due diligence considerations before electrifying a fleet."
Before setting up chargers on your fleet site, there are a few things to keep in mind:
Pick a good location for your chargers. A good location for your chargers is wherever you normally park your EVs, so you can regularly and easily access them. Additionally, the upfront cost of installation can be directly affected by your location's proximity to the power source.
Ensure your site can handle the amperage. You don't want to cause a massive power outage once you add EV to your fleet. To be sure your site can handle the amperage, check with your local electricians. The most common amperage for a fleet is 32 amps, which requires a 40-amp breaker.
Consider your time restraints. So how long does it take to charge an electric car? It may seem more efficient to charge up at a nearby station in 20 minutes as opposed to using an 8-hour AC current. But keep in mind that the cost to charge an electric car sometimes includes more than money. For example, fast charge stations create a lot of heat and can degrade batteries faster.
Investigate costs of charging near you. How much does it cost to charge an electric car? Well, free EV charging stations are hard to come by and public stations cost considerably more money. At peak hours, they can charge up to three times more than at non-peak hours. Research the nearby prices so that you can manage which vehicles are the best fit for overnight charges.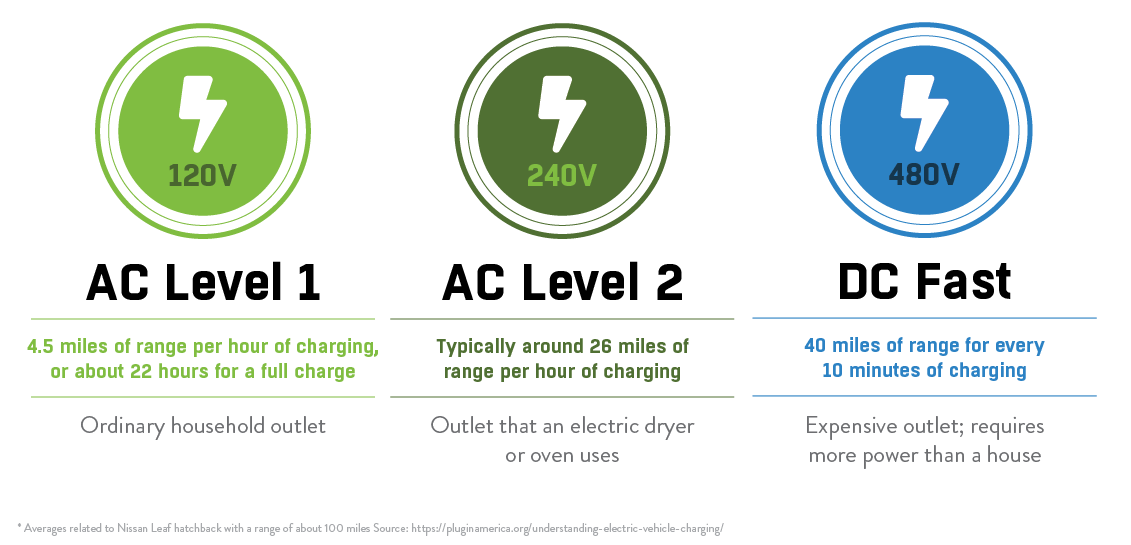 Step 2: Electric car charging station costs in the wild
Many fleets who route between local charging hubs can plan to charge at the beginning and end of a trip. Longer trips, however, require more planning for the fleet managers.
There will be an estimated 15 million plug-in EVs on the road in 2030, 15 times the current amount. A few hundred more fast-charging stations could support painless long-distance travel between U.S. cities. The key word there: fast. Charging is possible in many areas now, but high-speed charging is a little harder to come by.
Fleet managers also need to take the type of plug into account. Teslas have the benefit of being able to use both standard EV chargers and also high-speed superchargers. Most non-Tesla vehicles, however, are only compatible with standard chargers.
So when can we expect more charging stations for electric cars in convenient locations? That's a bit of a chicken and egg conundrum. When charging providers see charging happening, it instills their confidence in the market. And that goes both ways: More charging stations on the road instills confidence in current and potential EV owners. In their eyes, seeing available charging stations changes EVs from a futuristic ideal to a realistic alternative.
As society starts to demand environmental change, the government is offering incentives. These include tax credits for station installation, which means you could see a boost in charging stations around town.
Some experts predict commercial installation of charging stations for electric cars will grow exponentially between 2018 and 2023. You'll start to see charging stations popping up in all kinds of public places like shopping malls, airports, and restaurants.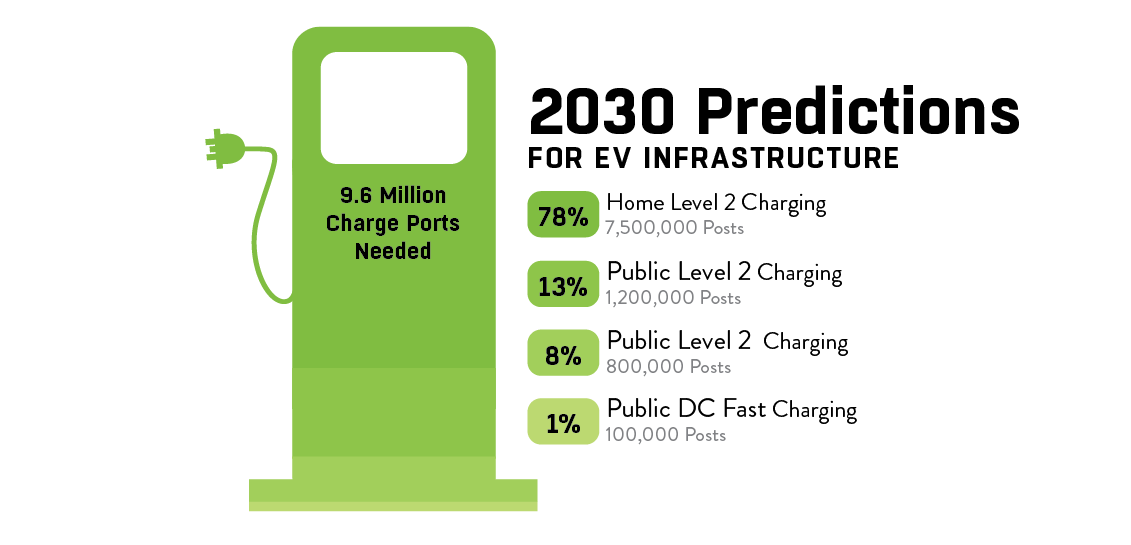 What factors can we watch for that will help us predict charging station expansion?
With so much to consider, it's tough to pin down exactly when the EV charging station market will be comparable in quantity to gas stations. A lot of it comes down to states and cities implementing their own incentives. There are currently initiatives all over the country to increase EV market penetration, including these:
Other factors include: Government funding and incentives, a growing demand for EV, growing motivation to buy environmentally friendly products, and heavy investment from automakers in EVs.
What's next for the future of EV charging stations?
Once you jump on the EV train, you'll wonder why you didn't sooner. You'll reduce your fuel costs exponentially. You'll cater to your customers who are loyal to EV. You'll be seen as an industry leader, paving the way for other companies to make eco-friendly choices.
A future with EV charging stations allows for flexible routes, backup charges, and more options along state routes and highways. You can expect to see a high growth in public charging stations for electric cars around the U.S. between 2018 and 2023. But it's also important to arm yourself with knowledge for setting up charging stations onsite.
Will you charge forward to electrify your fleet? Or, have you considered procuring a hybrid? Learn more about the benefits of EVs and how we can help you at Mike Albert Fleet Solutions here.
Sign up for our newsletter for the latest information about the fleet industry.
Sign up for our newsletter for the latest information about the fleet industry.
Sign up for our newsletter for the latest information about the fleet industry.
Sign up for our newsletter for the latest information about the fleet industry.