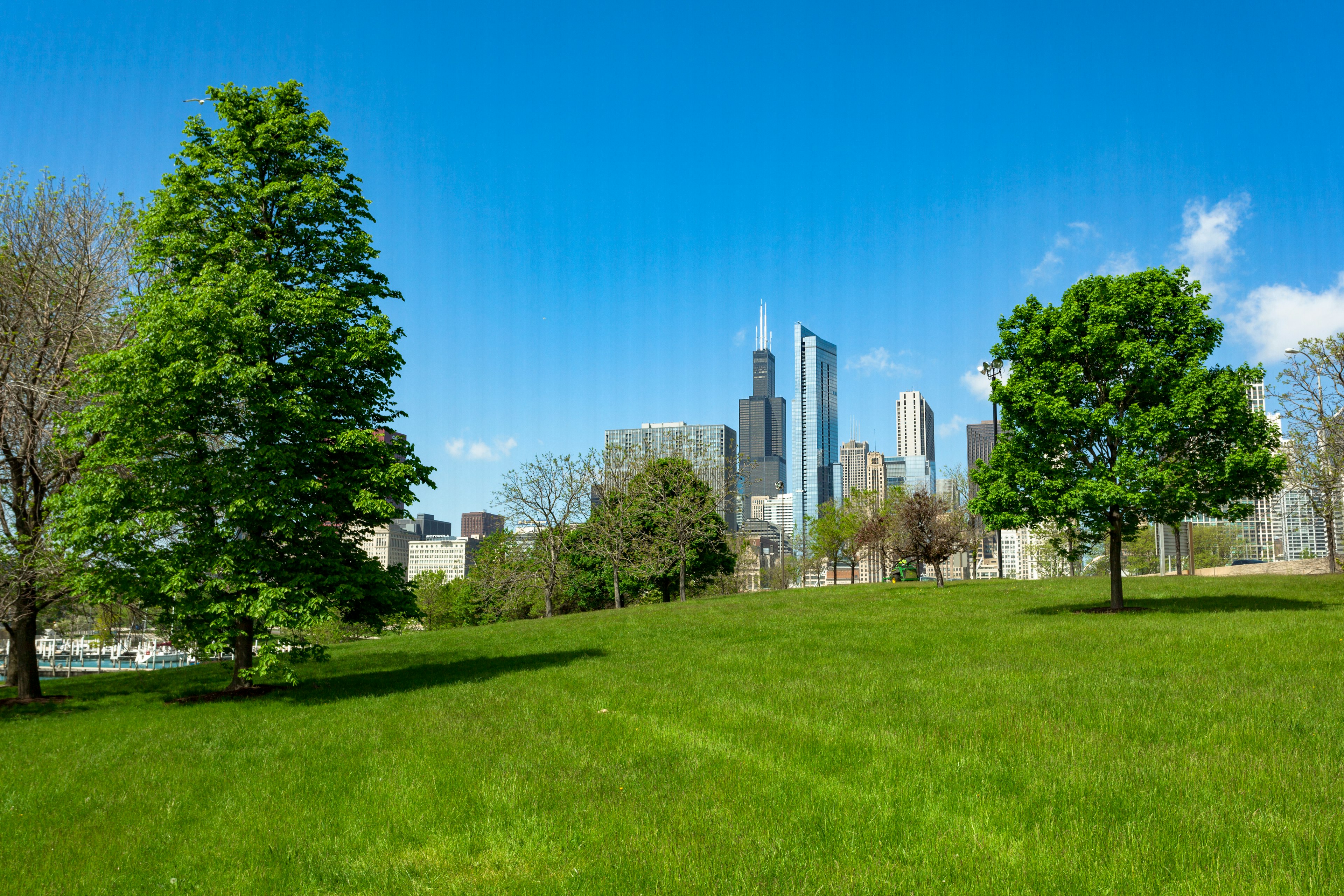 Midwestern Municipality
A LEADER IN MUNICIPALITY VEHICLE ELECTRIFICATION




When it comes to sustainable municipalities, one midwest village is leading the charge — making eco-friendly waves across their fleet.
The village's fleet manager firmly believes in investing in energy-efficient solutions, as reflected in the village's 13 Ford Fusion hybrids, six hybrid SUVs and 71 vehicles that run on B20 biodiesel fuel. This type of biodiesel fuel is manufactured domestically from waste products and emits far fewer pollutants than diesel fuel.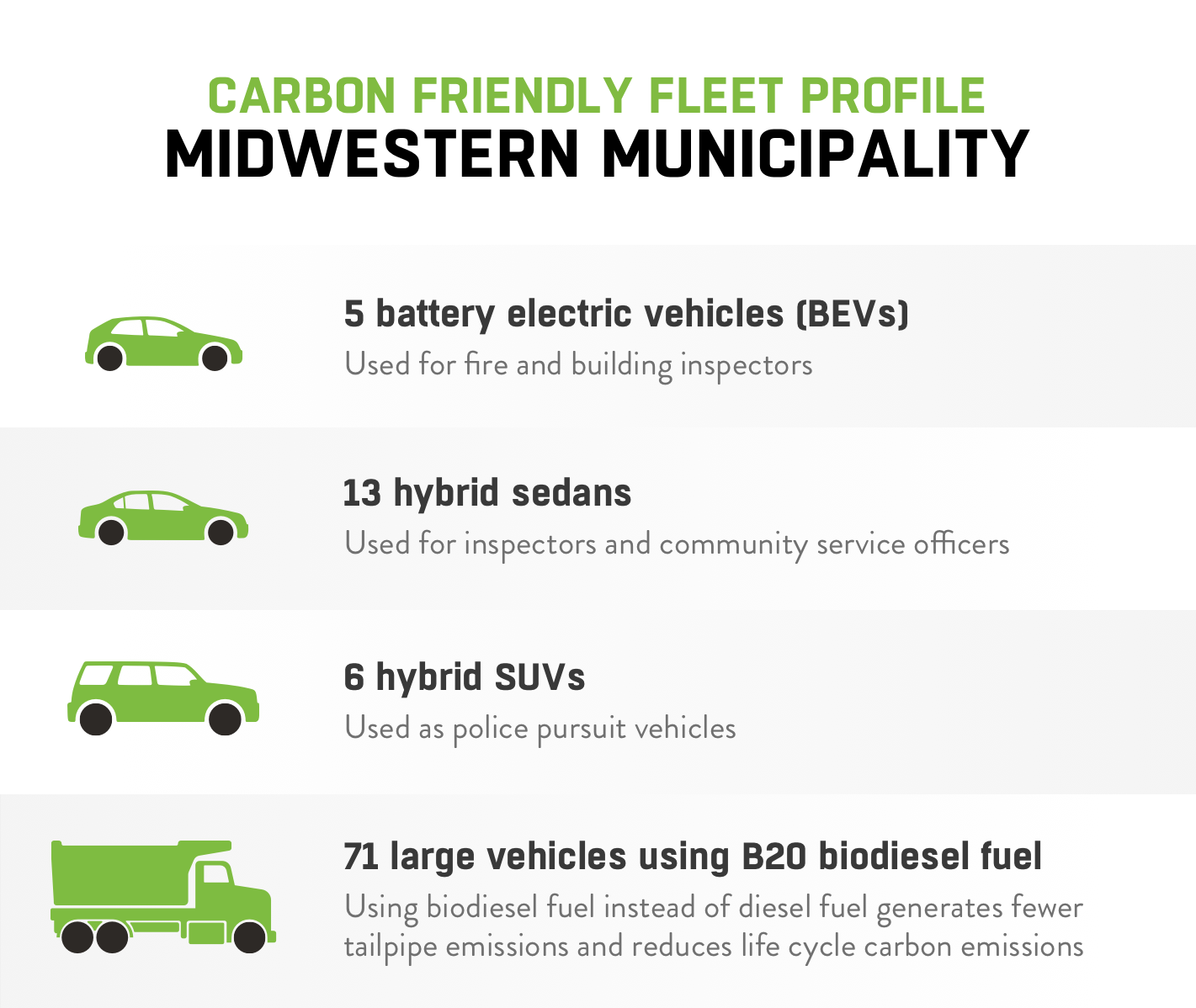 When their fleet manager decided to add battery electric vehicles (BEVs) to the mix, but was unsure of their affordability and ROI, he turned to Mike Albert Fleet Solutions. With the help of Mike Albert's municipal fleet leasing experts, he advanced the sustainability of the village's fleet to the next level.
MUNICIPALITY GOALS
Purchase five BEVs for fire, building and health inspectors.
Monetize federal tax credits for BEV purchases.
Reduce their fleet's carbon footprint and emissions.
Inspire and advise municipalities that want to go green.
This village partnered with Mike Albert to procure five Nissan LEAFs for their fire, building and health inspectors. These vehicles are ideal for the inspectors since they only take short trips around the village and typically don't need to charge their vehicles more than once a week. Plus, BEV maintenance costs are extremely low.
"My technician told me that BEVs are boring because nothing ever breaks on them," the fleet manager says. "Besides wipers and tire replacements, they're essentially maintenance-free vehicles. So that frees up my team to work on other things for the village."
Previously, the fleet manager handled most fleet purchases outright. But now he partners with companies like Mike Albert to help acquire BEVs and assist with monetizing tax credits and other sustainable fleet objectives.
"A lot of times, people don't think about the effort and time it truly costs to get certain jobs done on your own," he says. "It's great that a ton of paperwork is taken off my plate. It means no headaches, no problems, no surprises. The Mike Albert team has definitely been a great help."
BEV advice for other municipalities
As a member of the Municipal Fleet Management Association, the village's fleet manager has become a go-to person for information on electrifying municipal fleets.
"Every other week I get a call because someone sees I have electric cars," he says.
Ask the right questions for your unique fleet
The village's fleet manager recommends asking these questions when considering fleet electrification:
Are your vehicles parked and stored indoors or outdoors?
How often are your vehicles used?
How far do your vehicles travel on a regular basis?
Do your vehicles regularly visit a central location?
Is each vehicle driven by multiple employees or just one?
In rural areas where fleet vehicles are driven 40-50 miles per day, electrification may not be the right fit since access to level two "fast charging," which requires a 240-volt power source, is extremely limited. But in urban areas where fewer miles are driven, BEVs are often a viable solution even though many fleet owners assume they are not.
"I tell people that even if they don't have the EV charging infrastructure, there are ways around it. One city I know has eight electric Chevy Bolts, but they don't even have one charging station," he says. "Since their depot is indoors, they're able to plug their Bolts into regular outlets to 'slow charge' them and that's enough to keep them running."
If you do want your own charging stations, it's a good idea to get them in place before you buy your BEVs. Similar to rewiring a house, you can hire an electrician to get the right power infrastructure at your depot.
"Having that EV charging infrastructure early will make your job much easier down the road," he says.
If you're interested in incorporating BEVs into your fleet, we have a team of electrification experts at Mike Albert ready to assist you. We can help with route planning to ensure your vehicles complete all of their stops and stay charged. Plus, we can help you determine if you need your own charging infrastructure and help you install either slow or fast charging at your depot, depending on your budget and fleet needs.
Educate your drivers for smooth vehicle operation
One of the biggest challenges the fleet manager faced after acquiring energy-efficient vehicles was the initial education of his drivers.
"Within the first three months of having the hybrids, we had at least eight calls to come and jump start the vehicles," he says. "If a driver doesn't hear the engine humming, they assume the car is not running. Operating electric vehicles can be weird until you get used to it."
He says things get easier after that initial training. The staff enjoys the BEVs so much that some even use them as a temporary office, since they operate on a COVID schedule with a reduced number of people working in-office at the same time. Knowing they can plug in the vehicle, heat it up, and not waste gas makes for a convenient temporary office space.
"You can pre-adjust the interior of your BEV with heat or air conditioning before you even get in the car, or schedule it for a certain time," he says. "It heats up, it's quiet and it's not constantly running. People can sit there with the heat and radio on and work."
Consider the life cycle strategy of your vehicles
A fleet life cycle strategy ensures you replace a vehicle before maintenance costs and depreciation outstrip the benefits of keeping the asset. Coming up with the right fleet life cycle strategy is imperative. Before switching to electric, the village had a few 2001 Chevy Cavaliers that required constant maintenance.
"We held onto our older vehicles for way, way too long," he says. "The technicians ended up having to replace brake lines and sub frames that rotted out."
While electric car maintenance costs are far lower than those of internal combustion engine (ICE) cars, a well-planned life cycle strategy is still important to minimize his total cost of ownership. The fleet manager has set a goal to replace his BEVs and hybrids every six years to ensure he's selling them while their battery warranties are still in place.
"I would like to shorten the replacement life so I can get good returns when I sell them," he says. "In my opinion, if I wait until the value has plummeted after the battery warranty runs out, I'd get almost nothing back to invest in newer models."
As you think about the life cycle strategy for your fleet and whether or not it's time to cycle out some or all of your ICE vehicles for BEVs, it's important to remember that operating BEVs is possible even without widespread charging infrastructure. However, the more municipalities make electrification a priority, the more cities will prioritize building public charging infrastructure. In turn, more BEVs will soon be in the hands of the general public.
The results of prioritizing sustainability
The village's commitment to sustainability led to formal recognition of their clean city efforts to lower their carbon footprint and emissions.
Plus, the village has experienced incredible success in terms of cost and CO2 savings. From August 2019 to February 2021, their five BEVs have saved them nearly 1,500 gallons of gasoline.
"I don't have all electric, but I have many different types of vehicles now. This is what worked for our fleet. Not everything fits everybody," the fleet manager says. "Until something becomes normal, it's uncomfortable. But acquiring the BEVs has been worth it for us."
Electrification takes work. For this village's fleet manager, though, the benefits outweigh the risks. Sustainability planning and education are one of the top things municipalities can do to maintain a happy staff and save money.
At Mike Albert, our team firmly believes that prioritizing sustainability is one of the best ways to move your fleet forward. Our electrification experts can assist with:
Purchasing BEVs and hybrid vehicles for the best price.
Strategizing route planning to ensure vehicles are always charged.
Installing charging infrastructure at your depot or setting up mobility hubs in your city.
Consulting with ASE-certified technicians about preventive maintenance and repairs.
Monetizing federal tax credits and obtaining grant funding.
To talk with a fleet expert about how you can save money and reduce your fleet's carbon footprint, schedule a free consultation today.