Columbus Yellow Cab
Making sustainability a top priority
DRIVERS
250 INDEPENDENT CONTRACTORS
FLEET SIZE
200, EVs AND HYBRIDS
After taking over his grandfather's taxi business, CEO and owner of Columbus Yellow Cab Morgan Kauffman was faced with an ethical dilemma. As climate change ravages the planet, do fleet owners have an ethical responsibility to make sustainability changes to their business model?
"We've been doing this for 92 years and polluting central Ohio with combustion engines," Kauffman said. "We decided we need to change how we do that business."
This led Kauffman to look at his company from the inside out. But maintaining a successful taxi business with the growing popularity of Uber and Lyft — much less during a pandemic — was going to be a challenge. Nevertheless, it was a challenge he took on with the help of Ohio-based fleet management company Mike Albert.
GOALS
Switch out fleet to become mix of electric and hybrid vehicles
Set up mobility hubs
Reduce CO2 emissions
Obtain grant funding
Monetize federal tax credits
Taxis are a necessity
Whether your car breaks down or you don't own one at all, you still need to get to and from places, like home, work and necessary medical appointments. And when the world shut down due to COVID-19, it prompted questions about what is and isn't considered essential business. It became apparent that ride hailing, one facet of Transportation as a Service (TaaS), is vital — thousands rely on it every day.
Kauffman notes that if a person doesn't have family and friends nearby and needs to go to dialysis, for example, a taxi can save their life.
"We discovered that we're not really in the taxi business," he said. "All we really do is connect people to the things and places that are important in their lives. Our staff literally helps make people's lives better."
"In big cities, people want to pay for what they use. It's expensive to park in big cities, so many young people would walk, take an e-scooter, or Uber. COVID shook it up like a snow globe, but people still have less interest in owning a vehicle in big cities." - Nate Shadoin, EV and Automotive Fleet Consultant
Far less EV charging stations in the Midwest
Columbus Yellow Cab faced a modern hurdle of standing out from Uber and Lyft. And they also faced another major roadblock: the environmental impact of their gas-powered fleet.
For almost a year, Kauffman interviewed staff across the board — committing to redefining the culture of Columbus Yellow Cab. Then, he helped create a set of principles that would lead the company forward in the mobility world.
"Cutting down pollution" sounds easy in theory. The question was how to put it into practice? On the West Coast, you won't go more than 30 miles without an EV charging station (and California boasts big incentives for switching to EV). The midwest, specifically central Ohio, is another story.
The top percentage market share in the Midwest for electric vehicles was just 1.20 percent in Illinois two years ago. Compare that to California, where 7.84 percent of lightweight vehicles purchased in 2018 were electric.
"We found that there was a chicken-and-egg problem — if you bring a fleet of EVs to the market, but there's nowhere to charge those vehicles, what do you do?" he said. "The way we answered the question was [to implement] both at the same time."
What's the plan?
Kauffman knew how big of a task it would be to switch out nearly all of his assets for EVs. The job was above and beyond the duties of a regular fleet manager. He needed a team with profound knowledge of both fleet management and the EV market. That's where Mike Albert came into play.
"Mike Albert was extremely flexible when helping us not only organize the finances of [switching to EVs], but also to locate all the vehicles that we needed," he said.
The next issue, of course, was the charging hubs. To solve the lack of charging infrastructure problem, Kauffman's solution was simple: to build their own. They opened up their own charging areas, or "mobility hubs" all around Columbus, and recently signed a contract to add more near the Columbus Public Library.
The money-saving results
Many fleet managers may doubt that they'd be able to take on the big task of switching out their assets, especially with the intimidating up-front cost of EVs.
But Kauffman says Columbus Yellow Cab's total cost of ownership for vehicles — in other words, the cost of owning a vehicle that includes fuel, maintenance, depreciation costs and more — went down significantly.
And it makes sense. While internal combustion engines usually have upwards of 1,400 moving parts that can get damaged, burnt out or rusted, an electric motor usually has about a hundredth of that, Kauffman said.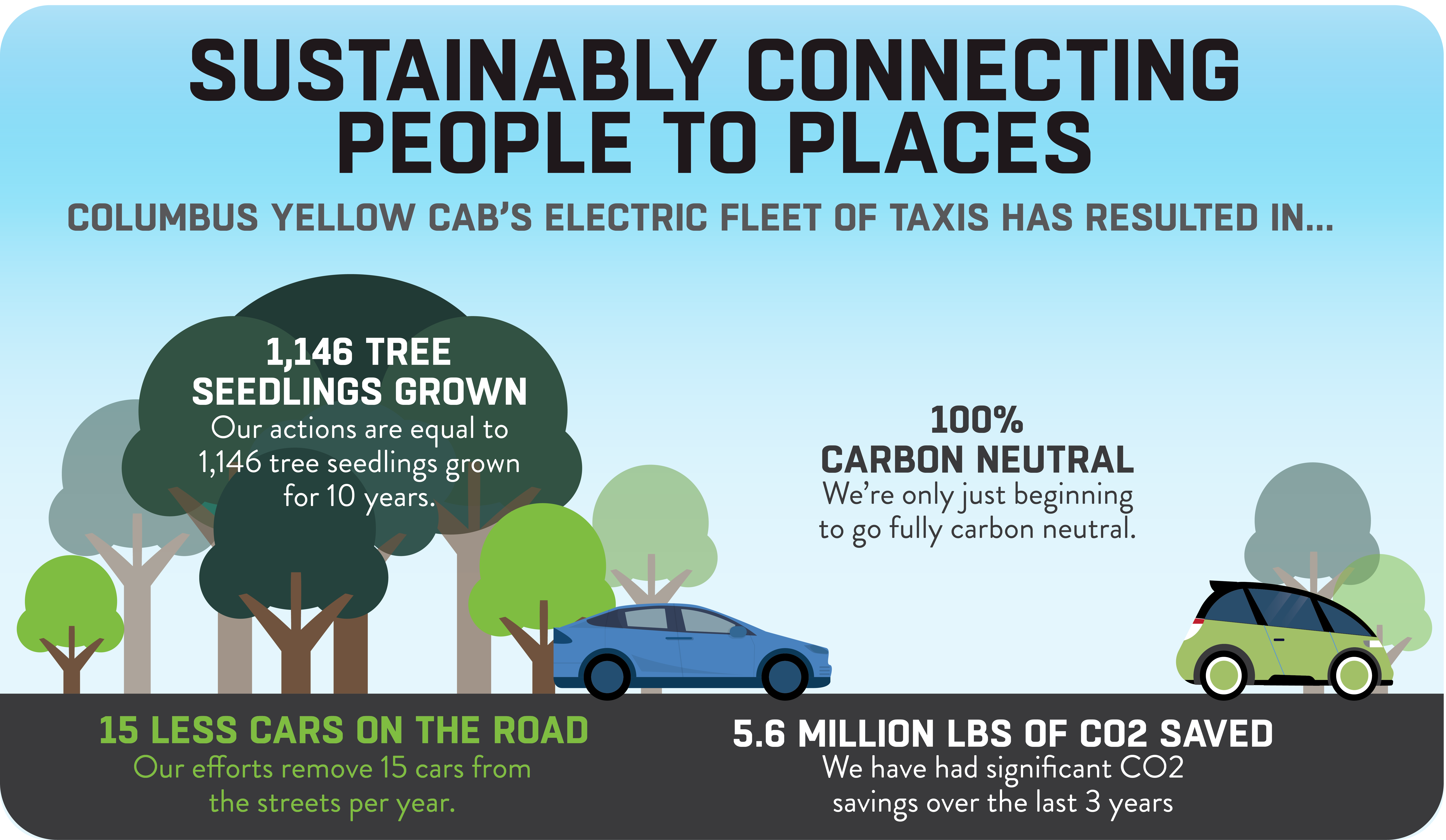 "We don't have to do oil changes. We don't have to do hardly any maintenance on the vehicles," Kauffman said. "All you have to do is keep it charged and get windshield wiper fluid. It's much easier and much faster to work on these vehicles."
While they originally started with just 10 Chevrolet Bolts, they then moved on to Tesla, becoming the first third-party Tesla shop in the world.
"It's important to look at crisis and opportunity at the same time. Given the pandemic, it has given us more time to look inside than we've been able to be together outside," he said. "I'm hoping [our story] could get [fleet managers] to think about the future of our planet and how important it is, ethically, to go electric."
Mike Albert & Columbus Yellow Cab
Columbus Yellow Cab was the first of Mike Albert's many TaaS clients, and one of the first to fully electrify. Mike Albert also helped Columbus Yellow Cab with the administrative burdens of applying for grant funding and monetizing federal tax credits related to EVs.
"It gave us a blueprint of what works, as well as an entry point into understanding the charging aspect of operating an electrified fleet," said Nate Shadoin, EV and Automotive Fleet Consultant for Mike Albert. "We now have experience in capturing and applying for grant funding, the knowledge to know who to talk to and where to find available incentives."
"Can fleet managers use a shared ownership model? Fleet operators may find themselves with a company vehicle that they're not using very much, and they're spending a fortune to park it. Sometimes there are ways to just pay as they go, like using a car-share model, where you drive a car for a few hours and only pay for what you use." - Nate Shadoin, EV and Automotive Fleet Consultant
Today, in conjunction with the Smart Columbus initiative, Mike Albert has since been able to help multiple fleets in central Ohio electrify.
"We're optimistic that other fleets will look into, or adopt, EVs based on availability of additional models from traditional manufacturers," said Shadoin. "There are more EVs coming, especially in the commercial space."
Shadoin predicts more fleets will see that the total cost of ownership of electrifying is really not as high as we once thought.
"In addition to reducing greenhouse gas emissions and improving your local air quality, there's also a financial opportunity to positively brand your company and differentiate yourselves from the competition," Shadoin said. "There is a real ROI opportunity for fleets willing to electrify."
Download and share
We are dedicated to providing you with the knowledge and expertise to grow your business.
Download Success Story PDF