What do you get when you develop a platform with the latest serverless technologies to merge fleet telematics data and the expertise of the Mike Albert maintenance team? Albert IQ®: a world-class vehicle monitoring solution that reveals the most important things you need to know about your fleet to support enhancing safety, productivity, customer goodwill, vehicle performance, and value.
Fleet monitoring plans
Choose the level of support that meets your specific needs.
Our standard Albert IQ plan includes the use of a Geotab device, installed in each of your fleet vehicles, to collect data and upload it to the Albert IQ cloud.
For your convenience, we've expanded the data source options for Albert IQ to include additional telematics providers and OEM telematics. Available data varies significantly depending on data source.*
Albert IQ is also available in a Lite plan. Albert IQ Lite includes just a few data components, allowing existing Overdrive® users to add limited telematics features to their dashboard.
*Please note that data availability from "Other" providers varies depending on limitations set forth by each provider. Below is a simplified representation of what to expect when collecting data from a non-Geotab provider, but data listed as available is not guaranteed for each provider. Please consult with your Mike Albert Business Development Manager or Client Partnership Manager to learn about data availability from the providers you are interested in using. *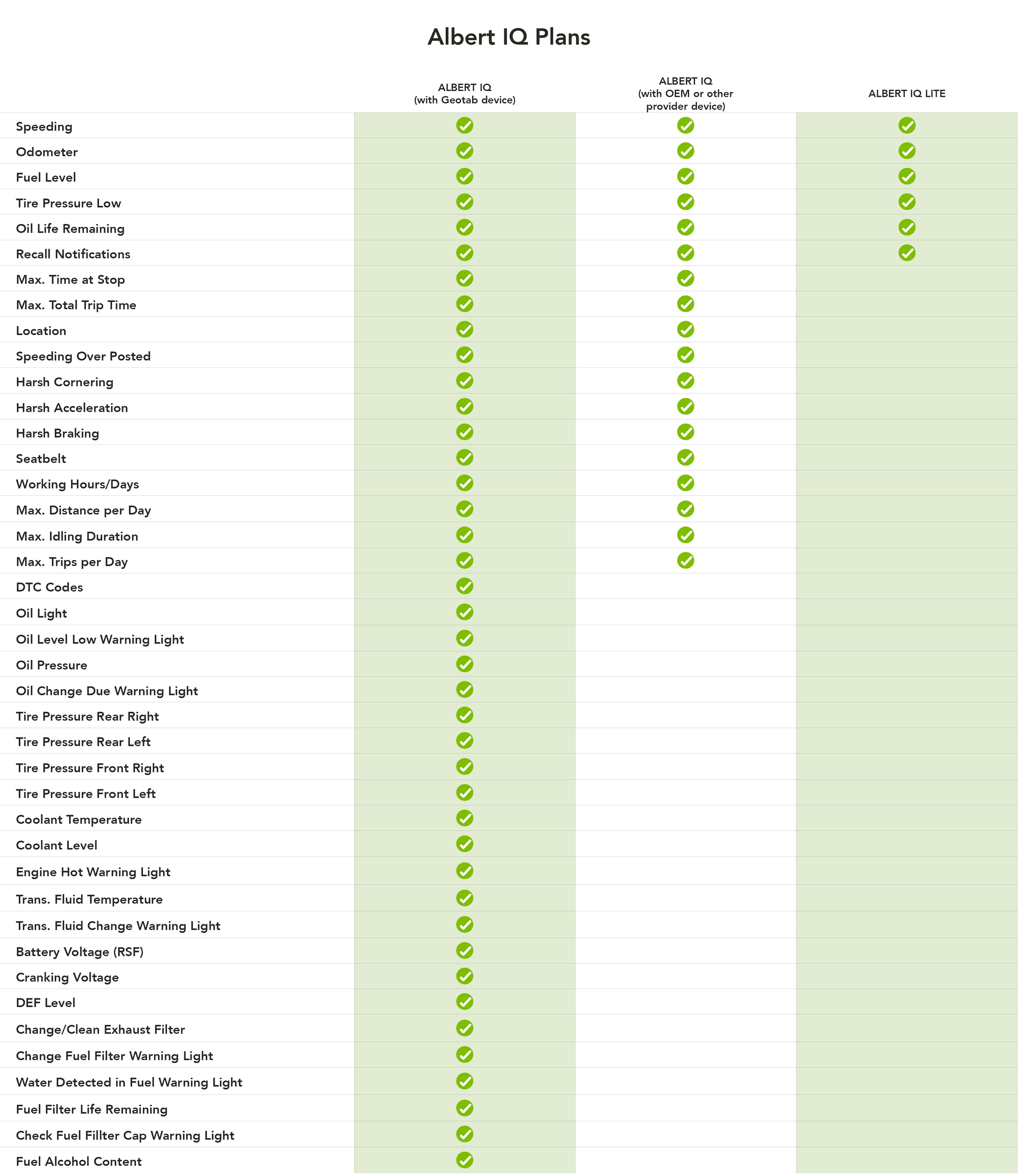 Which Albert IQ plan is right for me?
Albert IQ (Geotab device): Recommended for fleet managers seeking maximum data and results and who have a variety of vehicle makes and models in their fleet, all of which Geotab devices can easily connect to.
Albert IQ (other device): Recommended for fleet managers seeking informative, prioritized recommendations and who prefer to use their existing telematics device or OEM data.
Albert IQ Lite: Recommended for fleet managers seeking to add a few data streams to their dashboards in Overdrive, allowing for a seamless, holistic view of their fleet.
No matter the needs of your businesss, the fleet scientists at Mike Albert can help you find the right vehicle and driver monitoring system.