In Portland, 6.3 percent of the population bikes to work every day. About 1,500 people take a scooter each day in Louisville. And in San Francisco, more than 5,700 ride-hail vehicles are operating during any given peak period.
Micromobility could actually replace 48 percent of car trips in the 10 most congested U.S. cities — which is why you may want to think about kicking the tires on a transportation as a service (TaaS) business in your city. And in the midst of today's current economic crisis due to COVID-19, people are driving a lot less. For those who could make an easy shift to working from home and ordering food via delivery, it may leave people questioning how much they truly needed to own a car to begin with.
But even with an interest in the market, you may not know where to start (or whether transportation fleets are a good choice for your city). As the future of fleets changes rapidly, cities and regions across the country have a range of different needs. While fleets of shared e-scooters and bikes may be ideal in a crowded, walkable city, ride hailing with Uber or Lyft may be a better TaaS choice for a rural town where average trips are more than five miles apart.
Regardless of the region, trends are showing that people will increasingly cut back on their personal transportation vehicles and opt to view transportation as a service — not a product. This rise in TaaS will vary by region depending on a number of factors.
A look at the ride hailing market
It's impossible to look at ride hailing without analyzing the biggest ride hailing company in the world, Uber. If you're thinking about incorporating TaaS capabilities into your fleet, or starting a fleet that's entirely devoted to TaaS, it's important to know what's profitable.
Drivers who are well taken care of and paid a living wage will no doubt have positive effects on your bottom line — happier customers, good press, and five-star reviews. And the ability to pay drivers a higher wage than other jobs will mean a higher demand for job openings in the ride hailing market. But what cities are ripe for decent profits for their ride hailing drivers?
Small Business Trends analyzed the best and worst cities to be an Uber driver in January of 2020, and found that Pittsburgh and Philadelphia may be some of the best when compared to city minimum wage and low cost of living. On average, Uber drivers in these cities make a little over $12 an hour, a steep jump from the cities' minimum wage of $7.25.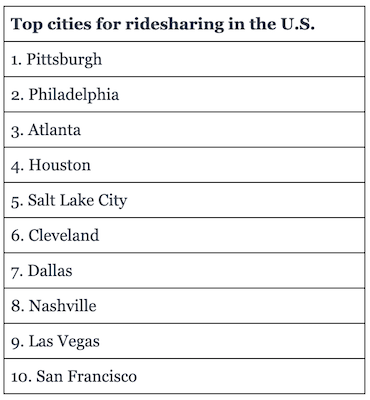 Compare that to Los Angeles and Washington D.C., where Uber drivers made less than the minimum wage on average. Finding drivers in cities such as these could prove difficult, as they may be better off taking another job.
Additionally, consider that just because most regions of North America allow ride hailing, it doesn't mean it's marketable everywhere. In some parts of the country, the downsides and additional costs of driving for Uber outweigh the benefits. In rural areas with less demand, drivers must decide whether or not to go far out of their way for a pickup.
Startups see varying successes
Some have tried to start their own fleets of local ridesharing apps to compete with the global competitors often to fill the gaps that Uber and Lyft miss in rural America. In 2017, Liberty Mobility Now, which NPR said was "like Uber but with a neighborly feel," appeared in rural cities in Ohio, Texas, and Nebraska, but later declared bankruptcy.
2020, however, has been a year of unprecedented changes. You can no longer get in a car with a stranger while still maintaining the recommended six feet apart social distancing guidelines. That's left Uber and Lyft drivers struggling. However, there now may be more opportunity to provide ride hailing services (things similar to UberEats delivery) for those who need delivery of takeout, groceries, and other necessary items.
Thanks to these stay-at-home orders, most Americans have gone weeks or months without leaving their residence, and many are catching light of how easy it is to have essentials delivered to their door. When the world starts to go back to normal, some may realize they don't really need to own their vehicles in the first place, and transportation fleets could have an even higher opportunity for growth.
A look at bike friendly cities
When you take a look at cities that have great weather, numerous bike lanes and all essentials within three miles of most people's homes, it's easy to see why fleets of bikes can thrive. In the top 25 most congested US metro cities, nearly half of all car trips lasted for less than three miles. Almost a quarter of those trips were less than one mile, and 16% were one to two miles.
Americans are realizing that they may not need to rev up their engines for such short-distance trips. Many bike friendly cities have been replacing these car trips with cycling.
The top three bike friendly cities for micromobility are vastly different from one another — Honolulu, New Orleans and Nashville. Some attribute Honolulu's success in micromobility to the prevalence of car trips that measure less than 3 miles — more than 50 percent. Others pointed to year-round sunshine and mild weather (a definite bonus).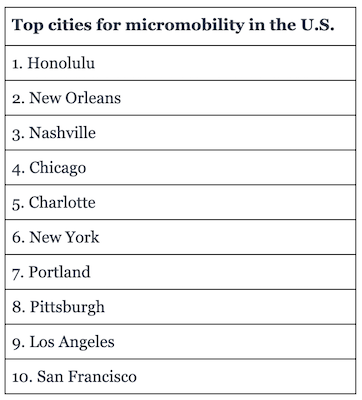 But micromobility can cause problems, too. Abandoned e-scooters sometimes set off noisy alarms that are bothersome to neighborhoods. E-scooter riders might cruise down sidewalks at lightning speed, endangering pedestrians. For these reasons, some cities pass scooter laws banning shared micromobility in the town, while others place restrictions on where people can and cannot ride. Before starting a fleet of shared micromobility, make sure to check your municipal bike and scooter laws and consider safety restrictions.
Micromobility options: Scooters or bikes?
The weather in cities like New York and Chicago — which have harsher, snowy winters — may affect how consistently certain micromobility options are used. In cold weather, more people are likely to turn to a form of ride hailing. However, many factors play a role in why these "temperamental," cities are still prime for micromobility: the cities' population density, prevalence of sidewalks, and need to get to and from public transportation stations are all factors.
Scooters are most frequently used for short-distance trips lasting between a half-mile and mile. A third of all scooter trips would otherwise have been made by car, taxi, or rideshare vehicle. This substitution away from cars can help decrease commute times for everyone — which in turn has other economic and environmental advantages. Keep in mind: one study found men were twice as likely as women to say they'd use it for a trip. Some attribute this of younger men being more willing to give up safety considerations for speed — hinting that many women find the scooters risky and may be hesitant to use the service.
On the other hand, since bikes are typically used for distances of one to three miles, it indicates that cities could benefit greatly from the use of micromobility services for short distances. While riding a bike is a little easier to grasp for all Americans, it's important to keep in mind that bikes — both pedal-only and electric — are more physically demanding than an e-scooter. They're also the safest option in already-bike friendly cities.
Starting a transportation fleet: Is it right for you?
While the TaaS market is certainly dominated by big names like Uber, Lyft and Lime, there may still be room for startups. TaaS could be the dominant way to travel as early as 2031, as costs of vehicle ownership rises and costs for subscription-based TaaS models drop.
The popularity of transportation fleets will start to inform how cities plan their infrastructure, set up their regulations, and plan their supply chains. More and more cities could transition to be smart cities, complete with the smart transportation options like autonomous vehicles that play a role in the TaaS market.
You are likely to also see more local governments invest heavily in the technology and offer incentives for customers. In a world without fuel-powered personal transportation, the future of fleets may lie in these various mobility solutions.
At Mike Albert, we're experts on the transportation industry. We're prepared to help with the sourcing and assessment of markets to find the right fit for your transportation fleet. Tell us more about your needs here.
Did you enjoy this class?
Share it with your organization and colleagues.