ADVANTAGE® FLEET MANAGEMENT
If your company relies on fifty or more vehicles to keep it running, but lacks the qualified personnel to handle day-to-day fleet responsibilities, let the experts at our fleet management company take the wheel to save you time, frustration, and money.
Fleet management plans
Choose the level of support that meets your specific needs.
Whether you're looking for help with fleet administration, driver management, vehicle ordering or all of the above, we're ready to make your goals our goals. Don't see what you need? We'll gladly customize a plan for you.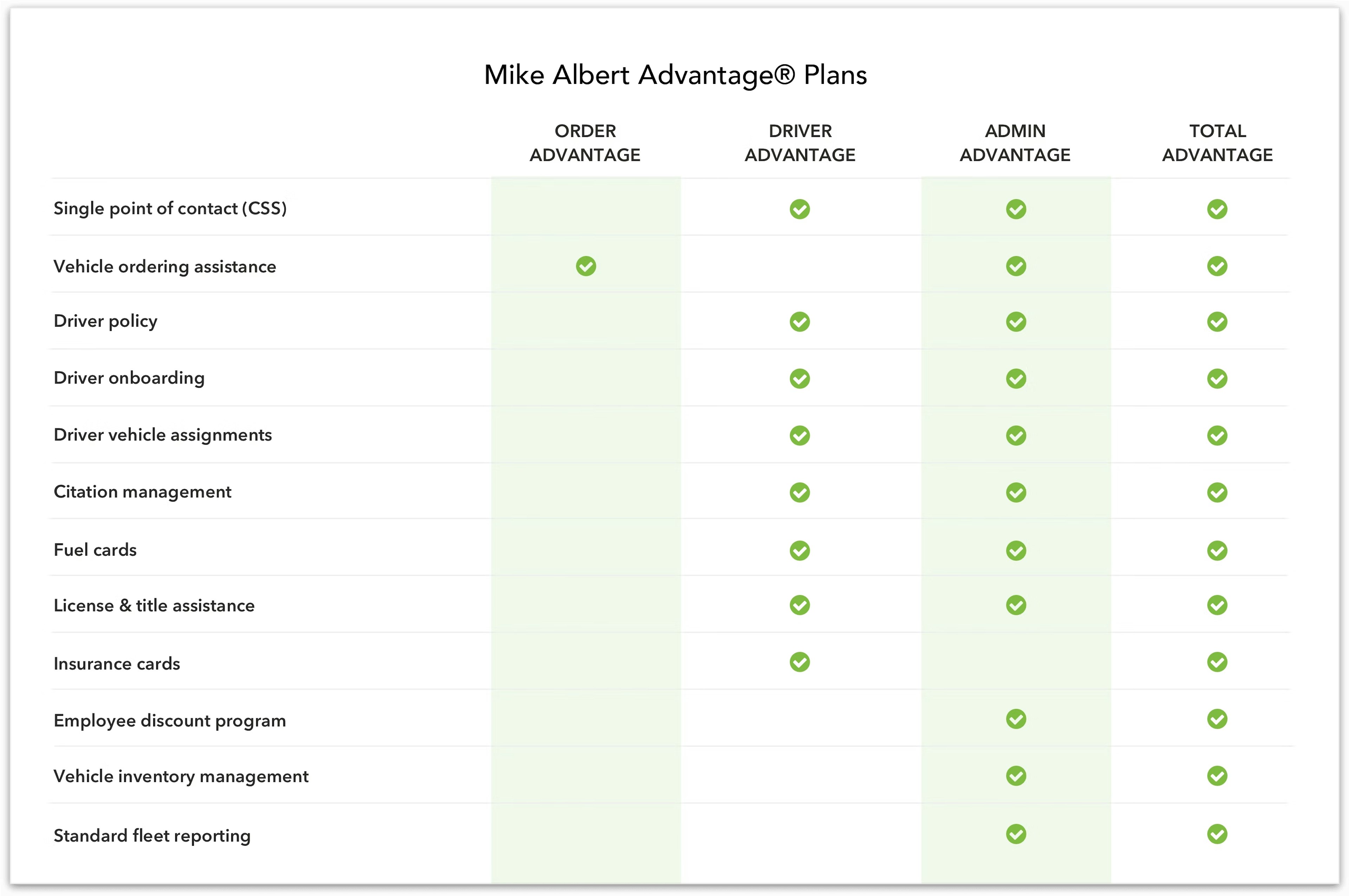 Vehicle ordering assistance
We'll work with your drivers to ensure their vehicle choice is compliant with your company's vehicle selector guide, which we can help you create. We'll also address questions about vehicle features and monitor the placement of orders.
Driver policy
If you don't have a driver policy in place, we'll help you develop one if you'd like. We'll even communicate it to your drivers upon request.
Driver onboarding
We'll introduce ourselves to all your drivers and train them on the basics of our services and how to benefit the most from them. When you hire new drivers, we'll contact and train them as well.
Driver vehicle assignments
We'll keep and maintain an up-to-date log of all your vehicles and the driver assigned to each one.
Citation management
If a state or local authority alerts us to a citation involving one of your drivers or vehicles, we'll notify the driver. If the citation isn't promptly paid, we'll contact you to determine the best method of resolution.
Employee discount program
If you'd like, we can set up a discount program for your employees to purchase our off-lease vehicles.
License & title assistance
We'll address any questions about state changes, vehicle inspections, registration renewals and business licenses (in certain states). With the information we have, we'll determine forward-facing renewals and cancellations.
Insurance cards
We'll work directly with your auto insurance provider to issue new and replacement insurance cards to your drivers and keep copies of the cards for reference.
Vehicle inventory management
If you have a vehicle inventory pool, we'll monitor it, notify you when inventory is too low or too high, and strategize with you on future orders. We'll also coordinate the storage of your vehicles, assign available vehicles to new drivers, and handle any title and license needs. Plus, once a year, we'll conduct an audit of your drivers' contact information to ensure the right delivery location is on file for vehicles, plates, registration, etc.
Replace/repair advice
Upon request, if one of your vehicles is damaged in an accident, we'll review the options for vehicle replacement or repair and the approximate pricing and value of each.
Standard fleet reporting
Upon request, we'll provide standard reports and executive KPIs on the fleet data of your choice.
You can scale your Advantage® program to fit your business needs. Connect with our expert team today to choose the one that's right for your fleet.